Pro Circuit Descends on Templeton, CA

Tennis has made household names out of more women athletes than any other sport. To reach those ranks, however, it takes years of travelling the junior circuit and fighting your way up through the ITF and WTA tournaments to reach the Grand Slams that crown the champions everyone remembers. Maria Sharapova devotes swaths of her bestselling memoir to describing the grunt work and playing lower level tournaments far away from any limelight that propelled her to center court at Wimbledon.
This fall, San Luis Obispo County in California was honored to host its first professional tennis tournament: The Central Coast Pro Tennis Open. The event was previously known as the Red Rock Pro Open and played in Las Vegas, NV. It awarded $60,000  in total prize money, placing it solidly in the middle of the USTA Pro Circuit tournaments, which carry between $15,000  and $100,000  at approximately 90 annual tournaments.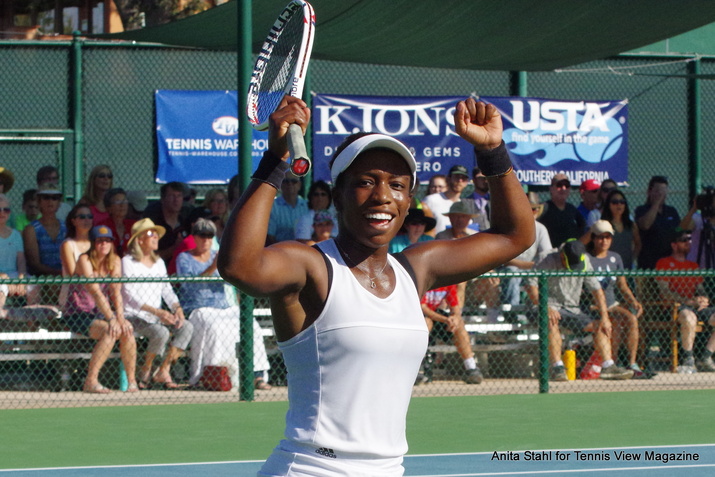 The Central Coast Pro Tennis Open was played at the Templeton Tennis Ranch, just south of Paso Robles where it is obscured among the rolling hills that form the area's famous wine country. The temperatures were high and the humidity low, the hard courts playing fast and the balls flying. With the players at this level barely making enough money to travel from one tournament to the next, many relied on hospitality of club members to take them in for the duration. During play, a local could be heard saying he did not actually know who any of the players were, but his good friend was hosting a nice girl currently on Court 2 so he would root for her. Although the 32-player singles draw was mostly American, players from as far as South Africa, Norway, and New Zealand competed; Viktoija Golubic of Switzerland held the top seed.
Sonya Kenin, an 18-year-old Moscow born American who turned pro after losing 5-7, 2-6 to Sharapova in the third round of the US Open this year has already been compared to the Russian twelve years her senior. Just a few short weeks after playing against the five-time Grand Slam champ under Ashe's stadium lights, Kenin was back to the grind of playing ITF tournaments and entered the Central Coast as the second seed. This ITF Pro Circuit is where players can earn the points they need to compete on the WTA tour. It's where rising stars like Kenin, currently ranked 121, can get match tough as they grow out of the junior circuit and get points to play more WTA tournaments. Kenin's father, in typical tennis dad fashion, was at her side every moment they were on site. Kenin only got to play one match though, retiring at 6-4, 5-7, 5-0 against Russian Alisa Kleybanova, looking visibly shaken and sluggish in the third set, never standing up quite straight and struggling to move her feet.
In addition to launching careers, the Pro Circuit also serves as a place for more experienced players like Laura Robson to regain their footing. Robson, 23 years old and once hailed as the next big thing in British tennis, held a career high ranking of 27 in 2013 when frequent injuries began to plague her. By year's end of 2014 she had dropped to 951. Through wild cards and ITF tournaments, she has worked her way back up to 246. She made the quarterfinals of the Central Coast Open before falling to Taylor Townsend [5] 6-1, 6-3.
Another British player, Naomi Broady [6], fits an altogether different profile of Pro Circuit player. She stands 6'2" tall and extends every inch of her length into a brutal serve that defines her game. She held a career-high ranking of 76 in 2016 and is currently at 132. Speaking with Tennis View, Broady half-jokingly described herself as too old for the grind of ITF tournaments, but explained this week had actually been an exception to her general experience. Her local hosts, Mike and Kirsten Lane, had placed encouraging notes throughout the house that morning to cheer her on: "We travel ten months out of the year, and it's firstly very expensive but it's very lonely as well. Tennis is an individual sport and although sometimes we travel with our coaches, at this level we can't always afford to. This week I'm lucky enough to have my coach with me but sometimes we're by ourselves so it's really nice to have that family feel, home cooked meals and not just sit in your hotel room alone for the whole evening." Although the fast courts strongly favor Broady's style, she was defeated by Maria Sanchez 6-3, 2-6, 7-5 in the quarterfinals.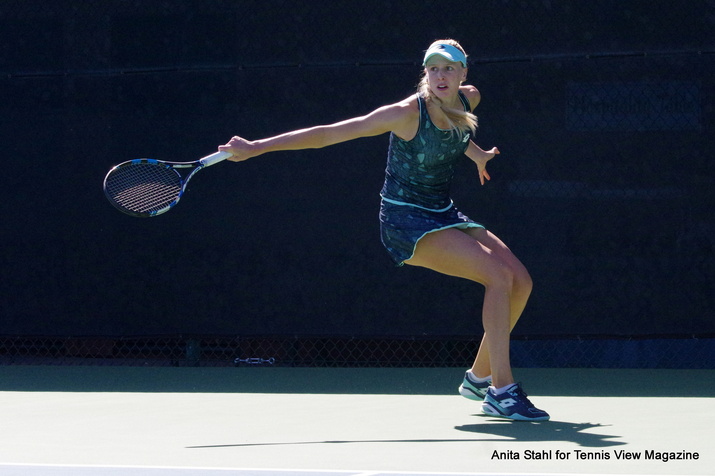 Sophia Whittle [WC] was a local favorite and drew a significant crowd to the stadium. Her first match was against Canadian Francoise Abanda [3]. The Gonzaga junior had never played a professional level match before, but quickly shook off any nerves and won with a convincing 6-2, 6-3. As she explained, it was all about confidence: "I knew that I could beat anyone so I just set my mind to it." She also alluded to the benefit of entering as an underdog, explaining that "I think I play better when I don't set any expectations." Whittle would later be defeated by Robson in the second round, 7-6 (1), 6-0.
At the end of the 32-player draw, two Americans were left standing: Saschia Vickery [4] and Jamie Loeb [8]. Each went into the Sunday final with the intent to keep the match as short as possible; Saturday's semifinals both went into three sets, included a tie-break, and lasted nearly three hours. As Vickery would later say, "it's just tennis. Anything could happen any day," and as it happened on that day, she quickly got the upper hand. Relentlessly, Vickery played to a 6-1, 6-2 victory, never giving Loeb the chance to fight back or prolong the match. "Playing every single day, it wasn't the actual heat so much but that was just the biggest factor this week: who could stay in there physically till the end and thankfully that was me, thanks to my fitness coach."
Vickery, who stands 5'4" tall and currently ranked 115 held a career-high ranking of 108 in 2015, but her goals are clearly set much higher. She travelled to Templeton with two coaches including game development coach Matt Evans, who spoke with Tennis View after the tournament. "I think she's just starting to discover and understand what she can really do on court. Matches like this provide her a really good platform to move on from… She's fabulous repeating and outlasting anyone out the backhand side, she manipulates and uses court space, and manages time exceptionally well." Moving forward, Evans is looking to develop her movement and balance from counterpunching tools into offensive weapons.
The range of players that enter a Pro Circuit event is remarkable, but what really stands out is the access that fans can get. At Templeton, the players stroll around the grounds, watch each other play from the stands and get lunch at the café just as the fans do. Far away from the hurried and frantic world of premier WTA events, the ITF has carved out a space for people who love tennis for the sake of tennis, even if they may not have previously heard of the individuals playing it. At the Central Coast Pro Tennis Open, you might get the chance to strike up a conversation with a player liked and who knows, in five years you might watch them on ESPN holding up a trophy at the Billie Jean King National Tennis Center.