Pliskova Shocks Serena With Comeback For The Ages

Karolina Pliskova produced the shock of the Australian Open as she saved four match points and recovered from a 1-5 final set deficit to defeat Serena Williams 6-4 4-6 7-5 and reach her first Australian Open semi-final.
Three years ago, Pliskova defeated Williams in two sets at the US Open to reach her first and only slam final. She had every reason to believe that she could defeat Williams, a fact only bolstered by her breaking Williams' serve in the third game and holding on to seal a transcendent first set performance 6-4. Throughout those early exchanges, Pliskova landed 78% first serves and hit spotlessly off the ground with 11 winners and only 10 errors.
It was natural to expect a quick response from the 23-time slam champion, but initially, Williams' play simply deteriorated further. In the fifth game of the second set, Williams closed her service game by shanking a smash wide, then dumping a slice into the bottom of the net to hand Pliskova a 6-4 *3-2 lead.
But this is Serena Williams, and so she immediately broke back to love for 3-3 and then quickly began to find her serve and her sanity. As the 10th game turned into a titanic scrap at *5-4, Williams imposed game and Pliskova's first serve finally crumbled. Williams pounced on three second serves to level the match at one set all. The momentum broken, Williams rolled to a 5-1 lead in the third set, breaking Pliskova twice and rolling through an opponent as is standard for her.
At 5-1 and match point, Williams served and was called for a foot fault. Pliskova attacked her second serve and dominated the rally, pushing Williams from side to side before wrong-footing her with a wicked forehand crosscourt. Williams slightly twisted her ankle, and that marked the end of any normal match.
Williams responded to her missed match point by double-faulting, her form falling off a cliff as Pliskova shook off her shackles and began to dominate again. When Williams recovered to force three match points at 5-4 on Pliskova's serve, the Czech smothered the further three match points with a backhand winner and two forced errors created by searing crosscourt forehands. Pliskova held serve and then rolled through 10 successive points, breaking Williams' serve to love and then holding on to secure a famous victory.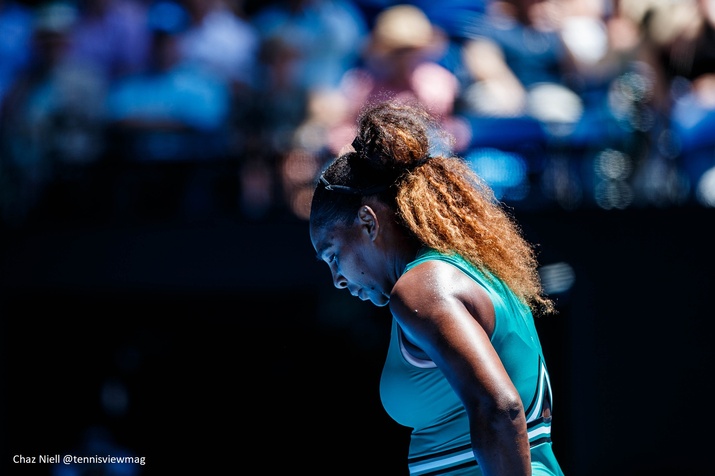 As discussion swirled around the mental, if not physical consequence of turning her ankle on match point, Williams responded by simply praising Pliskova. ""I literally did everything I could on those match points," she said. "It's not like – yeah, I can't say that I choked on those match points. She literally played her best tennis ever on those shots."
For Pliskova, her victory was a logical consequence of her belief. "Before the match," she said. "This time I really believed, like, it's still a player, I know she's the greatest ever, but I don't want to put her somewhere where I would not have a chance to beat her. I beat her before. She was No. 1 at that time. I knew I'm going to have my chances. But I had to play well."
She continued. "I always want to give myself a chance to beat anybody, doesn't matter who is there. Because I was feeling confident all week and half here. There was no reason why I should for one moment think I could not beat her. I know she was playing great all of her matches. I was watching little bit. But my game was different than the players which she played before me."
Pliskova will face Naomi Osaka in the semi-finals after Osaka blasted past Elina Svitolina 6-4 6-1 in the opening match on Rod Laver Arena. The victory marked Osaka as the first player to reach a slam semi-final in the immediate slam after her main title. It showed even further that she is a real deal and a contender for years to come.
Before the pair duel in Thursday's night session, Petra Kvitova will face Danielle Collins in the first semi-final.