The Phantom Rivalry: Maria Sharapova and Ana Ivanovic

In tennis, as in life, we often look most fondly on what didn't happen. More precisely, what almost happened. From Guns n Roses' Chinese Democracy to Chinese Democracy itself, it would appear to be human nature to yearn for what might have been.
The Maria Sharapova/Ana Ivanovic rivalry is one of those "almosts."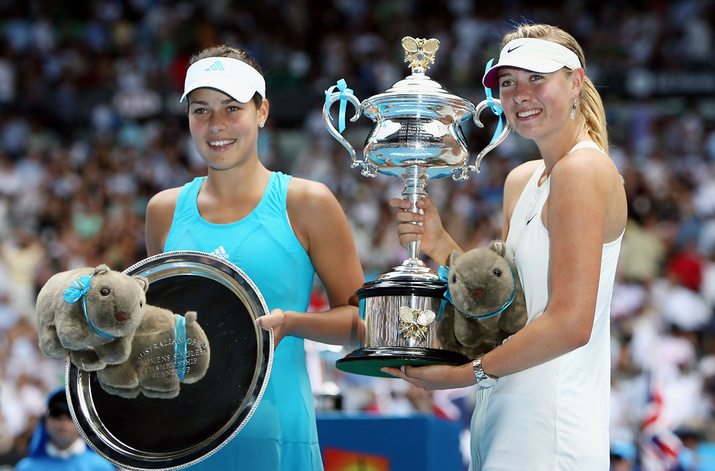 At the start of the 2008 season, Serena Williams was still on her way back, and Justine Henin was on her way out. The world of women's tennis was looking for something to fill the void left by the lack of rivalries to which we had become accustomed. Yet, even if the WTA had been still in its late-1990s heyday, there would have been plenty of reasons to get excited about "Sharapovanovic."
Just seven months apart in age, Sharapova and Ivanovic were fire vs. ice. Yin vs. Yang. Blonde vs. Brunette. Sharapova brought a relentless intensity to every point, punctuating each shot with her trademark grunt. Ivanovic was more unassuming during the point, but she hit just as hard. Whereas Sharapova came off cool under pressure, Ivanovic engaged the crowd with fist pumps and "Ajdes" (Serbian for "come on!").
The two would meet in a Grand Slam final for the first time at that year's Australian Open. Heading into the match, the head-to-head was deadlocked at two wins apiece, and the final itself was a tense affair that Sharapova eked out in two sets. The eager public salivated for more, and christened Sharapova/Ivanovic the sport's next great rivalry. Ivanovic won the next major tournament in Paris, and, although there had been no "Glam Slam" rematch, they both seemed headed in the right direction.
Six years later, many are still trying to pinpoint when this rivalry took a sharp left turn.
Ivanovic's protracted slump began not long after she reached the sport's highest peaks. Although she has shown marked improvements this season, the Serb has rarely displayed the awe-inspiring form seen during that auspicious Australian summer. Sharapova has had higher peaks in the meantime, reclaiming the No. 1 ranking and a French Open title of her own, but even those successes are bookended by two major injury layoffs incurred by chronic shoulder issues.
All of this made the air surrounding the Stuttgart final, their first battle for a title since 2008, full of anticipation and excitement. Both players had tough early matches, but they looked to have worked out many of the kinks by the semifinals. It wasn't a "Glam Slam," but after six years, it would have to do.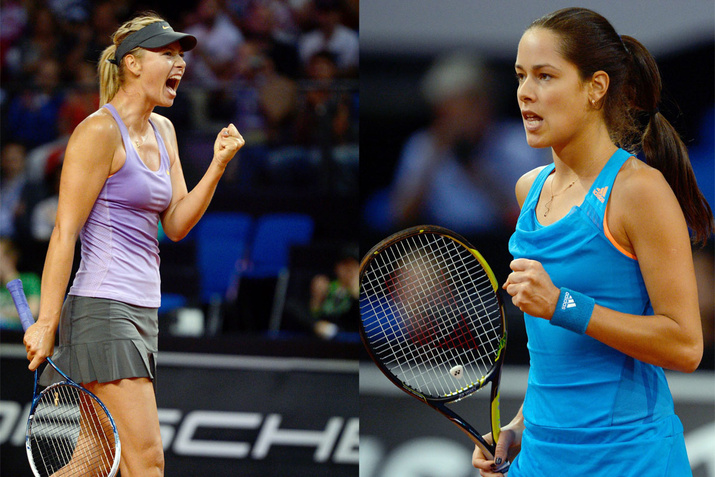 The match itself was interesting as it played out like a reenactment of the rivalry that appeared to be taking shape all those years ago. Ivanovic bounded out to a commanding lead against a Sharapova who again looked lost on a surface she has come to dominate. Serving for a set and 4-1 lead, however, Ivanovic showed her lack of competitive steel when she threw in an ill-timed double fault and virtually collapsed in the final set.
In the end, Sharapova drove off with her third Porsche from Stuttgart, while those who have supported Ivanovic through her seemingly endless "process" were left wondering what more can be done for the Serb to hold up her end of the metaphorical deal.
Stories like these can make you appreciate the rivalries we get, and realize those that do come to fruition only happen once in a blue moon.