Petra Kvitova: Learning to Embrace the United States

NEW HAVEN, Conn. – In an international sport like tennis, the way that players are perceived by the media defines their careers as much as their quantity of titles. Petra Kvitova became Wimbledon champion in 2011, and, although her tennis was ready, her personality was not. The Czech was not as outgoing as many of her contemporaries, tended to shy away from the spotlight, and struggled slightly with a language barrier. To her credit, Kvitova has worked hard on improving her English and opening up to the English-speaking media over the past two seasons. In addition to the cultural difference, however, she has had to make another kind of adjustment during the North American hard court season.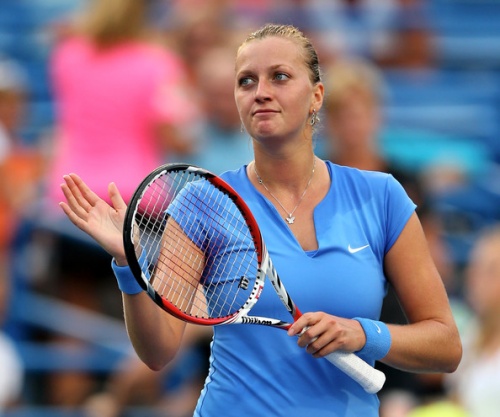 Kvitova, perhaps the most frustrating player on the women's circuit, can experience the highest of highs and the lowest of lows over the course of a single match. At her best, she is nearly unplayable; at her lowest, however, she is forced to work harder than she should on paper. This inconsistency, coupled with her asthma, means that Kvitova requires ideal tennis conditions to perform at her best. For the most part, these conditions do not appear in North America.
In the past, Kvitova has said that the humid conditions in the United States exacerbate her asthma. She said that it prevented her from moving as well or playing as aggressively as she would want. Last year, something changed, and even Kvitova herself was unsure as to what that is. She took home the titles in Montreal and in New Haven, marking her most successful US Open Series to date. Her first two top-10 wins of 2012 came in Montreal over Marion Bartoli and Caroline Wozniacki, and she did not drop a set en route to raising the trophy in New Haven.
"After grass, for me, it's always tough," said Kvitova before the start of the New Haven Open at Yale at the WTA's All-Access Hour on Sunday. "I never liked playing in America because of my asthma. Last year, I played well and won two titles…I know that I can play good here."
"It's nice to be here," continued the Czech, who has reached the quarterfinals in four of her last five events. "I have a lot of nice memories from last year…I'm feeling like [it's] a calm before the storm at the US Open."
If Kvitova was looking for a calm road to her title defense, she has not gotten it so far. Regardless of the adjustments that she has made and her change in attitude, the big-hitting lefty is still prone to bouts of inconsistency regardless of the conditions. Three-setters against Annika Beck and Alison Riske to open her title defense marked her 27th and 28th third sets this year, which leads the WTA. At least, those two wins in New Haven ran her 2013 record in three-setters to 18-10.
"[Last summer] was really important for me," Kvitova emphasized. "Before, I play maybe one, two matches in a tournament. It gave me confidence to be more, "Okay, I'm going to America and I can play good." That was very important for me to play well last year."
This change in attitude from Kvitova in North America now means that all of her focus is between the lines. There will continue to be days when she dazzles and days when she disappoints. Nevertheless, her on-court performance during the summer hard courts, rather than any external issue, is now the central factor in her success.