Paris When It Sizzles: Roland Garros Draw Previews

Storylines abound at the second major of 2013, for which the draws appeared on Friday. Even without Andy Murray and Juan Martin Del Potro, casualties of injuries and illness, plenty of intriguing figures arrive with hopes of challenging the elite contenders. Whether they actually can challenge them remains uncertain, for Paris has become unpredictable early and predictable late in recent years.
ATP

: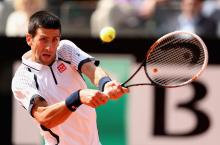 First quarter: Aiming again for a career Grand Slam, Novak Djokovic opens his campaign against an opponent who reached the second week of Roland Garros last year. That achievement has remained an anomaly for David Goffin, however, for he has struggled to string together victories over the last several months. Much more formidable for Djokovic is the test posed by Grigor Dimitrov, the future Bulgarian star noted for dating Maria Sharapova. Dimitrov will look to repeat in the third round what he accomplished in Madrid this month, where he stunned the world No. 1 in a tense three-setter shortly after winning a set from Nadal in Monte Carlo. Never has he reached the third round of a major before, but steadily improving efforts against elite foes suggest that his self-belief continues to rise. Curiously, Djokovic's road might smoothen in the next round or two. Although he lost to Philipp Kohlschreiber at Roland Garros 2009, he has not faced him since surging to the top of the ATP in 2011, and the German has grown less consistent since then.
And a projected quarterfinal date with Janko Tipsarevic should cause little concern for Djokovic's fans. In fact, the second-ranked Serb probably will not reach that stage, judging by his season-long slump combining injuries with a loss of confidence. A more likely quarterfinal opponent for Djokovic, Tommy Haas carried the momentum from his Miami semifinal appearance to the European clay. That semifinal run built upon an upset of the world No. 1, and Haas also has defeated him at a major before. Looking to spoil that intriguing storyline are two unseeded men of note. A surprise semifinalist in Madrid, Pablo Andujar backed up his four victories as a wildcard there with a second semifinal in Nice last week. Like Andujar, his compatriot Fernando Verdasco might fancy his chances against Tipsarevic if they meet in the third round. Verdasco has faded in the last year but showed signs of life this clay season, including a near-upset of David Ferrer in Rome.
Semifinalist: Novak Djokovic
Greatest threat: Grigor Dimitrov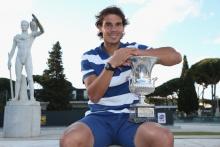 Second quarter: Having reached the final at every tournament that he has played this year, Rafael Nadal may need to defeat Djokovic to keep that streak alive. His earlier opponents should not challenge him too severely, by contrast. Handed a comfortable draw, Nadal will play his first two matches against opponents more comfortable on fast courts. In the third round might lurk Lukas Rosol, who famously ambushed him at Wimbledon last year in the last match before Nadal's long injury absence. The seven-time Roland Garros champion should earn clay revenge for that grass setback, if necessary, or otherwise repeat his Rome victory over Fabio Fognini. A familiar opponent might await in the final sixteen, for Nadal faced Benoit Paire in Barcelona and Madrid. This eccentric Frenchman reached his first Masters 1000 semifinal in Rome, where he upset an ailing Juan Martin Del Potro. Paire's arrhythmic playing style and explosive backhand caught Nadal off balance in their first meeting, nearly securing a set, and kept him competitive in the second. In the best-of-five match, though, probably neither Paire nor thirteenth seed Kei Nishikori can sustain the level required to wear down Rafa.
More intriguing than the seventh-seeded Richard Gasquet are two dark horses in the lower part of Nadal's quarter. Stanislas Wawrinka has defeated four top-eight opponents this clay season, two of them en route to a Masters 1000 final in Madrid. Also a titlist in Portugal, the second-ranked Swiss man suffered a muscle tear before this tournament that left his participation in doubt. Wawrinka eyes a third-round meeting with one of Rome's headline performers, Jerzy Janowicz. This young star burst into the spotlight in Paris last fall and returned there when he stood toe to toe with Roger Federer in a Rome quarterfinal, having defeated Jo-Wilfried Tsonga before. The flat, uncompromising ball-striking of Janowicz resembles the style with which Soderling defeated Nadal here four years ago, although the Pole remains a raw talent in need of experience. Gasquet also handled him with ease this spring, so one might favor him in their fourth-round meeting as well. Winless against Nadal in his career, the Frenchman with the elegant one-handed backhand lacks the stamina to compete with him on clay.
Semifinalist: Rafael Nadal
Greatest threat: Jerzy Janowicz
Third quarter: This section may lack any of the top three men, but it is far from toothless. In danger almost from his first match, Tomas Berdych opens against former Roland Garros semifinalist Gael Monfils and then could meet former Roland Garros quarterfinalist Ernests Gulbis. That first-week schedule looks especially ominous with the strong recent form that both unseeded men have shown. While Monfils reached the final at his home tournament in Nice, Gulbis came closer than anyone to halting Nadal in Rome. Both have enjoyed occasional success against Berdych, but neither as recently as his possible third-round opponent Tommy Robredo. This Spaniard received a Roland Garros seed after the withdrawals of Andy Murray and Del Potro, positioning him to repeat his victory over Berdych in Barcelona. The list of men in this section who have shone in Paris before extends to Andreas Seppi and Nicolas Almagro. Winning the first two sets from Djokovic last year, Seppi nearly reached the Roland Garros quarterfinals, a round that Almagro has reached three times. Neither of them has enjoyed their 2013 clay season so far, with the exception of Almagro's final in Barcelona.
The lower part of this quarter looks less open to an array of talent than the top part. Clearly the man to watch down here, David Ferrer aims for a second straight Roland Garros semifinal. Several of his countrymen will vie to meet him in the first week, highlighted by Rome quarterfinalist Marcel Granollers. Ferrer excels at grinding down most fellow Spaniards other than Nadal, so his route to the second week looks clear if he brings his resilient form from Madrid and Rome. Aligned to meet him in the fourth round is one of two towering servers. Whereas Ferrer has lost only one set in four matches with Milos Raonic, and none in two clay matches, he may find Kevin Anderson a more concerning test. Anderson won their Indian Wells encounter this spring, albeit against a Ferrer tired from the South American clay. Surface specialists number relatively few in this section, creating a rare clay serve-a-thon between Raonic and Anderson before the Ferrer match. The fourth-seeded Spaniard would take a strong head-to-head record against Berdych into their quarterfinal.
Semifinalist: David Ferrer
Greatest threat: Tomas Berdych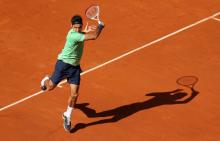 Fourth quarter: In probably the weakest section of the men's draw, Roger Federer will feel confident that he can preserve his streak of major quarterfinals without much ado. Qualifiers await him in each of his first two matches and a string of Frenchmen thereafter. Granted, third-round opponent Julien Benneteau upset Federer at Rotterdam this year and nearly knocked him out of Wimbledon last year. Much less effective on slow than fast surfaces, though, Benneteau would be fortunate to reach the third round considering that he has won only one match since February. Another occasional nemesis of Federer, Gilles Simon, lost resoundingly to the Swiss star in Rome. Simon's two hard-court victories over Federer and five-setter against him at an Australian Open counted for little on the clay where his mechanical game struggles.
No more comfortable on the surface is tenth seed Marin Cilic, who could falter against clay specialist Juan Monaco. But this Argentine had not won more than two matches at any tournament this year until Nice last week, although he has defeated Gulbis and Tipsarevic on clay. Few French fans will sympathize with Monaco's 2013 woes if he advances to face top-ranked home hope Jo-Wilfried Tsonga. An explosive athlete with limited defensive abilities, the sixth seed surprised by reaching the semifinals on the very slow clay of Monte Carlo. On the other hand, Tsonga came within a point of the Roland Garros semifinals last year, threatening to upset Djokovic in an epic battle among the highlights of the tournament. The cold, damp weather should create heavier conditions than he would prefer, and he lost to Federer in a quarterfinal at the Australian Open. Tsonga had his chances in that match, though, as he often has against Federer, so he could give the home crowd reason to cheer if he does not get bogged down in first-week attrition.
Semifinalist: Roger Federer
Greatest threat: Jo-Wilfried Tsonga
Final: Rafael Nadal vs. Roger Federer
Champion: Rafael Nadal
WTA

: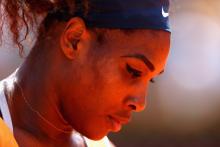 First quarter: Few tennis fans have forgotten the spectacular ambush sprung by Virginie Razzano on Serena Williams in the first round of Roland Garros 2012. Anna Tatishvili steps into Razzano's shoes as Serena's opening opponent, but the world No. 1 surely will approach that match with an elevated level of focus. She has not lost since Doha in February, compiling the longest winning streak of her career with four consecutive titles. Not a champion at Roland Garros since 2002, Serena finds herself among a group of powerful but inconsistent hitters. Some of them have achieved notable success on clay, such as former Roland Garros quarterfinalist Sorana Cirstea. Also a former quarterfinalist here, Anastasia Pavlyuchenkova is the only woman outside the top five to win multiple titles in 2013. Recently adding Martina Hingis as a coach, this Russian has reached the semifinals at most tournaments this year when she survives the first round. Her style of play—high on power, low on movement and versatility—usually plays into the hands of a healthy Serena. Better designed to raise the top seed's eyebrows is Italian veteran Roberta Vinci. The doubles specialist shines on clay and offers opponents many different looks but may struggle to protect her serve.
Among the first-round matches most likely to produce an upset is the tilt between Caroline Wozniacki and Laura Robson. Wozniacki has not won a match on red clay this year, dropping five straight since Charleston, while Robson impressed by upsetting Agnieszka Radwanska in Madrid. The winner of their encounter will be favored to reach a third-round meeting with Svetlana Kuznetsova, the 2009 champion here. Kuznetsova reached the quarterfinals at the Australian Open as she started the season promisingly, and clay showcases her natural athleticism. This clay season has fallen short of expectations, however, lacking victories over marquee opponents. A rare American who plays her best tennis on clay, Varvara Lepchenko may hold a surface edge over Angelique Kerber that partly offsets the German's superior overall talent. Having withdrawn from Rome, Kerber brings questions about her health to Paris and faces a stiff opening assignment in rising countrywoman Mona Barthel.
Semifinalist: Serena Williams
Greatest threat: Svetlana Kuznetsova
Second quarter: Bookended by two counterpunchers in the top five, this section features plenty of explosive shot-makers as well. Never at her best on clay, Agnieszka Radwanska absorbed some embarrassing losses earlier this spring and withdrew from Brussels last week with a shoulder injury. That combination of poor recent form and physical concerns does not bode well for this fortnight, when she could meet the even more battered Venus Williams in the first week. Near Radwanska is an intriguing first-round match between Mallory Burdette and Donna Vekic, two rising stars whom we might see more often in coming years. Serena's nemesis, Virginie Razzano, stands closer to Radwanska's projected fourth-round opponent, 2008 champion Ana Ivanovic. Encouraging clay form this spring included a Madrid semifinal for the Serb, who has held the upper hand against most of her potential early opponents. Ivanovic has struggled repeatedly against Radwanska for years, though, falling routinely to her at the Australian Open and losing their last clay meeting as well.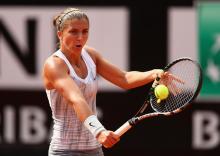 In the top five without ever defeating a top-five opponent, Sara Errani may tumble out of it if she does not advance deep into the second week. Last year's runner-up eyes a comfortable draw, although a contrast of styles awaits against the seismic serve of Sabine Lisicki in the third round. A semifinalist in both Madrid and Rome, Errani continues to win most of the matches that she should win. That trend should propel her to the quarterfinals if not beyond, for she handled Carla Suarez Navarro with ease on Acapulco clay. A growing presence this year, Suarez Navarro can anticipate a rematch of her Rome thriller against Nadia Petrova, when she saved two match points before winning a third-set tiebreak. The sequel could happen in the third round here, assuming that surprise Rome semfinalist Simona Halep has no plans of her own. Halep defeated Kuznetsova, Radwanska, and former No. 1 Jelena Jankovic two weeks ago, stringing together six victories including two in qualifying. Few women in this section can sustain both the power and the consistency to halt Errani, although Ivanovic came very close last year.
Semifinalist: Sara Errani
Greatest threat: Ana Ivanovic
Third quarter: Firm at the edges and very soft in the middle, this section resembles a chocolate moelleux. Sixth seed and 2011 champion Li Na looks to arrange a quarterfinal meeting with third seed and two-time Australian Open champion Victoria Azarenka. A compelling sequence of hurdles awaits Li, impressive early this year when she reached the Australian Open final with victories over Radwanska and Maria Sharapova. Her form has wavered recently despite a game suited to clay, perhaps leaving her vulnerable to third-round opponent Yaroslava Shvedova. Li lost to this underrated dark horse at Roland Garros last year, unable to find her rhythm against Shvedova's first strikes. Even before that stage, Li cannot take surprise Madrid quarterfinalist Anabel Medina Garrigues too lightly in the first round. This Spaniard came closer than anyone this clay season to upsetting Serena, falling two points short. The unseeded Kaia Kanepi, a quarterfinalist here last year, might advance past higher-ranked opponents such as Maria Kirilenko to face Li when the second week begins.
If she can overcome all of those obstacles, the 2011 champion will have played herself into promising form. Li will need that form to halt a five-match losing streak against Victoria Azarenka, whom she last defeated in a quarterfinal here two years ago. Never has Azarenka gone past the quarterfinals at Roland Garros, her least productive major, and her 2012 surge did not translate to red clay. Assorted injuries played a role in her unimpressive results then, so she will feel more confident this year after recovering from an ankle injury at Indian Wells. Azarenka delivered a strong statement by reaching the Rome final in the second event of her return from that absence. Commanding victories over clay experts Samantha Stosur and Errani there proved that she can flourish on the terre battue. Few terrors of the terre can ambush her before the quarterfinals, and the 13th-seeded Marion Bartoli has struggled too much with her serve this year to continue recent successes against Azarenka. The second round could feature an all-Italian clash between Flavia Pennetta and 2010 champion Francesca Schiavone, but their presence triggers nostalgia more than curiosity.
Semifinalist: Victoria Azarenka
Greatest threat: Li Na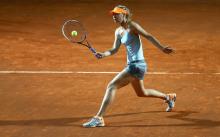 Fourth quarter: Nobody has solved Maria Sharapova before the semifinals all year, other than a viral illness that forced her into withdrawing from her Rome quarterfinal. Back in action with some intense practice sessions this week, the world No. 2 will have spared no effort in preparing for a title defense well within her reach if not for Serena. Sharapova cannot face her nemesis until the final, though, before which many things can happen. The business that lies more immediately ahead of her could include a second-round match against Eugenie Bouchard, a Canadian phenom who wears Sharapova's Nike designs. Chinese veteran Zheng Jie has defeated the Russian before on a slow hard court, and grass specialist Tsvetana Pironkova won a set from her at Wimbledon last year. But little suggests that Sharapova will not cruise into the second week with her energy fully intact for an entertaining contrast of styles against Dominika Cibulkova. The Slovak's size deceives, for she can club her forehand viciously on clay courts and nearly double-bageled the statuesque Russian here in 2009. Sharapova always relishes revenge, so she should bring a higher level of intensity to this match.
Elsewhere in this section are several women who might want to press the reset button on their seasons. Due to meet Cibulkova in the third round, Sloane Stephens has crumbled under the pressure of living up to her Australian Open semifinal appearance. Samantha Stosur has reached three semifinals and a final at Roland Garros but has shown only sporadic signs of surfacing from a disastrous, injury-troubled start to 2013. The seventh-seeded Petra Kvitova did win a significant title at Dubai in February, the lone bright spot in a season more akin to her enigmatic 2012 meander than her glorious 2011 campaign. Kvitova has received one of the most difficult draws for any top-eight woman, tasked with fellow Czech lefty Lucie Safarova in the third round before meeting Stosur, who defeated her in Rome. Never comfortable facing a compatriot, Kvitova will hope that Jelena Jankovic repeats her Stuttgart upset of Stosur. This former No. 1 and former Roland Garros semifinalist has compiled her best clay season in years, including a title and a final. Both of those results came at relatively small events against modest opponents, so caution is advised in projecting Jankovic's Paris results.
Semifinalist: Maria Sharapova
Greatest threat: Petra Kvitova
Final: Serena Williams vs. Victoria Azarenka
Champion: Serena Williams