Paris Masters: Fritz Wins, Korda Loses

On Thursday, at the Rolex Paris Masters, the in-form Taylor Fritz defeated the Indian Wells champion Cameron Norrie 6-3, 7-6(3) in one hour and 33 minutes to reach the quarterfinals.
Fritz had never reached the quarterfinals in his first 28 Masters 1000 events and now he has reached the semifinals of the BNP Paribas Open and the quarterfinals of the Paris Masters.
In next week's ATP Rankings, Fritz, who is now world No. 26, will be the top American.
Fritz played with confidence and aggression, especially with his forehand, which was a weapon on the big points. He also served well, striking 10 aces. The American always kept his composure, even when he had to save two set points in the second set.
After his victory, Fritz told the Tennis Channel: "We have a rich history of No. 1 Americans being ranked higher than 20…I wanna just keep climbing up the rankings."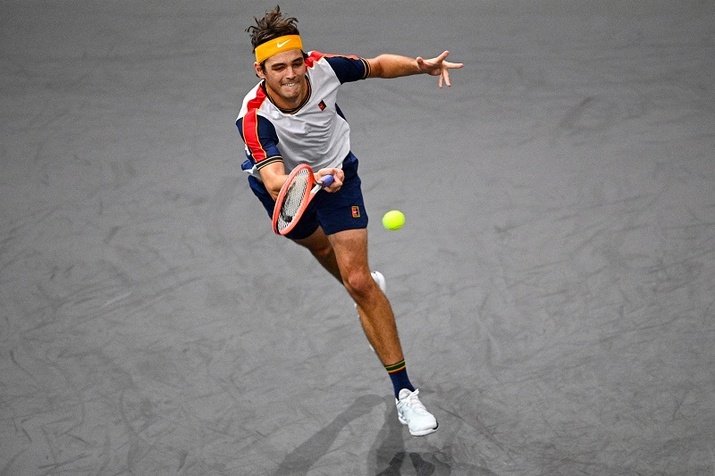 Credit: Christophe ARCHAMBAULT/agence france-presse
Later in the day, in their first meeting, young American Sebastian Korda (who is also rising in the rankings) lost in three sets to Russian Daniil Medvedev, who is the defending champion and always happy playing on a hard court, by a scoreline of 4-6, 6-1, 6-3.
In the first set, Korda got off to an excellent start, winning his first service game at love. With his groundstrokes, he was aggressive but patient, highlighting his easy power. He also showed his incredible feel on a backhand drop volley.
The American won 70 percent of his first serves and saved four break points. He had two break points and won one at 4-all. In his next service game, he was up 40-love with three set points. Finally, on the third, Korda stayed patient in the rally until Medvedev netted a backhand.
In the first game of the second set, Medvedev got down love-30, but managed to hold. In the second game, Korda double-faulted twice and Medvedev broke, leading 2-love. Then the Russian held quickly, at love. Korda then held, finishing with a crushing forehand swinging volley for 1-3.
Medvedev hit an astonishing forehand down the line with just enough spin to drop in and to take a 4-1 lead. You could feel the set slipping away from the American, as he got down love-40 in his next service game. He saved one break point with an ace down the T, but then netted a backhand after a long rally. It was a very quick second set with many rushed mistakes by Korda.
In the deciding set, Medvedev hit spectacular winners crosscourt with skidding angles. He hit a mesmerizing backhand down the line, staying low, his left hand leading the way. Korda, though, raised his level, stayed longer in the rallies. He hit a blistering forehand crosscourt winner, then another amazing forehand down the line.
It was a magnificent match to watch, and after Medvedev broke with an unbelievable forehand down-the-line pass for 3-2, the impassioned crowd began doing the wave.
It was delightful to see such an electric atmosphere. And though both players smiled, it was especially heartening to see Korda smile during this wonderful scene. It showed how excited he must have been playing on a show court in such an important tournament against the world No. 2.
Medvedev held for 4-2 and broke again when Korda missed a forehand long. But at 2-5, Korda broke, with a blasting forehand cross with his easy power, where the ball looks like it's shooting off his racquet, and a forehand down-the-line passing shot.
Serving at 3-5, Korda double-faulted, netted a backhand, missed long, and at 15-40, missed a backhand down-the-line wide. Still, it was a fascinating contest.
And Korda has had a spectacular season. He started the year at world No. 118 and is now No. 39 in the live rankings.