Opelka Takes Delray Beach Title

The final of the Delray Beach Open was a high-quality match. Reilly Opelka, who lives locally, in West Palm Beach, defeated Yoshihito Nishioka 7-5, 6-7 (4), 6-2 in two hours and nine minutes.
Off the ground, Nishioka, a left-hander, hits high and heavy topspin. He is fast, with great anticipation, and is able to always get that one extra ball back. His lefty serve has terrific spin that swings opponents off the court. He often sneaks in, finishing points at the net with technique-perfect volleys. He has great touch, feathering drop shots, creating angles. When he is on song—though he is only 5'7"—his game is Nadal-esque.
Opelka is 6'11" and righthanded. Not only can Opelka serve hard, often at 140 mph, but he can kick and carve his serve, so that it jumps and spins magically two or three times in the air before bouncing off the court.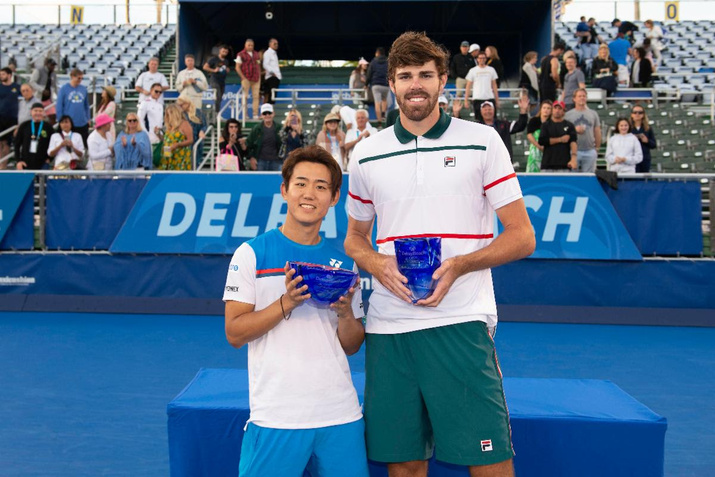 Throughout the tournament, I imagined what it would be like trying to return it. To begin with, even if I took the ball on the rise, I'd still be hitting it head-high. If I stepped back a little, I'd be returning over my head. My only chance, I decided, would be off my forehand. And I'd have to guess, and if I guessed right, I would most likely run into the Porsche parked in the corner of the court.
Nishioka returned his serve better than anyone I'd seen all week. But you could tell he was frustrated. Still, he kept up his intensity and focus the entire match, playing his best.
Opelka also played his best. He seemed to play even better than in his semifinal against Raonic, that because of rain the evening before, had to be played that morning. One shot that was noticeably better against "Yoshi"—as he likes to be called—was Opelka's backhand.
When Opelka is hitting winners off his backhand, moving forward, finishing at the net, and hitting massive forehands and serves, I believe he could challenge, if not beat, the top players in the world.
The main difference between the two men, of course, is height, which greatly affects the serve. Opelka hit 27 aces and 3 double faults, and Nishioka hit three aces and one double fault.
"It's very tough to break his service game," Nishioka said. "I don't have a big serve. [But] I made a final this time, which is not bad I think, so next time maybe a trophy."