Opelka Advances To Rome Semis

Reilly Opelka is into his first Masters 1000 semifinal at the Internazionali BNL d'Italia at the Foro Italico in Rome.
The 23-year-old 6'11" massive-serving American defeated 30-year-old 6'3" lefty Argentine qualifier Federico Delbonis 7-5, 7-6(2) in one hour and 41 minutes.
Opelka not only serves hard—today he served a 145 mph second serve, the fastest in history—but he also carves and kicks the ball so it jumps and spins unreachably high through the air.
In an interview after the match, Opelka (who hasn't lost a set the whole tournament), told Tennis Channel's Prakash Amritraj: "You look at John Isner—he's had a lot of success on clay.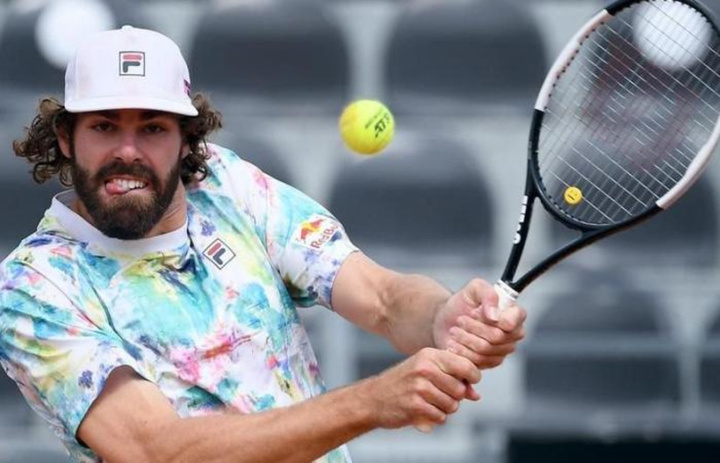 "I think there's a fine line. I think the bigger guys that can get a lot of free points on their serve and can also benefit from having more time on the first ball are gonna have some more success than some other big guys.
"It just gives you more time and if you're serving well enough, the surface doesn't affect it that much."
In Opelka's first service game, he looked nervous—his feet weren't moving well—and he got down love-40. But he dug his way out of it.
He only faced four break points in the match, and he saved all of them.
The second set went to a tiebreaker, and Opelka played some really nice all-court tennis with great defense, great volleys, great feel with a well-disguised dropshot.
When Opelka is on song—crushing serves and forehands, making backhand winners, moving forward—he can certainly challenge, if not beat, the top players in the world.
Opelka hit 18 aces and won 80 percent of his first serve points and 74 percent of his second serve points.
"It's kind of like being a pitcher," Opelka said. "I think the better I get from the baseline and the less concerned I am of the ball coming back, the more open-minded I am to mixing up my serve, and I think it actually makes it tougher.
"Obviously being seven foot and having one of the best serves in the world and let's say you're not hitting the ball well from the baseline, it's gonna be obvious you're gonna want to go for the ace.
"But when you're hitting the ball well from the backcourt and you can win points in a variety of ways, it allows me to feel more free to add more variety to my serve instead of just going for the bomb.
"I think that makes it more difficult for guys to handle because they see a slow kick maybe on my first serve or a short slider or maybe one in the body because I'm not as concerned of the ball coming back or not."
Next up for Opelka is another lefty, Rafael Nadal, who has won a record nine titles in Rome. It should be a fascinating encounter.