"O Canada!" Auger-Aliassime Advances At Wimbledon

On Canada Day and the opening day of Wimbledon, 18-year-old Canadian Félix Auger-Aliassime defeated his compatriot Vasik Pospisil 5-7, 6-2, 6-4, 6-3 in two hours and 47 minutes.
It was the first Grand Slam main draw victory for Auger-Aliassime. He has played in only one other slam, last year's US Open, where he faced another Canadian rising star, Denis Shapovalov, but had to retire because he couldn't get his heartbeat to slow down. His heart condition has since been resolved through a surgery. This year Auger-Aliassime has reached the semifinals of the Miami Open and three ATP Tour finals and seen his ranking rise from world No. 104 to world No. 21. He is 6-foot-4, lithe and light-footed, and has an attacking style of tennis, which should suit the grass courts of Wimbledon. The bookmakers have him as the sixth-favorite to win the tournament.
Pospisil, age 29, is also a crafty grass-court player. He won the 2014 Wimbledon doubles with partner Jack Sock, and in 2015 he was a singles quarterfinalist. He's also been a central figure in recent tennis politics, where he is a member of the ATP Player Council. He's been outspoken about players, especially lower-ranked players, receiving their fair share of prize money.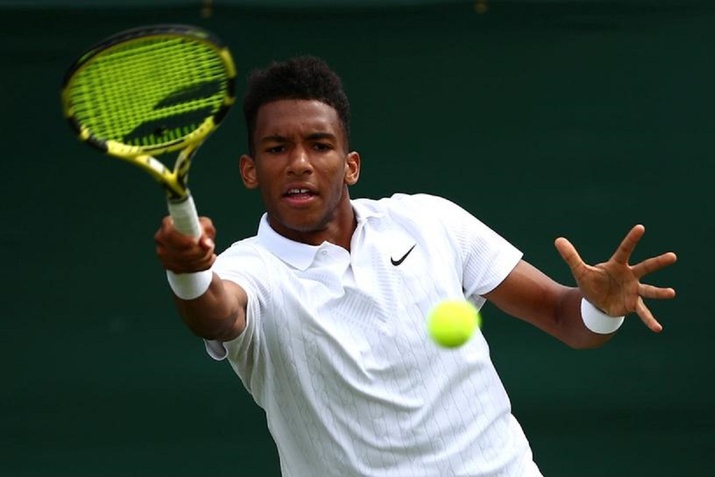 In the first set, Pospisil served first, and they stayed on serve until Auger-Aliassime broke for 3-2, but then he was broken back and never recovered. At 5-6, Auger-Aliassime double-faulted twice, losing the game and the set.
In the second set, Auger-Aliassime broke Pospisil in the first game. Though he still struggled with his serve—his toss can sometimes go off—he held and broke and held again to go up 4-love. Pospisil was able to get some momentum with aces and deft slice-backhands, though Auger-Aliassime countered by mixing up his shots and staying mentally tough. At 5-2, Auger-Aliassime was serving better, his toss and rhythm under control.
Locked at one set apiece, Pospisil got treatment from the physio. This was his first match in eight months after back surgery.
In the first game of the third set, Pospisil got down love-30 on his serve, but managed to hold, hitting an incredible backhand down the line. Pospisil fist-pumped and looked positive. But then Auger-Aliassime held at love, and at 3-all, he broke and then consolidated, curving a second serve into the body, taking a 5-3 lead. Pospisil held, but Auger-Aliassime stayed composed and served out the set.
In the fourth set, in the seventh game, Auger-Aliassime hit a great return on break point to force a forehand error from Pospisil to go up 4-3. Though he had a few errors that seemed to come from nerves, the teenager remained in control, while Pospisil was looking weary. On match point, Auger-Aliassime won with a backhand slice approach and a backhand volley to the open court.
"For any player to get his first Grand Slam win is a big relief, and it's a good achievement for me. At the same time with the level I'm playing now and my ambitions, I look forward and I look to go even further than that," he said.