Not Caught Knapping: Italy's Atypical Route to Typical Result

Early in the final set of their second-round tussle at the Australian Open, ESPN commentator Chris Evert referred to Karin Knapp, the veteran who stood within points of toppling former champion Maria Sharapova, as "a typical Italian [player]."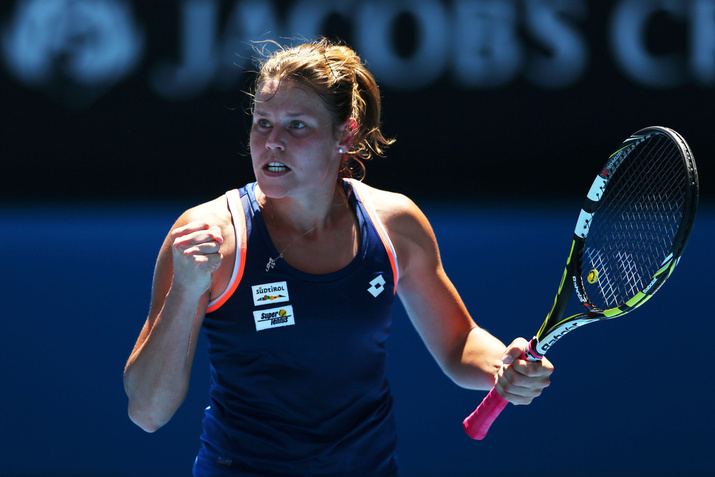 While it may be unfair to generalize (certainly in the case of Knapp), a country can develop a reputation for turning out a "type" when it comes to game style. The Americans, for example, are notoriously aggressive and enjoy employing the one-two punch of their serve and forehand. By contrast, the Russians often struggle for consistency on the serve, but they might be more consistent from the back of the court and prefer to end points with a two-handed backhand.
The Italians, both as people and as players, are thought to be a craftier bunch. Genetically linked to artists like Michelangelo and geniuses like Leonardo Da Vinci, the Italian style we've come to know thrives on the red dirt of Rome or Paris. It is a patient, variable game, reliant on spins and slices, flair and the fantastic. Francesca Schiavone's sometimes improbable, always entertaining run to the 2010 French Open title was rife with creativity and, to borrow a term from the French, joie de vivre. Stunning examples like this and those from the newer crop of top-20 stalwarts in Sara Errani and Roberta Vinci give the impression that, while what is being served might be memorable, power is almost assuredly not on the menu.
Such a blatant deficiency gives hope to the competition. Regardless of respective form, an Italian is unlikely to hit her opponent off the court with aggression and power. It is a notion that gives confidence to Fed Cup captains like Mary Joe Fernandez that, even without a more highly-ranked option like Sloane Stephens, small variables like court surface might be enough to neutralize the more defensive-minded dirt-ballers in a first-round tie. Although the choice of an indoor hard court was not enough to hold off the Italians when the two nations competed for the Fed Cup trophy in 2010, the Italian team is far from the wrecking ball it had been in years past. In fact, none of the top four Italian women attended this weekend's tie, leaving four inexperienced ladies to hold the flag against oft-discussed American prospects in Madison Keys, Alison Riske and Christina McHale. Victory wasn't guaranteed, but surely there was reason to believe. After all, weren't these "typical Italians?"
Enter Karin Knapp.
Often hindered by long-term injuries, Knapp first made headlines in her 20s, reaching the final of the once bejeweled Proximus Diamond Games in Belgium. At an event won by the likes of Venus Williams, Kim Clijsters and Amelie Mauresmo, Knapp outplayed former top-10 player Patty Schnyder and future Grand Slam winner Li Na before losing to hometown favorite Justine Henin.
The surface on which the Diamond Games was played? Indoor hard.
The fairly "atypical" Italian enjoys a medium-bouncing court, and can use her serve to greater efficiency than an Errani or Vinci, evidenced by her resilience throughout her three-setter against Sharapova. It was Knapp who set the tone in Cleveland this weekend, recovering from a middle-set wobble to thump Christina McHale, hitting 30 winners (20 off her superior forehand).
By her side was Camila Giorgi, arguably the most atypical Italian of all by the Schiavone metric. In the vein of Frank Sinatra, Giorgi does things "her way," crushing each and every shot for a screaming winner or embarrassing error. Against Madison Keys, a young player looking to make good on some well-earned early hype, Giorgi allowed her American rival to implode, jamming the teenager off returns and running away with a 6-2 6-1 victory.
The Americans were somewhat able to save face with a dead rubber doubles win over the even more inexperienced Nastassja Burnett and Alice Matteucci, both of whom were Fed Cup debutantes and Matteucci outside the top 500 in both singles and doubles. But overall, the 3-1 rout was a (pizza) pie in the face to a team looking to break down a couple of slice-and-dicing Italians. Knapp and Giorgi might not fit the mold set by compatriots who came before them, but they remain alike in a key category. This is Italy's span of dominance against the once unbeatable American team, a span that now stretches back as far as 2009.
As the American team searches for answers, the question of court surface might go down as the biggest tactical misfire of the Fed Cup season. Certainly as big as any Giorgi forehand to hit the back fence this weekend.