No Space on Courts, Nicolas Mahut Practices ... in a Parking Lot?

Step onto the grounds of nearly any top-level tennis tournament in the world, and you'll find crowds upon crowds of people flocking to the practice courts to catch a glimpse of their favorite player. Many times, these popular player practice sessions woo fans away from even great match play.
At the U. S. Open, many players practice all around the grounds before the tournament officially kicks into gear. During main draw play though, top players get preference for the designated five practice courts on the northwest side. And you would be lucky to even make out who is practicing at the far court without hijacking a seat at nearby Court 4 that overlooks it.
In Miami, if you're lucky, you'll stumble across Maria Sharapova or Ana Ivanovic practicing on an outer court at mid-day in front of a crowd of twenty. On the less-accessible side courts, you may be able to catch both Serena Williams and Victoria Azarenka practicing side-by-side. Once word spreads that these fan favorites are practicing though, you dare not give up your twelve inches of viewing space in fear of missing something memorable.
In Cincinnati this week, things aren't much different. Fans stand just feet from the likes of Novak Djokovic or Rafael Nadal as they practice, and are able to bask in the beauty of catching a champion up close. The aspect that does diverge from the norm at the Western & Southern Open, however, is which players get particular courts and for what allotment of time.
At many tournaments, players get 30 minutes to one hour per main draw player, per court to practice, and doubling-up is not the usual occurrence. You receive more time with two top players practicing together, or less if it is just a player with his or her team. If you're a past champion, then guidelines change yet again.
But according to ATP pro Dmitry Tursunov, there is a rather unique system in play at the Western & Southern Open. Top players get preferential treatment for court time and assignments while the rest are forced to find court space elsewhere.

So, it's no surprise that players like this year's men's doubles French Open finalist, Nicolas Mahut, were pushed to the parking lot in order to hit some tennis balls on Monday.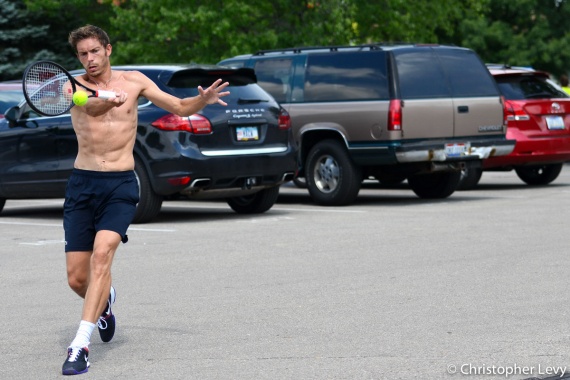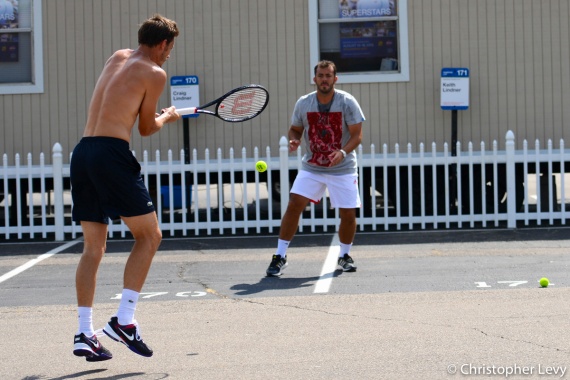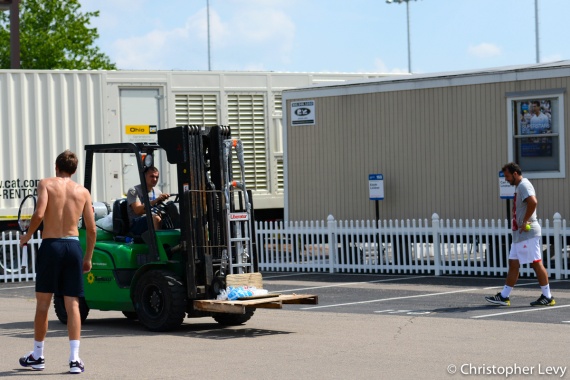 By the looks of the photos, the Frenchman doesn't seem perturbed by the change in scenery – even when heavy machinery interrupts his play. However, will this particular kind of imbalance in court scheduling grow into a trend among other tournaments? Only time will tell, but in the mean time, what would you have done had you been one of these people passing by?