New Kid on the WTA Block: Kurumi Nara

WASHINGTON, DC. – With the rise of Li Na and Kei Nishikori, the tennis market in Asia is quickly expanding. On Saturday at the Citi Open in Washington, DC, the newest rising star to make a mark was 22-year-old Kurumi Nara who defeated Marina Erakovic to reach her second final of the year, 0-6, 6-4, 6-4. The Japanese No. 1 is also in her first career doubles final with Hiroko Kuwata.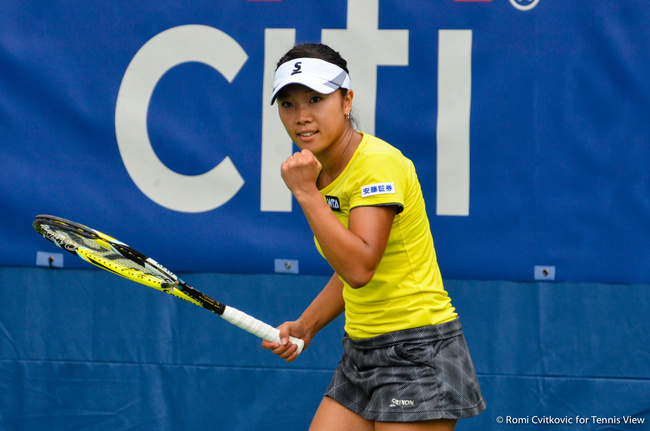 "I can't believe it because [it is the] doubles and singles, both finals here. So just very happy," said Nara in her broken but charismatic English.
Ranked outside of the top 100 one year ago, Nara made waves last August coming through US Open qualification before finally falling to Jelena Jankovic in the third round. At 5-ft 1, Nara looks to her speed and agility to defeat opponents that might tower over her with power. She also finds inspiration from watching YouTube videos of her idol Justine Henin, and more recently, Simona Halep.
In a week with two WTA tournaments on opposing coasts of the US, Nara choose to play Washington over Stanford hoping for more match play due to the tournament's status as an International-level, and it seems to have paid off. Earlier in the day though, her spot in the final was uncertain.
Memories of a previous 6-0 6-0 loss in 2011 also to Erakovic stirred in her mind as Nara quickly lost the first eight games in the match. After Erakovic went up 2-0 in the second and third sets, Nara steadied her game, breaking Erakovic multiple times to finally hold at love in the last game and book her spot in Sunday's final.
"I was panicking in the first set, but I tried to come down and relax, and tried to do more quick movements," said Nara. "It helped me today."
With her ranking now firmly in the top 40 on the WTA tour, Nara will have the opportunity to play more than the six tour-level events her ranking allowed her in 2013, and will sure to be a force to be reckoned with in the coming years.