Nakashima, Kwon Advance At Delray Beach

On Wednesday at the Delray Beach Open, the sun was bright, but there was a steady breeze through the palm-edged Stadium Court, which made for a spectacular day of tennis watching.
In the first singles match, 22-year-old Soonwoo Kwon of South Korea defeated 27-year-old American Ryan Harrison 6-4, 3-6, 7-6 (0) in two hours and 38 minutes.
It was a tough loss for Harrison, but he's feeling better each match. He had surgery four months ago to repair a torn right extensor tendon. After his first-round win over Damir Dzumhur, Harrison said: "I haven't played a match at this level in quite a long time. Today was a good sign that it's coming together."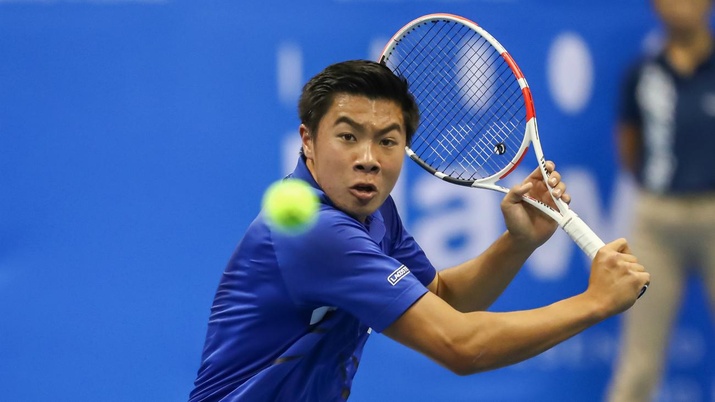 The Delray crowd was fully behind Harrison through the many shifts of momentum, but Kwon remained mentally strong. After blistering down-the-line forehands and backhands, feathering dropshots, and running down near-impossible balls, Kwon often yelled, "Come on, come on, come on," keeping his intensity high.
In the second singles match, 18-year-old American Brandon Nakashima defeated 24-year-old Cameron Norrie, world No. 60, of Great Britain 7-5, 6-2 in one hour and 21 minutes.
Nakashima is the talk of the tournament. He only turned pro a couple of months ago, arriving as a wildcard and ranked world No. 294. He is the fourth youngest player to reach the quarterfinals at Delray Beach, and youngest since Kei Nishikori of Japan won the title here in 2008.
"I was just hoping to play a good match in the first round and hopefully gain some confidence," Nakashima said. "It's been a good start to the year, so I'm happy I made the decision to turn pro."
In the third singles match, 22-year-old American (and local resident) Reilly Opelka defeated his compatriot Mackenzie McDonald 6-3, 6-4 in one hour and four minutes.
The massive-serving Opelka delivered 17 aces and faced only two break points and was not broken in the match. He broke McDonald's serve twice from three looks.
Next up for Opelka is Soonwoo Kwon. Opelka said: "I've never played Kwon. I saw him play Milos [Raonic] last week. He's solid. He doesn't make any mistakes. He's a nightmare. He moves well, returns well, serves well, he's fast. Just a very skilled, high IQ tennis player and knows his game well, so I have to play at a high level."