Nadal Wins a Classic, Will face Federer in Aussie Open Final

Ninth-seeded Rafael Nadal advanced to the Australian Open final after an epic 6-3, 5-7, 7-6, 6-7, 6-4 win against 15-seed Grigor Dimitrov. The victory sets up a much-anticipated match with Roger Federer in the final.
In the opening set, Dimitrov pressured Nadal immediately forcing the Spaniard to save a couple break points, but after a nervous start, Nadal would settle down and into a rhythm. And after ripping huge crosscourt groundstrokes from both wings, he would break the Bulgarian's serve to take a 3-1 lead. Playing confidently and cleanly, Nadal would roll in his following service games to take the set.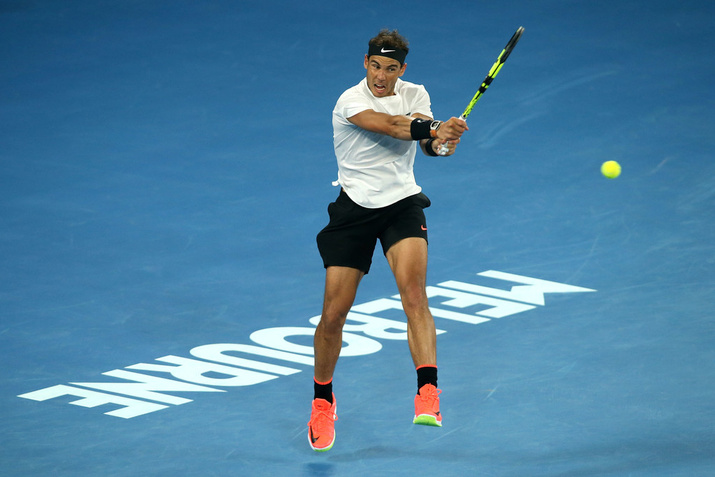 It was Dimitrov who struck first in the second set, breaking serve in a fourth game where Nadal appeared annoyed after receiving a time violation. The 25-year old consolidated the break and found himself in the driver's seat. But that did not last long as Nadal pressured Dimitrov in his next service game and was gifted a double fault on break point. Both players wavered in the following games but in a key moment with Nadal serving at 4-5, Dimitrov had four set point opportunities. It appeared the set would go his way but the Spaniard fought to hold serve. But Nadal was pushed, once again, as he served to force a tiebreak at 5-6, and this time after earning two additional set points, Dimitrov would strike and took the set.
The third set was a tug-of-war as the players exchanged service breaks. With neither gaining an advantage, it took a tiebreak to decide it. There, Nadal stepped up his aggressive play giving him an early edge. Dimitrov worked back into the tiebreak but the veteran mixed tremendous defense with piercing crosscourt strikes and took the breaker at 7-5.
In the fourth set, both competitors were strong in service games as neither could muster a break opportunity and for the second time in the match, it would be decided by a tiebreak. This time, it was Dimitrov who was the aggressor, striking clean, deep groundstrokes, winning the tiebreak and leveling the match.
Then, in the fifth, after a streak where neither player could sniff a break opportunity, Dimitrov came up with two with Nadal serving at 3-4. But Nadal sent the Melbourne crowd into a frenzy as he dug himself out of a hole and held serve. And, parlaying the momentum into the following game, he earned a break chance for himself. He capitalized on his chance and served for the match. And, with the crowd buzzing, on his third match point, Nadal closed out the incredibly competitive, high-quality match.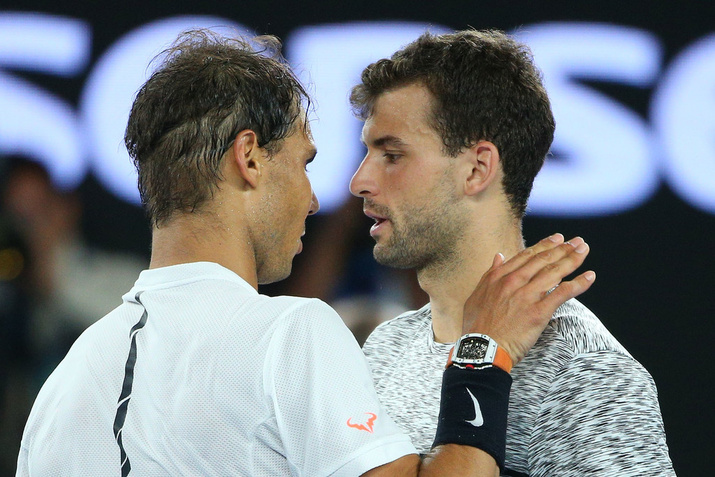 Both players competed at a high level and Dimitrov forced the higher seed to dig deep to advance in the 4 hours, 56-minute battle.
Nadal recognized the significance afterward, "Grigor was playing unbelievable, it was a great match," he said. "I feel very happy to be part of it, I enjoyed it a lot. To qualify for the final in a match like this is amazing."
The win sets up a match with his old rival, Roger Federer. The Spaniard holds a 22-11 career head-to-head record with the Swiss but Federer won their last meeting in 2015 at the Swiss Indoors Basel.
"It's a very special thing, I think for both of us to be in the final of a major again and have another chance to compete with each other again after a couple of years having some problems," he said.
"I think both of us never thought we were going to be here again in the final of the Australian Open."
The match is set for Sunday from Melbourne.