Nadal Survives Injury And Fritz To Reach Wimbledon Semifinals

On Centre Court at Wimbledon, in a comeback victory, Rafael Nadal survived an abdominal injury and the superb serving of Taylor Fritz in five thrilling sets, 3-6, 7-5, 3-6, 7-5, 7-6(4), to reach the semifinals.
In a match that lasted four hours and 21 minutes, Nadal and Fritz both won a total of 168 points.
In tennis, of course, the scoring system is designed so that not all points are created equal. And Rafael Nadal, champion and fighter that he is, was able to win the most important points at the most important times.
The American served 19 aces and only three double faults, while the Spaniard served five aces and seven double faults.
Both players hit 56 winners. Fritz hit 35 unforced errors, and Nadal hit 42 unforced errors.
This was the third meeting for Nadal and Fritz, but their first at a Grand Slam and their first on grass. Both of their previous meetings have come in finals at hard-court tournaments, with Nadal winning in straight sets at 2020 Acapulco and Fritz winning in straight sets at Indian Wells this year.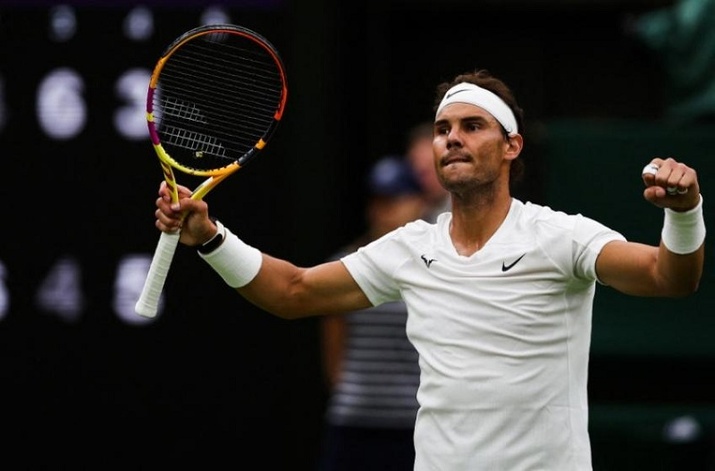 Nadal is bidding to win Roland Garros and Wimbledon in the same year for the third time and equal Bjorn Borg's all-time record of 3 back-to-back men's singles titles in Paris and London. Borg achieved the feat in three consecutive years (1978-80), while Nadal won Roland Garros and Wimbledon back-to-back in 2008 and 2010.
Nadal is also bidding to win his 23rd Grand Slam title and equal Serena Williams in 2nd place on the all-time list for most Grand Slam singles titles won. Margaret Court (24 Grand Slam singles titles) and Williams are the only players, men or women, to have won more Grand Slam singles titles than Nadal.
In his post-match press conference, Nadal said that it was an emotional and important victory.
He confirmed that his father and sister told him to retire when he was first injured. "They told me I need to retire the match, yeah.
"Well, I tried. For me was tough to retired in the middle of the match. Not easy even if I had that idea for such a long time.
"But in the other hand, I did it a couple of times in my tennis career. Is something that I hate to do it. So I just keep trying, and that's it."
Nadal said of his injury timeout: "They can't do much, honestly, no. Doctor came, give me some anti-inflammatories. Well, anti-inflammatories and analgesic, no? And that's it.
"The physio just tried to relax a little bit the muscle there. But it's difficult. Nothing can be fixed when you have a thing like this. That's it.
"I just wanted to give myself a chance. Not easy to leave the tournament. Not easy to leave Wimbledon, even if the pain was hard.
"I don't know. I wanted to finish. Doesn't matter. Well, I prefer to win, with victory or defeat. That's what I did. I fighted. Proud about the fighting spirit and the way that I managed to be competitive under that conditions."
Because of the injury, the speed of Nadal's serve slowed down 15-20 mph. Though he made up for his slower serve by hitting his signature curving, heavy topspin groundstrokes, while mixing in heavy slice. He also hit fantastic dropshots, drop volleys, and overheads. He often found his forehand after the serve, stepping inside out for the winner.
Nadal said: "I won because I played very good from the baseline. Of course, I didn't win because of the serve. It's obvious.
"I have to say that I think unfortunately, or fortunately, I was able to manage, to improve, and to adapt to the circumstances that my body presents to me to keep being competitive under any circumstances, no?
"I was able to improve my tennis depending on the needs. Something that I am happy with."
In his press conference, Fritz said: "Yeah, it was a tough match. I think, you know, I did some things well and some things not as good. In the end he was just really, really, really good.
"Certain parts of the match I felt like maybe I kind of just needed to come up with more, do more. I left a lot kind of up to him, and he delivered.
"It was a great match. Honestly, probably hurts more than any loss I've ever had."
Fritz said of the difference in playing Nadal on hard or grass: "It's a little easier for me to return serve on the hard court just because I can back up a little more, hit my forehand better. I definitely felt like my return today was pretty underwhelming, not great actually."
Fritz said of Nadal's slower serve: "I actually felt like I returned a lot worse when he slowed the serve down. I actually liked for the set and a half the way that he was serving when he was serving more at like 120 because I could take a shorter swing and use that pace to power back. Once he started serving it slower, I had to generate more, take a bigger swing on the return. So I actually felt like it made it tougher for me to return."
Watching the match, it felt like Fritz was playing gutsy, aggressive tennis. But the American said that if he could play the match again, that he'd even be more aggressive. "I felt like I was being as aggressive as I felt comfortable with without making a ton of errors, like being able to make balls but maybe I needed to kick it up a gear and go for it even more, so…
"It's easy to talk about that after I've lost."
Fritz, who certainly had many fans in the crowd cheering for him, said of Nadal's overwhelming support: "I mean, it would be nice to get some crowd support. I can't be mad at it when it's someone like Nadal. I mean, it's Nadal. How can you question anybody for wanting to cheer for him?"