Nadal Storms Into Roland Garros Final

Rafael Nadal will compete for his 11th Roland Garros title after defeating Juan Martin Del Potro, 6-4 6-1 6-2. He will face Dominic Thiem in Sunday's Final.
The match was competitive early despite the fact that Del Potro came up lame during a point and had his hip treated by an ATP trainer. However, there were no visual effects going forward and, in the opening set, he consistently worked himself into Nadal's service games with his hard, flat groundstrokes, creating six break point opportunities. But the Spaniard fought them off and the two battled to 4-4. In the ninth game, Nadal saved 3 break points but held onto his serve and then proceeded to break the Del Potro serve to take the first set. A frustrated Del Potro, slammed his racket between sets knowing that the set was there for his taking.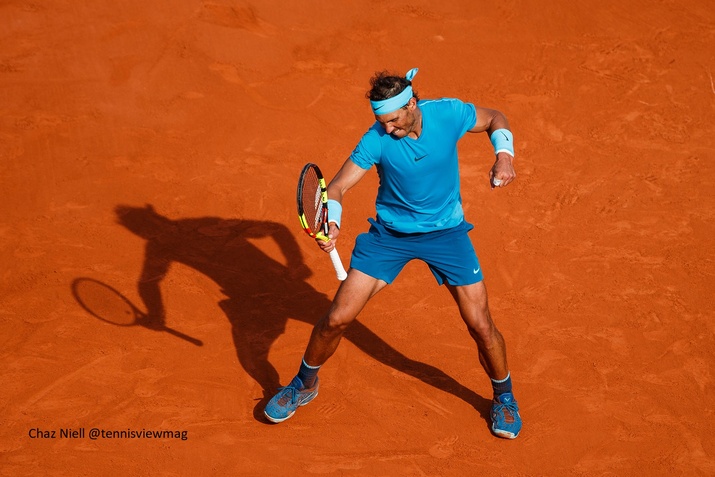 "It was a very difficult first set and Juan Martin had lots of opportunities. He was a little unfortunate," said Nadal.
It was one-sided the remainder of the match as Nadal found his groove and lost just three games. He countered anything that Del Potro could come up with turning defense into offense and moving the Argentine around the court. The unforced errors began to mount up for Del Potro as Nadal controlled the play. And as the match progressed, Del Potro looked weary as the fate of the match played out.
Despite the lopsided scoreline, Nadal complimented his opponent, "His serve was so difficult. He was serving big and hitting very strong the first shots. It was very difficult to stop that," Nadal said. "In every game that I served, I had problems. When he's serving, it's not in my hands. When I'm serving, should be in my hands but I gave too many chances to him to have the break. "I was lucky or – lucky or I don't know what to say for them. Then I converted the important one."
Nadal has no plans to take his finals match with Thiem lightly, despite having won 10 times at Roland Garros. "Sunday will be the moment when I have to give everything I have inside. I have to fight til the end. This extra thing I have to give, I feel I have it inside me," he said. "And I have to have a clear plan at the time of coming out on the court. For that, I'm going to practice tomorrow with this idea in mind. I know I have to give a little more than I have given until now in this tournament."