Nadal Rolls Into The Rome Semifinals

On quarterfinal day at the Internazionali BNL d'Italia, Rafael Nadal defeated his countryman and fellow lefty Fernando Verdasco 6-4, 6-0 in one hour and 38 minutes. This was Nadal's third 6-0 set of the tournament.
It was the 20th meeting for Nadal and Verdasco. Nadal, who has won the Italian Open seven times, is now 17-3 overall in the matchup.
In the first set, Nadal was broken immediately. Verdasco was playing incredible tennis, taking the ball early, not making mistakes.
When Nadal was serving at 4-all, he faced love-40, but was able to hold and then broke to take the set.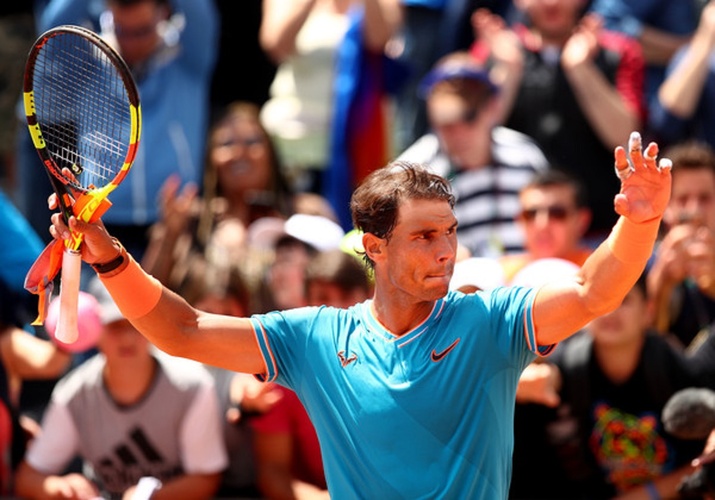 In the second set, Nadal won the first point of the first game with an ace down the T. At thirty-love, he double-faulted. It was a sunny, breezy day, and the red dust was swirling. Nadal walked over to one of his water bottles, so that he could clear his eyes.
After that, Nadal hit a solid serve, and Verdasco missed, returning long. Game Nadal. Nadal broke Verdasco in the next game at fifteen. From then on, Nadal pulled away. He crushed an inside-out forehand, hit a huge jumping backhand crosscourt.
Verdasco has one of the best forehands in the game, and he smacked an incredible forehand down the line. But the image I remember most is this: After a long baseline rally that ended with each player drop-shotting and Verdasco trying to run down a lob but not quite getting there, Verdasco was left out of breath, slumped over, his hands on his knees.
In his press conference, Nadal said, "I think I had a good feelings during the whole match. Then after winning that first set, in the second I was able to—of course he slows down a little bit, but I was able to play a little bit more aggressive with the forehand. I did a lot of things well this afternoon. I am very happy to be in semifinals again. Is a good victory."
Nadal will play Stefanos Tsitsipas of Greece in the semifinals.
When asked about his next-round opponent, Nadal said: "Stefanos is a good player. Every year we make prediction with the team which player is going to be at the top 10 at the end of the season before the season start. I put Tsitsipas there.
"I don't say that because I am a genius, no. I say that is because was a clear candidate to be where he is. He started even better than what I expect. Here we are. He deserves to be where he is now. That's it."
(Photo Source: Getty Images Europe)