Is Nadal Playing Too Much, Too Soon?

Welcome back, Rafa!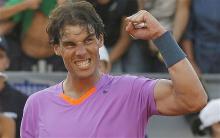 After seven months away from ATP World Tour action, world No. 5 Rafael Nadal returned in semi-triumphant fashion, making the finals in singles and doubles at last week's tournament in Chile.
This week, he's playing in both draws again in Sao Paulo, Brazil, the second stop on the "Golden Swing," and he's expected to play in the third event in Acapulco next week.
Getting matches under his belt appears to be a priority for Nadal, especially after so much time off the court. And that shouldn't be a problem, given that it's a near-guarantee he'll go deep in any draw on the dirt.
But will he end up playing too many matches?
After the mini-clay court tour, the next events on the calendar are the first two Masters Series 1000 events of the year in Indian Wells, Calif., and Miami. Those prestigious tournaments—both of which Nadal has had success at in the past as a champion and finalist, respectively—are played on hard courts, which are far from the kindest surface for someone with a lingering knee problem.
In other words, Nadal could be setting himself up for even more wear and tear over the next two months. And his style of play—one of, if not the most physical in the game—won't help matters.
He appears to be playing a heavy schedule so far in 2013, despite missing the first Slam of the year in Australia
At this point in his career, there shouldn't be a priority on putting in so much court time: Just think, if Nadal repeats his feat of last week, that could be total of 16 matches in two weeks time. Even if half of those played are doubles matches, it's still a heavy workload for even the healthiest of players.
And with Nadal's own camp saying the knee won't be completely right for a few more weeks, the Spaniard can't count himself among them.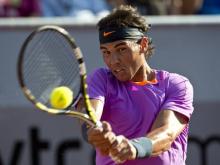 Of course, a great competitor like Rafa wants to get back on the court as soon as possible to add to his amazing legacy. But the best thing to do is make sure the scheduling is precise. Look what happened back in 2010: Nadal cut out tournaments during the clay-court season and went on to have one of the greatest Grand Slam seasons in history for a male tennis player, winning on the clay at Roland Garros, the grass at Wimbledon and the hard courts in New York.
Pacing has to be the most important thing right now: The wins will come. His place among his peers can't be questioned—one tournament played in 2013 and he has to be considered the favorite for the French Open.
But he has to do everything he can to make sure he stays on the court. Perhaps the best way to do that is by staying off it, just a little bit more.