Nadal Makes First-Round Statement At Roland Garros

Over the past year, the home of Rafael Nadal and the greatest sporting achievement ever has torn down, thrown away and replaced by an impostor, but the verdict on Monday was that nothing of importance has changed. Normal service resumes.
"Being honest, the feeling to play in this court is not a big difference," said Rafael Nadal of the new Court Philippe Chatrier after his 6-2 6-3 6-1 first round victory over Yannick Hanfmann. "I think is the same. I don't have different feelings. The court by itself, okay, in terms of visual game, we can talk about small differences, but in terms of playing tennis, I think is the same. The wind is coming the same way. Still a very, very big court. I don't see any difference playing tennis here."
The only thing to strike more fear in the hearts of the other 127 players in the French Open draw was the sight itself. For 1 hour and 56 minutes, Nadal bore down on his opponent, suffocating him as he has done to so many opponents in Chatrier.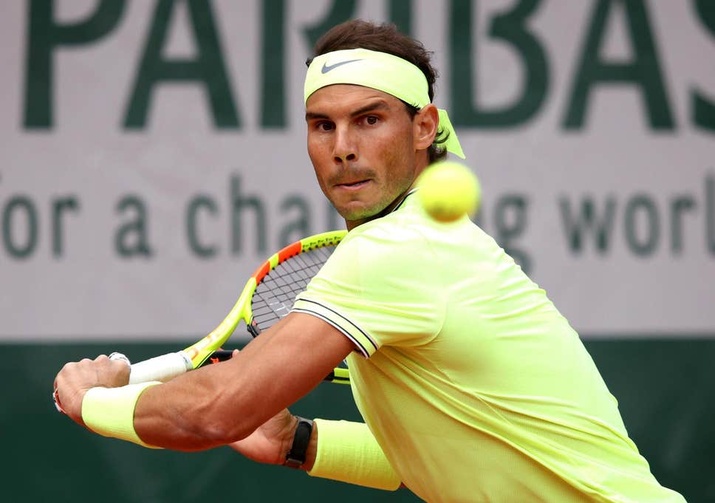 It marked a further warning shot in a clay court season that stumbled before it has soared. This year, Nadal arrived into Rome, the final-warm up tournament before Roland Garros in a state of caution. For most mortals, the three semi-finals that she had recorded across Monte Carlo, Barcelona and Madrid would have been sufficient, but for Nadal it was the first time he had ever passed through three clay tournaments without a title to his name. A fantastic victory in Rome made a mockery of those excited for the prospect of a changing guard in Roland Garros, but for Nadal it simply affirmed that he is on the right track.
"If you want me to sign a paper saying that these results are good before I can start the clay
tournaments, well, okay," she said. "I could sign that. But the normal thing is not to win 11 times Monte-Carlo or Barcelona. It's always something special, and whatever I have done I'm very grateful to those who've helped me throughout the years. But my main goal is to make myself available and ready to fight and compete."
Nadal was philosophical about the belief borne out of a fantastic week in Italy. "I think when you're convinced about something, you're very arrogant, because most of the time you can hope that something is going to happen, and have the desire for something to happen," he said. "But to be convinced, I'm almost convinced about nothing in this world. The only thing I was convinced about is that I wanted to work, to try and arrive at the event in a good shape, whatever it was. Whether it was Madrid, Rome, or here now."
For Hanfmann, the opportunity to play Nadal on his court, regardless of the color of the seats was a chance to learn and to understand. There is nothing like facing Rafael Nadal in his backyard and on his court. You cannot anticipate it. You cannot prepare.
"Now I know how it feels," he said. "To have a guy like him, he has such a unique game on clay, of course. And to feel his ball, like, how it feels on my strokes, it's – yeah. You try and, like, have practice set up the way -, I tried to play some lefties and told them, "Okay, maybe you can try to be Rafa a little bit," but nobody can be him."
(Photo Source: REUTERS/Vincent Kessler