Nadal, Dimitrov Roll into Melbourne Semifinals

The semifinals were set after play concluded on Wednesday and when the dust settled, it was a former champion and one who may be finally living up to expectations, who advanced.
2009 Australian Open champion Rafael Nadal, continued the trend of thirty-somethings advancing deep into the draw as he defeated third-seeded Milos Raonic 6-4, 7-6, 6-4.
In the first set, Nadal came out sharp and focused. He found success behind his serve and handled the big Canadian's first strike effectively. He would earn the one service break he needed to take the opening set and established momentum that he ultimately carried throughout the match.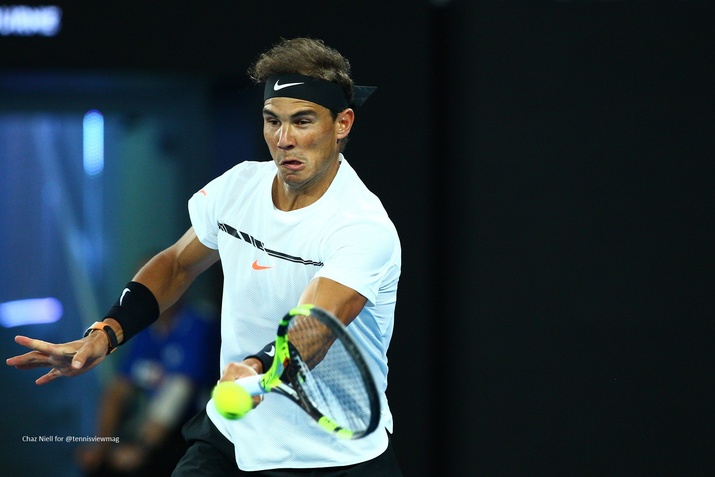 The Spaniard moved Raonic around the court putting him at a disadvantage and was fluid in his court coverage early. This continued into the second set but Raonic was relentless behind his powerful serve and Nadal could not find an opening. Then, with the nine-seed serving at 4-5, the door opened for Raonic at 15-40. But Nadal fought off three set points to hold serve. With neither finding inroads into their opponent's serve, the set would be determined by a tiebreak.
In the competitive tiebreak, Raonic gained an advantage midway through and worked his way to two set points at 6-4. But, once again, Nadal saved them both with the Canadian aiding as he tossed in an unfortunate double-fault at 6-5. The 30-year old showed his fight, turned the tiebreak around and even though Raonic was serving, he capitalized on a set point opportunity, taking the tiebreak and the set. He saved six set points in the second frame.
The three-seed received treatment off the court in the second set advising the trainer he could not "push up." He returned with his upper thigh taped but still created opportunities upon his return but could not take advantage of them.
In the third set, both players protected their serves until the 10th game. With Raonic serving to stay in the match at 4-5, Nadal would not be denied. He won the game at love, taking the set and the match and will return to the semifinals of a grand slam for the first time since Roland Garros in 2014.
Nadal confessed afterward that he had doubts as to whether he could return to the top after missing time from the tour. "I think I'm not an arrogant person so I always have doubts but I have more when I have injuries," he said. "When I have doubts, it makes me work more and the tough moments make me enjoy this more."
"I've had a great career but at the same time I've had a lot of tough moments, which makes me enjoy the wins even more," Nadal said.
With the win, the Spaniard will advance to the semis where he will meet Grigor Dimitrov who swept past David Goffin, 6-3, 6-2, 6-4.
Dimitrov crafted points brilliantly in the match, dictating with shots from nearly every imaginable court position. Despite his quickness, the 11-seed was forced into a bevy of errors finishing the match with 46 unforced.
The Belgian struggled with his serve all match as he only placed 47 percent of his first serves into play. Dimitrov attacked his second serve and broke on 6 of his 15 chances.
For several years, Dimitrov has been projected to be a future major champion and has received criticism for not living up to those expectations at times. His struggles on the court over the last couple of seasons have been well documented, but the 25-year old is comfortable with where his game is today.
"The past two years have been a tremendous roller coaster for me but I'm happy with the way things happened," he said. "Now with each match I've been feeling better and better. It just all comes pretty natural right now. My focus has been good. The mentality has been there. I keep on fighting. I have a good spirit on the court, being positive."
Nadal and Dimitrov have faced each other eight times with Nadal taking seven of those matches.