Nadal, Del Potro To Meet In French Open Semifinals

On paper, Rafael Nadal was the clear favorite to advance to another Roland Garros semifinal. But Diego Schwartzman did not get that memo and took the first set of their quarterfinal match on Wednesday. But after two rain delays and in a match that spanned over two days, Nadal would return to form to advance 4-6, 6-3, 6-2, 6-2 on Thursday.
It was Schwartzman who controlled play early in the match as Nadal look out-of-sorts and consistently struggled to hold serve. Schwartzman, who is known for his great return of serve, pressured Nadal's serve, earning break points in each of the Spaniard's service games and broke 3 times in the set.
Nadal found himself on the defensive and only struck 4 winners in the set while the Argentine ripped 20. And for the first time since a round-of-16 match against Jack Sock in 2015, Nadal lost a set in a match at Roland Garros.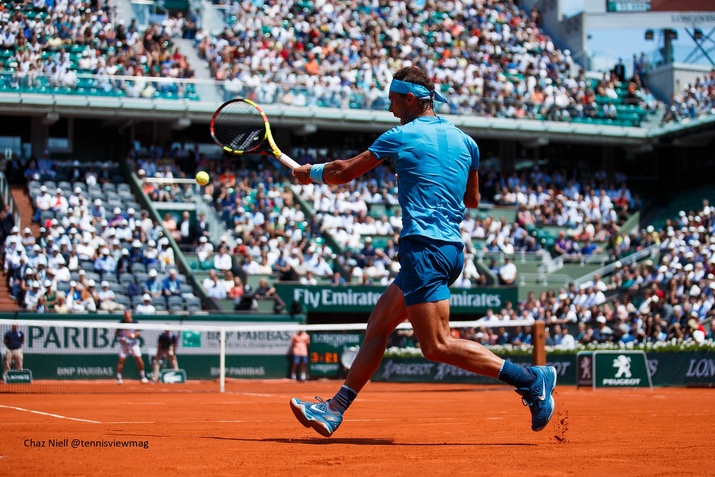 The 10-time French Open Champion continued to struggle in the second set, dropping his serve twice before rain interrupted play. But after a brief delay, play resumed with Schwartzman up 3-2 with a break in his pocket. However, a rejuvenated Nadal rolled to a 5-3 lead when the rains returned again, suspending play until Thursday.
But as the players returned to action on Thursday, Nadal's forehand weapon returned, as well and the 10-time French Open champion dictated play. The Argentine would continue to scrap and look for his chances but could not break through. And after losing his serve three times on Wednesday, Nadal was strong on the second day as Schwartzman would not break again despite some nervy times for the 32-year-old.
Nadal admitted that the stop in play helped, "Of course the stop yesterday helped because it was in a tough moment of my match," he said. "He was playing great, and I was playing too defensive. I felt that I was playing a little bit under more stress than usual, and he was able to take control of the point too many times. I played more aggressive. I continued the level of intensity that I played after the first stop. And, in my opinion, the match changed."
The Spaniard will face Juan Martin del Potro in a semifinal match on Friday. Del Potro defeated Marin Cilic in a hard-fought 7-6 (7-5) 5-7 6-3 7-5 win.
The match featured two power players and former US Open champions whose weapons were on full display.
The match was suspended dead even during a first set tiebreak and when play resumed on Thursday, Del Potro finished off the first set. But the big-serving Cilic fought back in the second set to even the match.
After the Argentine took a 2-1 set advantage, both players stepped up in the fourth, aggressively striking the ball. But it was Del Potro who would find the break that he needed, and he closed out the match on his racket.
Del Potro was emotional after the match as he recalled his journey through a series of injuries and surgeries. "Well it's tough to speak now," he said. "It has been a long time without a good feeling on my body. I had three surgeries on my left wrist and I was close to quit this sport. And now I don't have any words to describe this moment. It's so good for me, my team and my family."
Nadal holds a career 9-5 advantage against Del Potro head-to-head.