Nadal Begins Trek To The US Open In Washington

World No. 3 Rafael Nadal is making his Citi Open debut in Washington, D. C. this week.
The Spanish star, who is the top seed, will be joined in the ATP 500 hard-court event by rising stars Canadian Felix Auger-Aliassime, Italian Jannik Sinner, and American Sebastian Korda, as well as Australians Alex de Minaur and Nick Kyrgios.
Nadal is playing on tour for the first time since falling to world No. 1 Novak Djokovic in the semifinals of the French Open, a tournament the Spaniard, known as the King of Clay, has won 13 times.
After that loss, Nadal decided not to play Wimbledon and the Olympics, stating: "I have decided not to participate at this year's Championships at Wimbledon and the Olympic Games in Tokyo. It's never an easy decision to take but after listening to my body and discuss it with my team I understand that it is the right decision."
Now Nadal needs match practice. His playing style—a lefty with heavy topspin who slides effortlessly—is more suited to clay. A hard court is harder work for him. The movement on a hard court is much more rigid, more stop and start.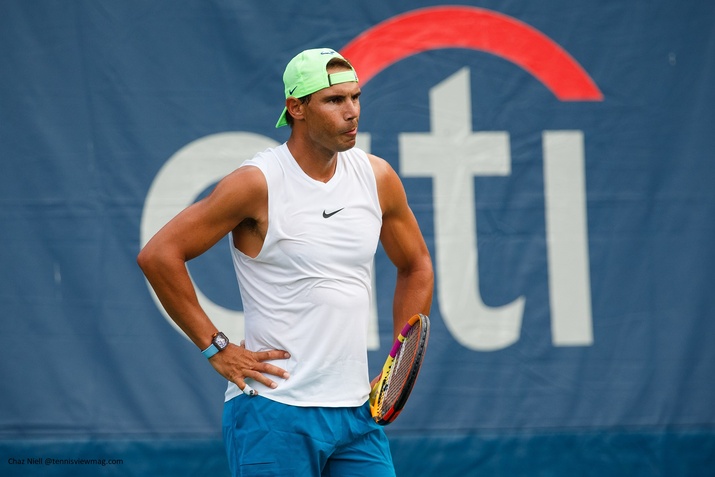 He will have to adjust his game, play a bit quicker, find his rhythm, so that he can play closer to the baseline. Nadal is a habitual worker, and the more matches he plays, the more he will get into a rhythm, the more confidence he will have.
Nadal wants to feel comfortable, allowing him to play his best level. When he's comfortable, he dominates.
His forehand is devastating. His backhand passing shot is unmissable. He expertly closes in on the volley to finish the point.
As a lefty, he already has an advantage on his serve, pulling it wide or slicing it into the body. He's creative with his drop shots, lobs, and with holding the ball and hitting it behind his opponent. He has unbelievable variety. He can do anything.
Nadal also has to get used to the conditions. The heat and humidity in Washington are not much different than New York. In four weeks, he will begin his campaign for a record 21st Grand Slam title at the US Open.
So far, the Spaniard seems to be enjoying his time in Washington.
After a practice session, Nadal said: "I love to be here in Washington because is not only a new event for me, is a new city. I am able to visit one of the most important cities in the world. And honestly, it's a very beautiful city. I have been able to walk around little bit the last couple of days. I am very impressed. I hope to have a chance to visit little bit more the city during the next couple of days.
"But what I saw, so beautiful. A very green city, lower buildings than most of the American big cities. I am enjoying the city, I'm enjoying the people. Yeah, having fun."
On Saturday, Nadal practiced with 21-year-old American Sebastian Korda. Korda has said that Nadal was his childhood idol.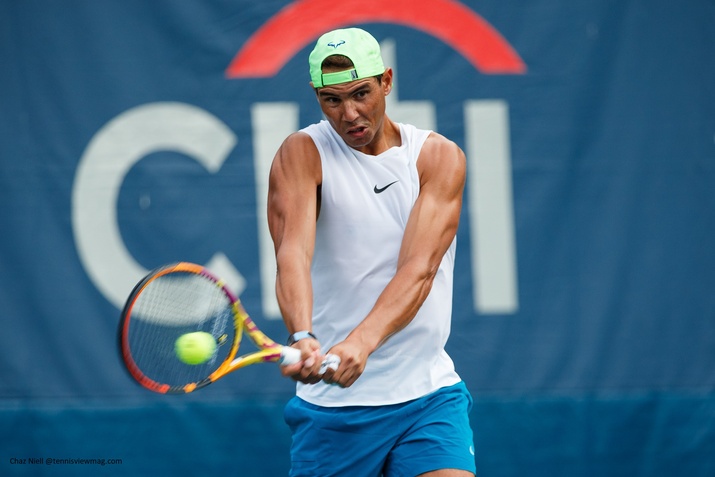 Nadal said of Korda: "Good physical look, good serve, good shots from the baseline. I think he's a great guy, complete player.
"He has a lot of things to do in the next years in our sport. I think I always believe since I saw him play that he going to have the chance to be one of the best players of the world.
"Let's see. Is always the same. I think he has all the things that he needs to be a definitely top guy. Of course, then things are not easy and you need to keep improving.
"But I definitely believe, if you ask me, he going to be a great one."
Korda is seeded 12th and on the opposite side of the draw from Nadal, so the first chance the two could meet would be the final, which would certainly make for an intriguing matchup.
Throughout the tournament, the Citi Open will honor the heroes of the pandemic. Images of the pandemic heroes will be featured around the stadium complex alongside images of tennis greats, and stories will be told daily on social media.
Each night before the 7:00 pm coin toss on the stadium court, organizations and individuals that have worked tirelessly during the pandemic to help the region, nation, and world will be honored in front of players and the sold-out crowd.
"None of us could be at the Citi Open this year if it were not for the many unsung heroes of the pandemic," said Citi Open Chairman Mark Ein. "We want to use our platform to recognize the incredible dedication and contributions of the scientists, medical professionals, teachers, and non-profits whose inspiring work saved lives and protected our communities. We hope the nation and the world will join us in celebrating these true heroes."