Muzzling the Dog: Federer Reaches Fifth Indian Wells Final

Temperatures soared at Indian Wells this weekend, mirroring the torrid form of Alexandr Dolgopolov. Arguably the hottest player in the tournament, the Ukrainian had knocked off world No. 1 Rafael Nadal and 10th seed Milos Raonic on his way to his first Masters 1000 semifinal. If anyone could cool off the surging Dolgopolov, however, it would be four-time Indian Wells champion Roger Federer.
Seeking a record-breaking fifth final at Indian Wells, Federer had become the only player in either the men's or women's draw to reach the semifinals without losing a set. To be sure, he had not faced a notable opponent to this stage. Federer had continued his dominance over Tommy Haas in the final 16 before halting the surprise run of Kevin Anderson in the quarterfinals. He had lost just four service games in four matches at the BNP Paribas Open, so Dolgopolov would need to focus on protecting his own serve.
To achieve that goal, the Ukrainian underdog would need to find greater efficiency in landing his first serve. Dolgopolov had overcome a mediocre first-serve percentage during his victories against Nadal and Raonic. He had won the overwhelming majority of his first-serve points and found first serves at clutch moments. But that rate surely would not be sustainable against Federer, playing some of his crispest, most fearless tennis since winning Wimbledon in 2012.
Whereas Dolgopolov's unique style gives him the advantage of surprise against many opponents, it would not catch Federer off guard. The two men had practiced together in Dubai last month, giving the Swiss star insights into his opponent's idiosyncrasies. Still, they never had met on an outdoor hard court and had squared off only once overall. That meeting at Federer's home tournament in Basel four years ago held few insights relevant to this match.
The first five games rolled past in 14 minutes, Federer dropping only three service points through his first three holds. True to expectations, the ebbs and flows in Dolgopolov's game subjected him to greater pressure, while his first-serve percentage continued to lag. (He would finish the set with a first-serve percentage of 41%.) But he continued a trend from earlier matches of finding first serves at the moments when he needed them most.
Points followed each other swiftly and ended just as swiftly. Stepping inside the baseline with confidence, Federer took away the time that Dolgopolov needed to craft his distinctive combinations. Although he struck the ball less explosively than in previous matches, Dolgopolov played with more discipline and profited from targeting Federer's less reliable backhand. One lapse would decide the first set, and it came in the eighth game. Serving at deuce, Dolgopolov sprayed two routine groundstrokes well outside the lines to surrender the decisive break. He rushed both shots without properly setting his feet or taking time to construct the point
Dolgopolov had regrouped from similar lulls against Nadal and Raonic, but it would prove more difficult against an opponent as impenetrable on serve as Federer. The Swiss star had faced only one break point over the last four sets, dating back to his match against Haas. He would close out the first set in style and ride the momentum into the second set. Federer ranks among the best front-runners in the history of tennis, while Dolgopolov has not established a reputation for resilience. That combination did not bode well for the underdog's chances.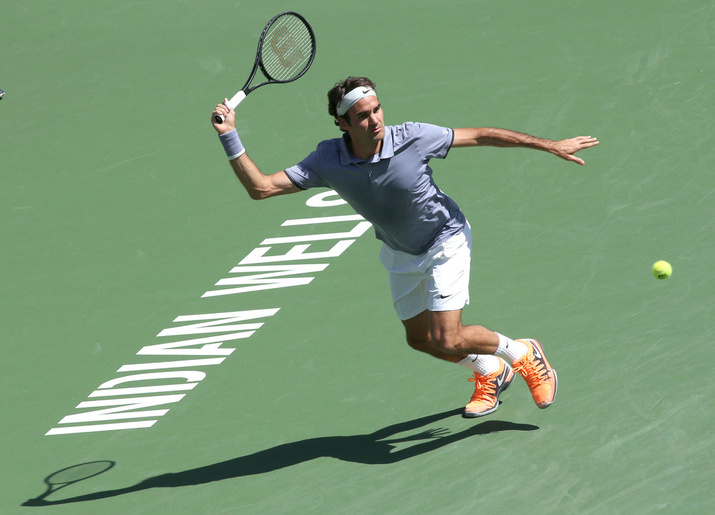 Federer swept 15 of 17 points from the eighth game of the first set through the second game of the second set, securing an immediate break. Dolgopolov contributed significantly to his own woes, flinging forehands into the doubles alley and sailing a smash over the baseline. Federer needed merely to play steady, self-contained tennis as his raw opponent self-destructed. The disparity between Federer's comfortable holds and his opponent's edgy service games grew ever starker as the match progressed, surely weighing on the underdog's mind. Federer's service games lasted an average of 107 seconds in the match, while Dolgopolov's service games lasted twice as long.
When the Ukrainian loses control of his game, the situation can spiral out of control within minutes. This is the disadvantage of playing tennis at a free-wheeling, breakneck pace. Any waves of momentum can become tsunamis—in either direction. And Dolgopolov does not have a slightly safer style into which he can settle when he needs to rediscover his rhythm. Going for broke from start to finish earned him the upset over Nadal, but it turned against him when he faced Nadal's archrival. Frustration seeped into Dolgopolov's body language during the second set as he threw up his hands, tossed his head toward the sky, and grimaced toward his box.
A seven-deuce game midway through the second set produced the highlight moment of the match. Sprinting to his left along the baseline, Federer retrieved a Dolgopolov smash and then reversed direction to race to his right, where he struck a clean cross-court winner off a forehand pass. The crowd erupted as the Swiss star raised his fist in quiet satisfaction. He would earn the insurance break several minutes later. At that stage, Dolgopolov's resistance collapsed. He would lose 10 of the last 11 points to concede his first Masters 1000 semifinal.
Reaching his fifth final at Indian Wells, Federer sounded as content with his game and his physical condition as he had in many months. He will seek his 22nd Masters 1000 crown with the knowledge that he never has lost a Masters 1000 final in the United States. Having cooled off the hottest player in the draw with ease, Federer will feel confident of extending his winning streak to a round dozen on Sunday.