Murray's Herculean Effort In Melbourne

My friend, a fellow writer and tennis fan, who lives in Los Angeles—I live in Alabama—texts me: "Are you staying up all night and working tomorrow?"
"Maybe?" I reply. "I've got it on Edmund/Berdych and am setting my alarm for two hours away, so I can watch Murray. I teach at ten in the morning, but it's an easy lesson and also easy afternoon."
He texts: "AMAZING."
I reply: "I've done this most of my life. Somehow seems fun watching in the middle of the night."
I fall asleep with the TV on and wake up to the crowd cheering, blurrily see the ocean-blue hard court of Melbourne Arena, see that Murray is down two sets and about to begin a third set tiebreaker.
I'm still coming out of my dream state when I hear the broadcaster say, "Do we continue to dream?"
I think, "Can he really come back from two sets down in what's supposed to be his last match ever?"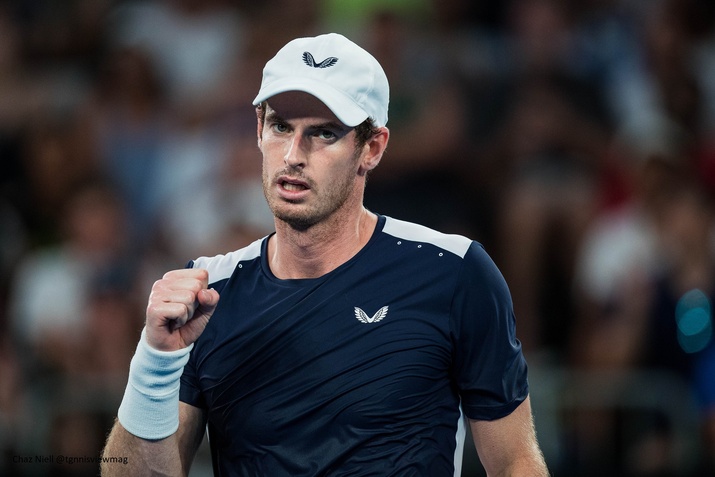 Of course he can. He's Andy Murray. And even though his ranking has slipped to 229 because of his hip injury, he's a former world No. 1, has won Wimbledon twice, the Olympics twice, the US Open, and has been a five-time finalist here at the Australian Open.
But he's playing Spaniard Roberto Bautista Agut, world No. 24, who just over a week ago won in Doha, an ATP 250 tournament, beating Novak Djokovic, the world No. 1, in the semis. So it's fair to say that Bautista Agut—a smooth, light-footed, aggressive counterpuncher—is playing some of the best tennis in the world.
I'm fully awake now, my eyes fully adjusted to the light of the TV in my middle-of-the-night dark bedroom. I watch Andy win the breaker.
He's limping in the fourth set, but he wins that in a tiebreaker, too.
He's leveled the match at two sets all. This is when everyone—the broadcasters, the crowd, Murray, Bautista Agut, and me watching from 9,405  miles away and 17 hours behind, really believe that he might win this.
He's leveled the match. The hope is real.
Andy takes the first game of the fifth.
But Bautista Agut gets the break for 2-1 and then has a love hold for 3-1.
Murray looks wounded, but he's trying everything, taking the ball early, bunting the ball on the return. He hobbles to hit a forehand wide. He sails a forehand long, clearly in pain when he pushes off on his right side. He has trouble pushing up on his serve. He double faults. His grunts have taken on a higher-pitched, pleading tone. Bautista Agut has a break point for a double break. Andy nets a backhand. Bautista Agut leads 4-1, then has another love hold.
Murray is serving, down 5-1. The crowd gives him a huge round of applause as the match time clock hits four hours. Andy lifts his racquet in a salute to them. He's fighting tears. They show his mother, Judy, in the player box. She is, too.
Andy hits a good serve out wide, then hits to the open court. 15-love. You can hear Murray struggling, that grunting yelp as he runs.
At 30-15, Andy hits an ace. I see Judy again in the audience, along with his brother Jamie. Judy is a tennis coach back in Scotland. I think of Jamie and Andy growing up, of Judy laying the foundation for their love of tennis.
A dead net cord from Bautista Agut makes it 30-all.
When Murray runs, he scrapes his racquet on the ground moving forward, his normally steady grunting turns into pleading yelps. You've heard that distinctive steady or struggled grunt his whole career. Just as you've seen his many forehand flick-cross winners, deft dropshots, quick-wristed, exquisite topspin lobs, his sublime backhands down the line.
Murray nets a forehand to make it 30-40. Bautista Agut has match point. Murray saves it after a long rally and a lunging volley. The crowd is going wild. They show Judy smiling proudly.
It's deuce. Murray hits a winning forehand approach, and Bautista Agut nets it. Ad in. Murray hits an ace with a slider out wide.
I'm having a glimmer of hope again, maybe not for a win. But just for the hope that Murray, who's made a career out of never giving up, just wants to play a little longer.
With Murray holding serve, it's 2-5. He gets a standing ovation.
Bautista Agut somehow blocks out the partisan crowd—I can't imagine how he's doing it—but he gets himself to 30-love with an ace down the T. Then 40-love—triple match point. The crowd is cheering. Bautista Agut misses his first serve. But after his second serve, he hits it powerfully down the line, and Murray can't quite get to the backhand.
The 30-year-old Spaniard beats the 31-year-old Scotsman 6-4, 6-4, 6-7 (5), 6-7 (4), 6-2 in four hours and 9 minutes.
It's the longest match on the opening day of the first major of the year, played in classic, dramatic Murray-style: moments of genius, intense fist pumps, roarings of "Let's go! and C'mon!" Mutterings of "great shot, Andy," after a miss. Caustic comments to his team.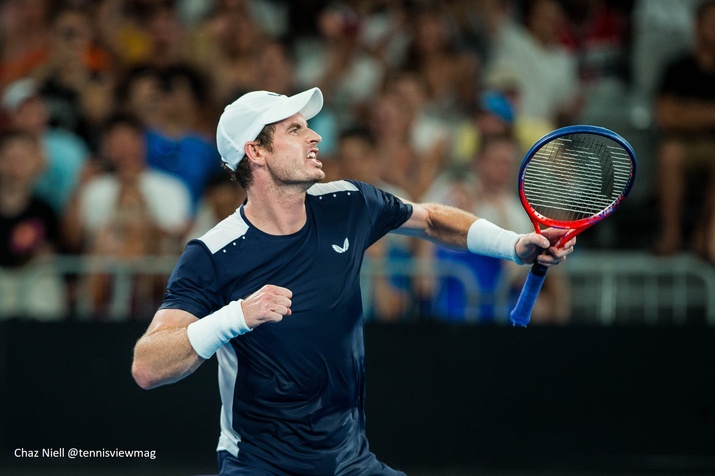 It was a truly herculean effort to keep the match alive for so long. The crowd is still cheering. Everyone is still on their feet. The crowd and his mother and brother look full of pride. Andy looks full of pride. Bautista Agut and Murray shake hands, then hug.
"If today was my last match, look, it was a brilliant way to finish," Murray said. "I literally gave everything that I had on the court, fought as best as I could, and performed a lot better than what I should have done with the amount I've been able to practice and train."
Murray does not seem to cry when he watches a video of players wishing him well in his retirement. Federer says that he's his biggest fan, that Andy became a Sir, that he did that through tennis.
There is a calmness about him, as if he's reached a transcendent high.
I turn off the TV, get a few hours sleep before my lesson. It's cold, so I bundle up—a couple layers of shirts, tights under my skirt, a heavy jacket with a hood.
Walking to the courts, my eyes meet a tall, strong man, maybe eighty, with a full head of silver hair, coat collar up against the cold, but tough, military-tough, or Scotsman-tough. "You're going to brave the wind?" he says, more a stern warning of "that's crazy" rather than a question. "Yes, sir," I say. It's the only answer I could have given.
Of course I can teach a lesson when it's 40 degrees and a whipping wind. No problem.
I'm teaching two ladies. Walking to our court, we pass courts that are being resurfaced. "That's brutal, physical work," one lady says. "It is," I say, "but it's more." The guy who does it is an artist, the Federer of courts. He makes it look easy. I tell her about how they scrape the court, then level it with some kind of implement on a tractor, apply the new clay with a straight edge or laser grader, then condition with water and compaction using a roller. And there's math. There's a slope to a court. A clay court has a one-inch fall for every 30 feet, so the clay doesn't wash away quickly. So that's a third of a percent. A hard court has about one percent or about one inch every 10 feet. They chalk-line the lines. Then they follow that chalk with the vinyl strips. Then aluminum nails every three inches.
I feel a swell of pride for knowing this, for the tennis court itself, for my life in tennis, for him—the guy who built and is resurfacing our courts for the tenth year in a row, for Andy who's facing a hip-resurfacing surgery, the conditioning he'll have to do after, just to be able to walk properly without pain, or maybe he'll be able to play again without pain.
I do not give them an easy lesson. I run them side to side, do a drill where they have to come in for a short ball, then back up for a deep one, over and over. They are both forty and beginners. They have kids who are finally in school, so they have their days free. One told me she turned down a job "to pursue other opportunities" and those other opportunities are tennis.
At the end of the lesson, they thank me. They laugh, saying they did everything short of diving for the ball. There's joy in the struggle of playing tennis. They are leaving on a high.
They are hopeful.
So am I.
So is Andy.
"I have two options," Murray said. "One is to take the next four-and-a-half months off, then build up and play Wimbledon. The other is a really big operation. There's no guarantees that you can come back from that.
"But there is the possibility, because guys have done it before. Bob Bryan is doing it just now. Some other athletes have given it a go.
"But if today was my last match, look, it was a brilliant way to finish. That's something that I'll probably take into consideration, as well. It was an amazing atmosphere."