Murray Wins First ATP-Level Match Since January

In the Huajin Securities Zhuhai Championships, Andy Murray of Great Britain got his first ATP-level win since January, defeating Tennys Sandgren of America 6-3, 6-7 (6), 6-1 in two hours and 41 minutes.
Murray, the former world No. 1, moved exceptionally well, considering he had hip surgery in January. He played vintage-Murray defense, hitting his perfection-topspin lobs. On offense, he used his lightning quick hand-eye skills, taking the ball early, flicking winners crosscourt and down the line.
Murray served 13 aces and did not face a break point. He won 80 percent of his service points.
In August, at the Winston-Salem Open, the Brit had lost to the American in his second tour-level singles match since the operation.
Next, Murray will face seventh-seed Alex de Minaur of Australia.
In press, after the match, Murray said: "Yeah, I mean, I think that in some ways that it's one of the best wins that I've had, not in terms of like just getting through that today, but everything that's gone into sort of getting back to this point. Yeah, you don't necessarily appreciate like what it's like to be healthy and stuff, like at the beginning of your career, it's something that you take for granted and it's quite easy. Whereas, these last few years haven't been and obviously after the operation in January it's been difficult and it was undecided at times about whether I wanted to keep going or not and, yeah, it's been tough. But I'm really glad that I can actually get the win today and hopefully I'll be able to keep going."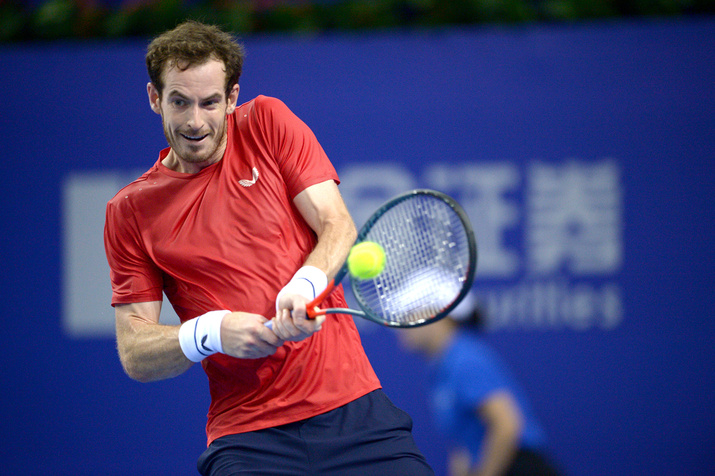 When asked to compare this match with how he played Sandgren before, Murray said: "I mean it's impossible to say exactly, but I think in terms of the way I was hitting the ball, like tonight like my ball striking was, I think, very good. Tonight I was hitting the ball well, movement was I think pretty good. Tonight I served well. Obviously there's things that I feel I can do better, but it was definitely progress. I don't know whether that's five percent, ten percent, it's difficult to put a number on it, but I think I did a little bit better tonight than I did when we played a few weeks ago and that's a good thing. That's what I need to keep doing the next few months and then I'll see eventually like at some stage the progress will stop and I'll find out what my limit is. But it's good to see that I'm still progressing and making improvements."
When discussing his hopes for the Asian swing, Murray said: "Yeah, I mean my goal is to try and get two to three matches a week in all of the tournaments while I'm here. So if I got nine matches in the three weeks I was here I would think that would be a really, really good trip. Which might seem like it's, I don't know, like it's low expectation or whatever, but if I got somewhere between six and nine matches I would be happy with that because of where I'm at just now and I'm respecting the recovery process that I'm kind of still going through.
"Tonight was a really good match to get through, but I'll see how I recover tomorrow and how I feel, because that's, for me, the longest match, I think, that I played since I have come back. And I'm happy I'm not playing tomorrow because I was pretty tired at the end of the match and I know I'll need to get a good day's rest tomorrow."