Murray Sets Up Indian Wells Semifinal Duel with Djokovic

A history of futility against a particular opponent can be an obstacle difficult to overcome. Feliciano Lopez had won only a single set in nine meetings with Andy Murray, played on a variety of surfaces, as he entered their quarterfinal at the BNP Paribas Open. His struggles were partly due to the character of this matchup. Two of Murray's greatest strengths, his return of serve and passing shots, are the weapons ideal to neutralize the Spaniard's serve-reliant, net-rushing style. As surfaces slow around the Tour, counterpunchers like the Scot also have more and more time to withstand the first strikes of an attacker like Lopez and craft angles around him at the net.
Still, the 33-year-old lefty had enjoyed a renaissance of sorts over the last 12 months, ascending to the top 15 on the back of five top-10 wins and two Masters 1000 semifinals. His quest for a third had been built on an upset of world No. 5 Kei Nishikori, another player who might have been expected to wear down Lopez from the baseline. For his part, Murray had shown some patches of inconsistency, including a three-set rollercoaster against Philipp Kohlschreiber.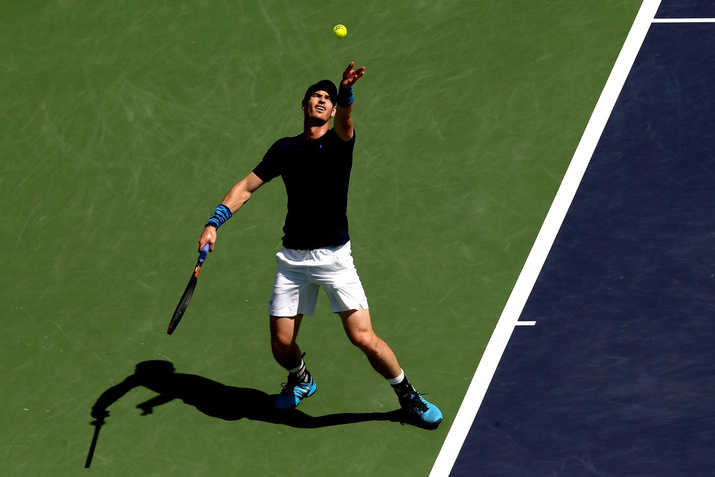 Much more balanced from the baseline than Lopez, Murray could expect to win the vast majority of the extended rallies and profit from the slow surface speed. Lopez found himself under pressure from the outset, dragged through multiple deuces in his first service game. By contrast, Murray held smoothly at the outset and did not need to leave his comfort zone. Another issue for Lopez in this matchup soon became apparent when he struck his lefty forehand cross-court. While many right-handers would be thrust onto the defensive in that situation, Murray moves especially smoothly toward his backhand and can generate as much offense from that shot as from his forehand. The Spaniard thus had few ways to finish points other than with his serve or at the net.
Perhaps feeling the pressure of needing to do so much with his serve, Lopez double-faulted to set up double break point in the fourth game. Although Murray could not convert either of those two chances, a muffed drop shot eventually donated the break. Impenetrable on his own serve, Murray did not surrender a point through his first three holds. Lopez deserved credit for staying within range, fending off another break point in the process, but his movement along the baseline looked a shade less crisp than usual and his reflexes less keen. For a player who relies so much on precision and timing, those small shortcomings loomed large.
After a routine first set, it was clear that only a dip in form by the poised, relaxed Murray could add intrigue to this match. The crowd seemed determined to thrust the underdog back into contention by greeting two relatively straightforward winners near the end of the opening set with thunderous cheers. Lopez did not seem to hold much belief early in the second set, dropping serve at the outset with some tentative shot-making. His chance to cause a stir came soon afterward, though, when Murray's suffocating dominance on serve finally cracked. Lopez earned three break points with the Scot serving at 2-1, where a conversion would have swung the momentum in his favor and potentially caused his opponent some frustration. He wasted all three chances with groundstroke unforced errors, however, including a forehand that bounced before it reached the net.
With that near-stumble behind him, Murray regrouped smoothly and recalibrated the radar on his groundstrokes. He earned an insurance break with a scintillating pair of points: a return of serve for an outright cross-court winner past the charging Lopez, and a pinpoint forehand lob over the Spaniard's right shoulder. Combined with his dominant serving performance, that deft touch should give his fans plenty of hope that he can claim the only Masters 1000 tournament on outdoor hard courts to have eluded him so far.
To his credit, Lopez did not go quietly. He struck back to break Murray in his first attempt to serve for the match, and he fended off a match point on his own serve in the next game. The world No. 4 converted his second opportunity at love, however, to close out their quarterfinal with a routine 6-3 6-4 score. The match lasted barely an hour and a half, leaving him with plenty of energy for his semifinal against Novak Djokovic on Saturday. (Djokovic received a quarterfinal walkover from Bernard Tomic.) Murray has not conquered the reigning No. 1 on a hard court since their memorable final at the 2012 US Open, but they have not met in the desert since 2007, when both men were two months shy of turning 20. A new chapter will be written in this fascinating rivalry, and the winner will have thoroughly earned his berth in the men's final.