Muguruza Shines In Final To Claim First Wimbledon Title
Garbine Muguruza produced an absolutely sensational performance to beat five-time champion Venus Williams 7-5 6-0 in the 2017 Wimbledon Ladies' Singles Final. The Spaniard served accurately and hit an avalanche of stunning groundstrokes to overpower and outmaneuver her American opponent. It is Muguruza's second Grand Slam title after she defeated Venus' sister Serena in the 2016 French Open final.
The standard of tennis in the first set was exceptionally high. Venus opened proceedings with an ace and a backhand winner down the line during a good initial hold. Then Muguruza took things up a notch by powering two excellent backhands down the line to set up a deft backhand winner at the net as she also held. Four more easy holds followed before the Spaniard cranked up the pressure on the American in game seven.
Venus started the game with a double fault and then hit a forehand winner down the line. Muguruza replied with a superb forehand return out wide which set her up to hit an unerringly accurate backhand winner into the space she had opened up down the line. Then viewers were treated to arguably the best point of the match as both players hit good volleys and attempted passes. But neither could break through until Muguruza tried her second lob of the point and sent it long, which was the crowd's cue to rise to their feet in appreciation.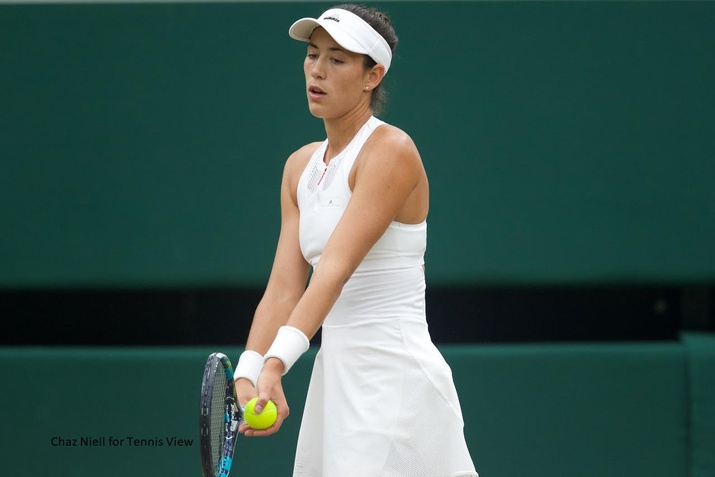 The Spaniard kept the pressure on the American as she took her to deuce on four occasions before Venus eventually held to lead 4-3. Muguruza only had one break point during that time and the five-time champion forced her into an error with a good body serve. She did not seem bothered by her failure to break as, in the next game, she hit a down the line forehand winner and a cross-court backhand winner either side of a brilliant point which saw her set up a volley winner with a series of great backhands. Venus then hit a couple of forehand winners as she held to love to lead 5-4.
The tenth game of the first set was arguably the most important of the match. Venus signaled her intentions with a backhand winner down the line to make it 0-15, then Muguruza made two forehand errors to gift the American two break points at 15-40. But the Spaniard responded superbly and demonstrated her ever-improving mental strength first by outlasting Venus in a brutal baseline rally that drew gasps from the crowd, then by sending down an unreturnable serve to save the second break point. Muguruza followed that with another superb point as she pinned the American behind the baseline with a couple of fearsome forehands and then guided a forehand winner into the open court. And she clinched the crucial hold when Venus hit a forehand long.
Muguruza never looked like losing after that. She made an unforced error on her forehand to waste one break point chance in game eleven, but brushed it off and earned another when Venus netted a forehand. The Spaniard took this one by hitting some amazing groundstrokes which eventually elicited another error from the American. Muguruza turned on the style to hold for the set. She produced a superb backhand followed by an equally impressive forehand to win one point, then arced a ridiculously precise loopy backhand into the opposite corner of the court for a winner on another, before Venus netted a backhand to give her the first set. The Spaniard clenched both fists in celebration and returned to her seat with a spring in her step.
That zest remained in Muguruza's game throughout the extraordinary second set while, on the other side of the net, Venus crumbled. In the first game, she made three unforced errors and a double fault to hand the Spaniard an immediate advantage. Then Muguruza passed her twice with precise backhands to break again in game three, before demonstrating her amazing ability to power accurate groundstrokes to all parts of the court during a comfortable hold that gave her a 4-0 lead.
Amazingly, it became even more one-sided after that, as Venus made three consecutive errors on her backhand side then watched as Muguruza hit a cross-court backhand winner to break her to love. The Spaniard made a couple of errors when she was serving for the match and 40-0 up, but sealed the win with a challenge after a Venus forehand was mistakenly called in. When Muguruza saw on the screen that the ball was out, she sank to her knees in delight, before rising to her feet again seconds later with a beaming smile on her face. You could see exactly how much it meant to her to be a Wimbledon champion.
Muguruza described the moment she walked past the honors board and saw her name. She said, "It was amazing. I always look at the wall and see all the names and all the history. I lost that final (two years ago). I was close. I didn't want to lose this time because I know the difference. It's so incredible to make a final, but I'm so happy that (my name is) there now."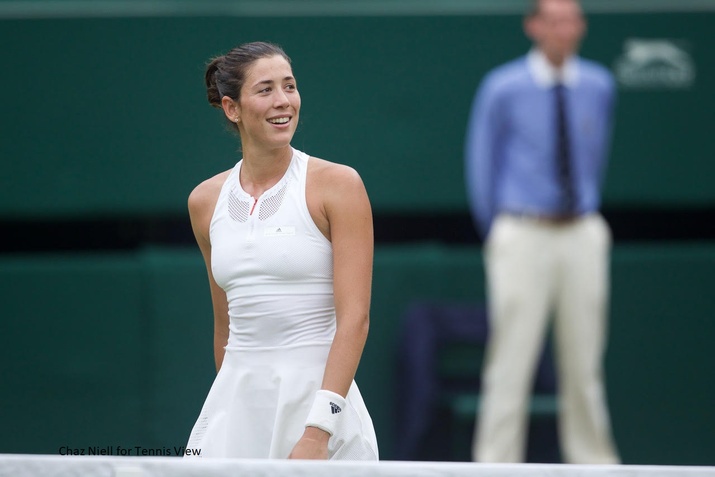 The Spaniard explained how she got to this point. She said, "Eastbourne was such a short tournament and I didn't play well there. But I did the week before (in Birmingham), so that helped. I'm always come very motivated to the Grand Slams. Since I lost here (in 2015), I wanted to change that. I came here thinking, 'I'm prepared, I feel good.' With every match of the tournament, I was feeling better and better and increasing my level. Today I played well."
Muguruza described how she dealt with facing two set points in the opener. She said, "Nothing went through my mind. I was expecting the best Venus because I saw her, and she was playing very good. I knew she was going to make me suffer and fight for it. When I had those set points against me, I thought, 'Hey, it's normal. I'm playing Venus here.' So, I just keep fighting. And I knew that if I was playing like I did during the two weeks, I was going to have an opportunity eventually. So I was calm. I thought, 'If I lose the first set, I still have two more. Let's not make a drama.'"
The Spaniard believes it is difficult to be at your best at every Grand Slam. She said, "It's very hard to find a recipe to feel good fitness-wise, tennis-wise and mentally. Normally I'm tired or I feel pain or my confidence is not there. But at this Wimbledon, I managed to put everything together and perform well."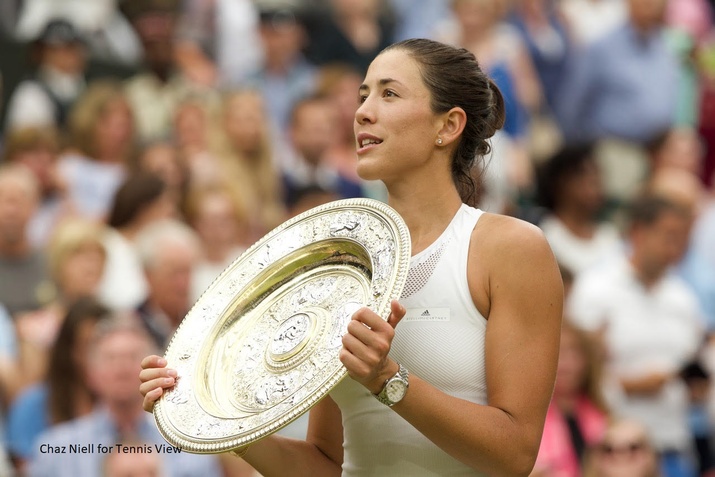 Muguruza, who will be World No.5 in the updated rankings on Monday, also talked about what it was like to take on Venus. She said, "When I knew I was playing Venus in the final, I was actually looking forward to it. People were surprised when I said at the French Open, that (I was happy) I had Serena in the final. I said, 'But that's the final'. Venus has won Wimbledon five times, so for me, it was an incredible challenge to face her having grown up watching her play. I was so excited to go out there and win, especially over a role model."
The Spaniard feels like she plays her best on the biggest stages. She said, "In every match I'm nervous, and I think that's a good thing. But once I go to a big court, I feel good. I feel like that's where I want to be, that's what I practice for, that's where I play well. I'm happy to go onto Centre Court and play the best player. That's what motivates me." She was also pleased with how she handled the occasion today. She said, "I'm very satisfied because I never knew how it was going to go. I was very tense because I wanted it to go my way and I was doing everything I could to be prepared."
As a Spanish player who was unfamiliar with the surface when she was growing up, Muguruza also talked about what it has been like to learn how to play on grass. She said, "I first played on grass in Wimbledon qualifying when I was 17 or 18. And it was rough because, at the beginning, I didn't like it. I suffered (as I learned) to handle it. It took me a while to calm down and say, 'Hey, it's grass, you have to adapt to the surface.' Once I played in the Wimbledon final (in 2015), everything changed for me because I thought, 'Stop complaining, your game suits this surface.' And since that moment I've thought, 'I like grass and I'm going to look at it in a positive way.' It made a big difference."