A Motivated Kerber Rolls Into Wimbledon Final

Beneath the barrage of winners, errors, double faults and everything Jelena Ostapenko did to ensure that she maintained control of her Wimbledon semi-final against Angelique Kerber, the essence of Kerber still shone through. Kerber chased down every ball and returned them, knees squatted, with depth or angle or the ball skidding low across the grass. She showed her opportunism and quick wit, punishing any failed attempt from Ostapenko to close out a point with a dropshot or a quick injection of pace. And she exhibited her mental strength and match management skills, negating a late fightback from the Latvian to close out the match.
But as Kerber defeated Ostapenko 6-3 6-3 to reach her first slam final since her dreaded 2017, her biggest strength in the Wimbledon semi-final was a surprise. Throughout the two-set battle, Kerber used her biggest weakness to its full potential – she served extremely well. The German varied her serve, jamming Ostapenko periodically with body serves but also hitting her spots on her swinging lefty serve.
A product of her work with Wim Fissette, perhaps the best serve coach on the top player women's coaching carousel, it reflected her transformation since the horrors of 2017.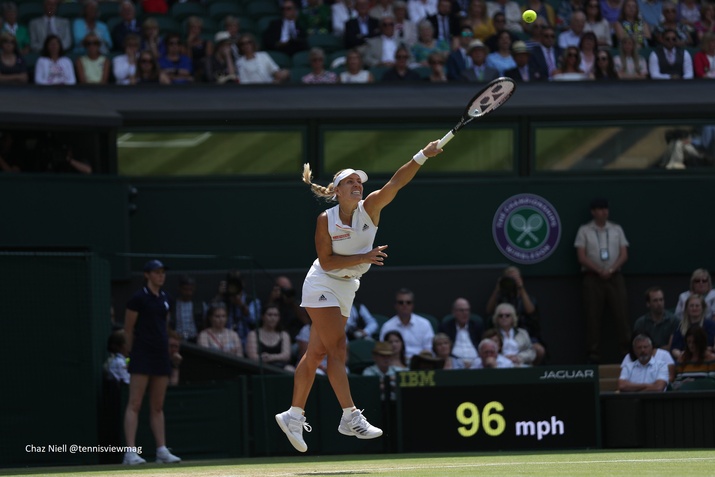 The evolution of Kerber since her 2017 season has been fascinating. Slumps are tormenting and draining – they are not supposed to be simple to escape, but throughout 2018 the German has made it look so. After her last appalling performance of 2017 in Zhuhai, Kerber took a few weeks off, and then set about forming a new team and starting afresh. She hired Fissette and built a new team of physios and a fitness trainer. They put together a tough off-season and now she has returned, the champion she was. Her serve has improved, as has her crosscourt forehand and willingness to step into the court and take matches on.
As Kerber beckoned in 2018, she waved off the previous year in disgust. When tennis players fall into slumps, they often try to reason away their form as a necessary evil in the long road to success, while insisting their results will ripen with time. At times they are proven right, but other times they can fall into denial or else make rash decisions. It's difficult to be frank about mistakes and then to briskly move on, which seemed to be a problem for the German throughout 2017. Kerber's ability to slam the door on 2017 in disgust and move on has been beyond impressive.
"I say good-bye to 2017, for sure," she said after her three-set victory over Venus Williams in the first round of Sydney. "I try to not thinking back on last year, so I really try to forget the year and starting from zero, and just playing like I played years before 2017."
Yet she has ended up thinking about 2017 a lot. Throughout her time in Australia until here in Wimbledon, she has mentioned her woes of last year countless times, many times unprompted, often with disgust. Rather than pretending her 2017 season never existed, she has used it as a source of motivation, as somewhere she never wants to be again.
Kerber started the year on fire, rolling through her singles matches at Hopman Cup, winning Sydney and then reaching the semi-final at the Australian Open where she lost to Simona Halep in perhaps the best match of 2018, 9-7 in the third. Even as she cooled off after Australia, Wimbledon marks her 10th quarterfinal of the year and 5th semi.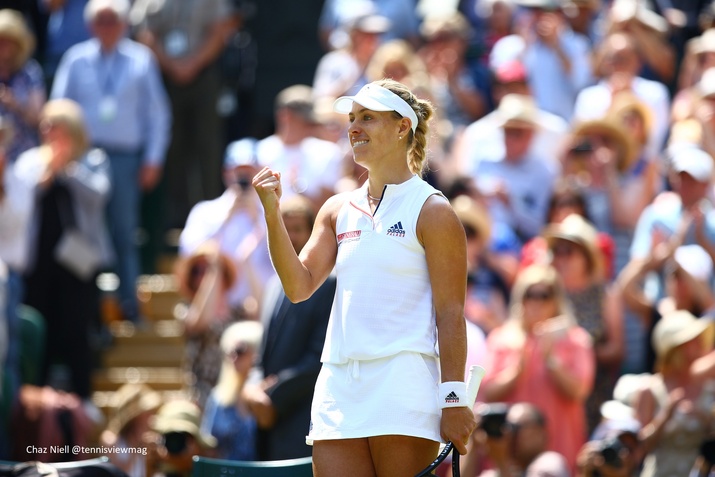 This time around there's an edge to her – she can still fall into sarcasm and negativity, but the highs are higher. Against Ostapenko, she punctuated every progressive break with a clean, clear komm jetzt. Minus her storming first week in Sydney, she is peaking when it matters and, with a semi-final a quarterfinal and a final, the three slams have been her best weeks of the year.
Awaiting Kerber in the final is a variety of unknowns. Kerber's tournament has been strange. Like Venus Williams' run to the final last year, her run has played out against a series of youngsters: last year's junior Wimbledon finalist Claire Liu followed by the whole 1997-line – Naomi Osaka, Belinda Bencic, Daria Kasatkina and Jelena Ostapenko. Her only set dropped was to the 18-year-old Liu.
Even without considering the absurdity of her performances just 4 tournaments back, Serena Williams has looked brilliant both at Wimbledon and at the French Open. But she also hasn't yet faced a single elite defensive player who can frustrate her into extra balls and expose what probably remains of her rust.
Kerber is capable of far more than that. When they faced each other in the final of the Australian Open, Kerber flipped defense into offense at will, used the pace of Williams' strokes against her and maddened the American with dropshots when least expected. By the end of the match, Williams ran out of ideas and simply chased down the net, a sitting duck against the best passer in the game.
Despite the fact that she is entering the Williams lair on Centre Court, where Kerber played a brilliant match yet still lost in two emphatic sets in their 2016 final, there's no doubt that she can perform like that again. It is her essence.