More Questions Than Answers Among WTA Elite After Istanbul

There was a time when there was a reason for everything and everything made perfect, concise sense. Those days were a mere five months ago as Serena Williams roared to her first French Open victory in 11 years, dominating the clay-court swing as furiously as she has dominated any surface swing in any given season of her career. But, as evidenced by an exhausted Williams still emphatically closing out the year-end championships in Istanbul, not much has changed on that front. Instead, it is the goings on immediately beneath the world No. 1 that are worth a second look.
The No. 1 moonwalked into the Roland Garros final, dispatching the defending finalist, Sara Errani, with all the effort it takes to open a door knob and shuffle absentmindedly across the threshold. Meanwhile, the other two semifinalists were doing raging, screaming battle. Maria Sharapova and Victoria Azarenka have compiled a peculiar rivalry, one that was not really a proper rivalry for a period when most of their affairs were one-sided. Yet this matchup should have been a rivalry and has become something closer to a rivalry with time considering each woman's hostility toward the other.
In recent years, most of their contests had been fought on the Azarenka-friendly outdoor hard court setting. But it is no secret that clay has come to figure as Sharapova's own home-court advantage, and it reflected in what was her first victory at a major over Azarenka. With a far more polished straight-sets victory in Istanbul the previous fall, Sharapova appeared to have turned the tide and overcome the mental block visible in her earlier struggles against this opponent. The battle for second in line to Serena's throne was well and truly on.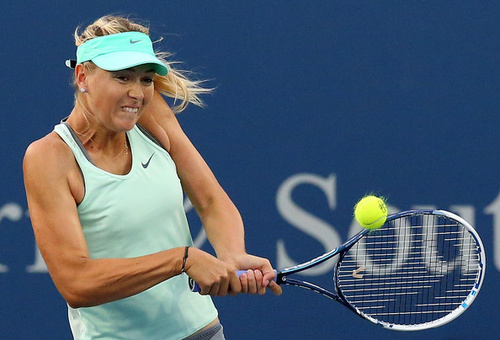 Or not. Whatever was expected post-French Open, it was not this. The remaining timeline of Sharapova's year resembles a list of bad luck and poor decisions. These included a hip injury at Wimbledon, losses to Michelle Larcher de Brito there and to Sloane Stepens in Cincinnati, an aborted coaching experiment with Jimmy Connors, and a season-ending recurrence of her shoulder injury that forced her to withdraw from the US Open and the fall tournaments.
By comparison, Azarenka's post-French Open campaign has featured many more success, but the conclusion to her season set tongues rightfully wagging. After withdrawing from Wimbledon with a knee injury on the same day as Sharapova, she triumphed over Serena in Cincinnati before pushing the No. 1 to three gripping sets in New York. However, Azarenka slumped to five losses in her final six matches, concluding her year with a back injury that reared up in her final match against Li Na amid visible burnout and fitness issues not addressed since her injury problems earlier in the year.
It could be that a half-season hiccup is all that this turns out to be for both Azarenka and Sharapova, and normal service is resumed as early as the new year when each of them reappears. Or else this could be a doomsayers dream with Azarenka's physical and grinding game proving to be too much for her fragile body, while Sharapova's shoulder finally has the last laugh.
Beneath the three, it is impossible to pinpoint whether hope or fear should reign as 2014 moves in clear sight. After 2012, the first year of the Williams-Azarenka-Sharapova triumvirate, there were hopes that other top-10 players with ability would rise to usher in a vaguely competitive era. However, by Roland Garros, the cold reality was clear. The likes of Petra Kvitova, Li Na and the rest were further from the top three players than ever before. Errani's fifth ranking, although a soaring achievement for the Italian, only reflected poorly on those beneath her.
But there is reason to be cautiously hopeful. The WTA will certainly be hoping that Li Na, the catalyst of the fall Asian swing, can continue the form that emphatically led her all the way to the final in Istanbul. Despite doubts along the way, her first full season with Carlos Rodriguez has been an undoubted success with achievements left, right and center: a career high ranking of No. 3, consistency that has seen her record quarterfinals-or-better results in all but outdoor clay events, and successful serve-volley tactics against the best players in the world.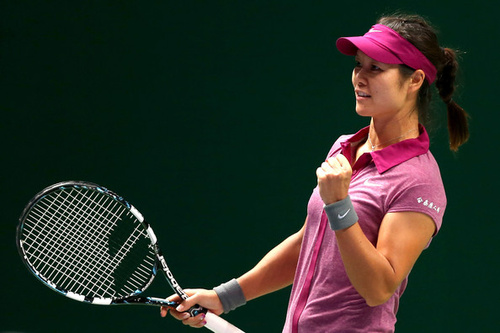 With her post-US Open performances, moreover, Petra Kvitova has shown improved fitness and renewed commitment to forward movement. Those trends offer hope that she can finally fulfil that deep reservoir of talent she possesses.
But perhaps the most exciting prospect came in the form of Jelena Jankovic. Despite winning only a single match, the former No. 1 qualified for Istanbul and subsequently produced a genuinely quality performance to defeat Azarenka in straight sets and eventually reach the semifinals. It was after a brief chat with a small group of journalists that she made her forecast for the imminent future of women's tennis, with herself back in the mix.
Jankovic had excused herself and said her goodbyes while receiving a final congratulation on the rejuvenation of her career. As she began to trudge away towards the exit, a brief chuckle left her lips and her response was perfectly deadpanned without so much as breaking stride. "I bring the light," was the muffled reply. As Jankovic neared the door, she halted in the middle of the floor before flicking her head back in the vague direction of the small group she had just left. And with all the theatrical melodrama in the world, she yelled it to the heavens above.
"And the joy!"