Moonball Moments

The player who hits moonballs is one of the most frustrating styles to play against, appearing to have mastered the ability to keep the ball in play forever until you make an error. Mental genius Brad Gilbert says "Don't force your opportunity, wait for your opportunity. And if they give you a ball that's in your strike zone, that's the one that you want to play."
But if you naturally lack patience, advice from Marion Bartoli may be more to your liking. The Wimbledon Champion says since moonballers play far behind the baseline she says move forward to take the ball on the rise then look for an opportunity to approach the net to end the dreadful point with a volley or overhead.
Here's more pro advice to help prepare your match against the moonballer.
"Often you'll have to hit a few moonballs of your own, but stay focused, wait for an opportunity to step in and take control. Don't get drawn into those kinds of rallies. It's easy to get frustrated in these situations, so stay calm and wait for your opportunity – if you attack the wrong ball, you are playing into your opponent's hands."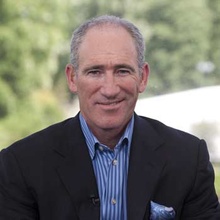 Coach-Commentator
"Give them what I call 'return to center'. Give it back to them and then wait for a ball you can attack. Don't force attacking when the ball is above your shoulders. If they lob and it's not in your strike zone, lob it back. Don't let them force you into bad decision making where you take risks when you're in a tough position to hit a positive shot."
"It is always tricky playing someone who gets so many balls back into play, but you have to keep your concentration and focus on your game. Patience is the key! You definitely have to keep your patience. But if you have the chance, try to get to the net as much as possible and finish the point."
Former World No.
3
Junior
"Changing the direction of the ball is the hardest shot, and the easiest is hitting it right back where it came from. So moonballing back is the safest thing to do. But to improve your game, try to move forward in the court, take the ball in your strike zone, around shoulder height, and go for a big shot."
"Playing a moonballer can be tough to handle, but once you get a feel of who you're playing against and the strategies they like to use, then try and adapt your game. I always try and stay focused and alert to what's going on so I can adjust. Try to figure out what their weaknesses are and play them!"
This article is from the Jan/Feb '14 - Maria Sharapova issue

SOLD OUT

Subscribe now and you'll never miss an issue!