The Mini-Major of the Midwest: Looking Back at Cincinnati

Not a single contender of note spurned the joint event in Cincinnati, which has become the jewel in the crown of the US Open Series. Rivaling Indian Wells and Miami in significance if not in size, the mini-major of the American Midwest witnessed storylines from the brilliant to the bizarre last week. This comprehensive look back at Cincinnati aims to capture as much as possible of that diversity.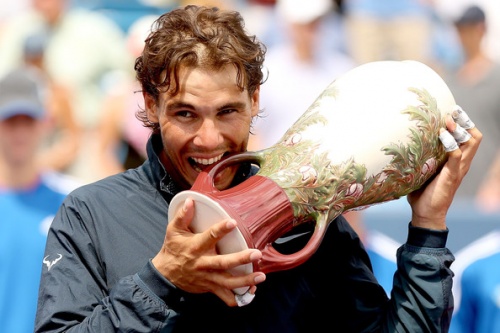 Spanish men: When 2013 began, nobody would have suggested that Rafael Nadal would win every Masters 1000 tournament in North America that he played this year. And yet the longest hard-court winning streak of his career has carried him through victories against each of his main rivals, with the exception of Andy Murray. Even the fast courts of Cincinnati could not stop Nadal, who had found this tournament the most difficult to conquer of all at its level. Grigor Dimitrov and Roger Federer did extend him to final sets, revealing imperfections in the Spaniard's game while doing so. Nadal's title run arguably impressed all the more, however, because of his ability to win despite those imperfections on one of the surfaces least suited to his game. Completing the rare Canada/Cincinnati double, he travels to New York as the world No. 2 and—gasp—the presumptive US Open favorite.
While Nadal soared, two of his notable compatriots faltered. For the second straight week, world No. 4 David Ferrer fell to a qualifier in an early round. The blazing shot-making of Nicolas Almagro also fizzled as the third-ranked Spaniard fell to 5-7 in Masters 1000 tournaments this year.
Top two women: A pivotal moment may have arrived in the developing rivalry between world No. 1 Serena Williams and world No. 2 Victoria Azarenka. The pair had split their first two meetings in 2013, Azarenka winning in Doha and Serena in Rome. Neither woman played her best at the same time in the first two sets of the Cincinnati final, which included a 13-deuce, 19-minute game on Serena's serve. Having split those sets, as they did at the US Open final last year, they traded leads in a tumultuous third set that also recalled the US Open final. After Azarenka had led 4-2, and Serena had failed to serve out the match, the top two women reached the first final-set tiebreak of their rivalry.
Two points in that tiebreak essentially decided the Cincinnati title. With Serena serving at 5-4, Azarenka sprinted to the net and retrieved a drop shot that had looked unreachable. At 6-6, the world No. 2 drove the No. 1 progressively further behind the baseline before closing to the net for a deft volley winner. When Serena netted a forehand on the next point, Azarenka had claimed her second win of the year over her long-time nemesis. The women's field at the US Open just grew much more intriguing.
Top two men: On a single Friday afternoon in Cincinnati, both of them departed quietly. Andy Murray's loss came as the less surprising of the two, for he has struggled with Tomas Berdych throughout his career. Murray might need more time to regain his focus after winning Wimbledon, and he won the US Open last year with minimal hard-court preparation. A drop to No. 3 in the rankings does mean that he might need to overcome both Nadal and Djokovic in New York.
Of greater concern was the effort submitted by Novak Djokovic in his quarterfinal loss. While John Isner deserves plenty of credit for his performance (see below), Djokovic did little to help himself become the first man to win every Masters 1000 title. Virtually all of Isner's opponents know to keep the big man moving along the baseline and exploit his backhand, yet the Serb did neither of those things. He has looked more like his pre-2011 self than like the world No. 1 during the last two weeks.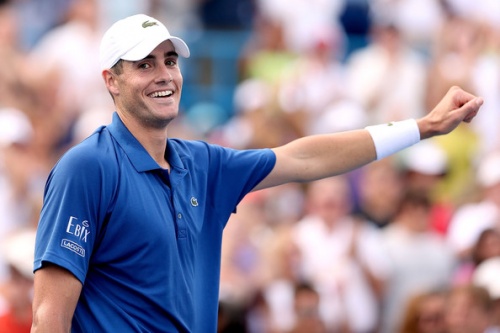 Top two American men: Last week had marked a historic low for American men when they sank outside the top 20 for the first time. Top dog John Isner lost no time in erasing that blot on national honor by hammering past four top-15 opponents en route to his second Masters 1000 final. Victories over Richard Gasquet and Milos Raonic did not raise many eyebrows, considering the strong summer form of a man who had won Atlanta and finished runner-up in Washington. What did come as a jolt was the upset over Djokovic in which Isner maneuvered around the court as smoothly and struck his backhand as cleanly as he ever has. He also weathered the twists and turns of an uneven semifinal to record his first career win over Juan Martin Del Potro, although the Argentine did not play at full strength. Isner threw everything that he had at Nadal in the final, never facing a break point.
The only other American in the top 75, Sam Querrey, has not won more than one match in any tournament since Indian Wells. Querrey's tepid stretch continued with a loss to the equally tepid Janko Tipsarevic. The loose-limbed Californian let his confidence sag too quickly when the momentum turned against him, but perhaps a weaker draw in Winston-Salem can raise his spirits.
Defending champions: For the first time in over a decade, Roger Federer has fallen out of the top five and failed to win a title above the 250 level during a twelve-month period. That setback looked remote midway through his quarterfinal against Nadal, for Federer held the upper hand until he led 7-5, 3-3, and 0-30 on Nadal's serve. A victory would have vaulted him high on the list of US Open contenders, considering how impressive the Spaniard has looked lately. Federer could not close out the match in the second set, though, and he never seriously threatened in the third as Nadal ground him down yet again.
Like Federer, Li Na dropped out of the top five in the aftermath of a loss to a long-time nemesis. The women's defending champion had lost seven of her eight previous matches to Serena despite challenging her many times. Both of those trends continued in a semifinal when Li served for both sets, only to lose both with double faults. She did score one of her better wins in recent months by repeating her victory over Angelique Kerber in last year's final.
One-time US Open champions: While a semifinal at a Masters 1000 tournament marked a strong result, the more significant news for Juan Martin Del Potro came from his ailing wrist. The Tower of Tandil has struggled with injuries to that joint since winning the 2009 US Open, even undergoing surgery that kept him away from the game for several months. A Wimbledon semifinal and Washington title had elevated Del Potro to the status of a strong contender in New York, but these ongoing wrist issues cast that status into doubt.
When the draw first appeared, an early rematch of the 2011 US Open women's final loomed. Samantha Stosur had won her first title since then in Carlsbad two weeks before. Unable to consolidate that boost, Stosur crashed out to an opponent who never should trouble her on a hard court, clay specialist Simona Halep. She also split with her coach of six years, David Taylor.
Russians: Two victories over David Ferrer have highlighted a resurgent 2013 campaign for Dmitry Tursunov. A semifinalist in Washington two weeks ago, Tursunov reached the quarterfinals as a qualifier in Cincinnati, even winning a set from Del Potro there. This week marked his best result ever at a Masters 1000 tournament, making him a dangerous unseeded dark horse at the US Open.
Russia has built its reputation more on its leading ladies than on its leading men. At this tournament, though, the Russian women fell far short of what Tursunov accomplished. Most notably, 2011 Cincinnati champion Maria Sharapova lost her opening match at a single-elimination event for the first time since 2010, and she ended her partnership with Jimmy Connors soon afterward. Connors can take no blame for Sharapova's 62 unforced errors in her first match since Wimbledon, however, which cost her any chance for a top-two seed at the US Open.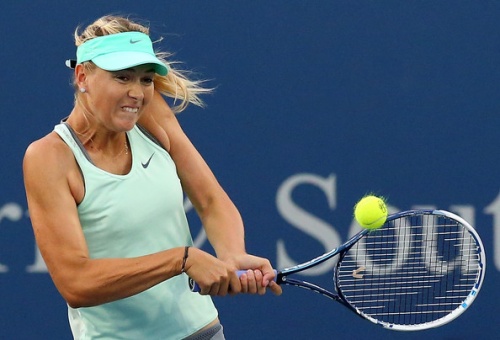 Czechs: Making his top-five debut on Monday, Tomas Berdych owes that achievement in part to Federer's futility against Nadal. But Berdych shone in his own right when he cruised past the second-ranked Murray, improving to 6-4 in that rivalry. His success against the reigning US Open champion contrasts with his frustrations against Novak Djokovic and Rafael Nadal. Berdych absorbed his 14th straight loss to the Spaniard and has lost all 20 of his hard-court meetings with that pair since the start of 2007.
Nine times this year, Petra Kvitova has failed to close out a match after winning the first set. Those losses include two majors and five events in the elite Premier Mandatory and Premier Five tiers. Kvitova may want to consider how she can improve her stamina in the long matches that she plays so often. Or, better yet, consider how she can win these matches more efficiently.
Germans: The strength of the Cincinnati field forced Andrea Petkovic to qualify for the main draw. That mission acccomplished, Petkovic made the most of the opportunity by winning her first match and severely testing a top-15 opponent, Roberta Vinci. Germany's two heaviest servers, Sabine Lisicki and Mona Barthel, recorded contrasting results. While Lisicki fell immediately to Jelena Jankovic, a nemesis of hers, Barthel strung together two strong victories before colliding with Serena.
After he retired from the Rogers Cup with a shoulder injury, top German man Tommy Haas cannot have expected much from Cincinnati. Nevertheless, he charged to the brink of a dominant victory over Roger Federer before crumbling late in the second set. Haas still should feel reassured of his health moving toward the US Open, where he will hold a top-16 seed.
Canadians: The toast of their nation at the Rogers Cup, they reverted to ordinary toast in Cincinnati. Montreal semifinalist Vasek Pospisil played his fourth third-set tiebreak in ten days, losing to a qualifier. In his first tournament as a member of the top 10, Montreal runner-up Milos Raonic showed weariness from his exertions in Canada. Raonic earned some positive karma, though. Responding to a controversy in his match against Del Potro a week before, he acknowledged that he should have admitted running into the net and promised to learn from his mistake.
Frenchmen: Marion Bartoli's shocking retirement dwarfed anything else related to this proud tennis nation. But the injuries that spurred her decision resonated among the men in Cincinnati as well. Both Gilles Simon and Jeremy Chardy withdrew from the early rounds, the former with a nasty case of whooping cough and a broken rib. French No. 1 Jo-Wilfried Tsonga announced that a knee injury incurred at Wimbledon would prevent him from participating in the US Open. Lacking any such alibi, Richard Gasquet disappointed by turning in a limp loss for the second straight week. France would be wise not to rest too many hopes on him in the pressure-cooker atmosphere of New York.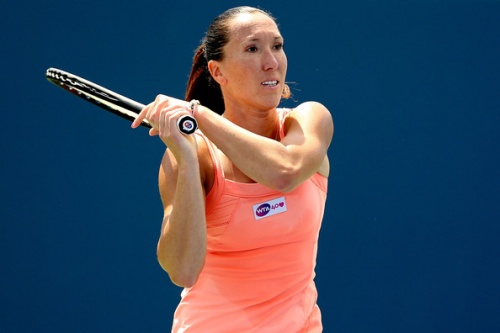 Serbian women: Nothing came easily for Jelena Jankovic in Cincinnati, where she pursued her third final. Jankovic did not quite reach that goal, exiting in the semifinals to Azarenka, but she battled through three straight three-setters against quality opponents. Those matches averaged 15 service breaks, echoing her arduous route to a Miami semifinal this spring. Even in the twilight of her career, Jankovic has proven herself a tough nut to crack.
Like Stosur, former Roland Garros champion Ana Ivanovic has regressed from her promising start to the US Open Series in Carlsbad. Ivanovic has tasted many flavors of futility over the past five years, so her loss to Alize Cornet felt all too familiar to her fans. Holding five match points in the second set, Ivanovic twice failed to serve out the match and predictably disintegrated from there.
Poles: Credit to Agnieszka Radwanska for setting her priorities properly. Having reached the quarterfinals after losing just six games in two matches, the world No. 4 withdrew from Cincinnati to return home for her grandfather's funeral. One senses that she will not regret that decision.
Jerzy Janowicz cannot regret much from his trip to Cincinnati despite losing in the first round to James Blake. The American veteran reignited his vintage shot-making on this fast court, and there was little that any opponent outside the Big Four could have done about the eruption. (Unfortunately, Blake could not build on that brilliance, losing a round later to Tursunov.)
Italians: Long-time friends and doubles partners, Sara Errani and Roberta Vinci square off in singles more often than either probably prefers. Vinci now holds the upper hand over her compatriot after following her victory in the Palermo final with another in Cincinnati. Meanwhile, Errani must recapture the form that carried her to a US Open semifinal last year—past Vinci, among other opponents.
A sensation on European clay last month, Fabio Fognini has wilted as July turned to August. Fast hard courts never have inspired his best tennis, though, and fatigue from reaching finals in three straight weeks caught up with him at these last two Masters 1000 tournaments. Battling a wayward serve, Fognini exited in Cincinnati in bizarre fashion: consecutive double faults followed by a point penalty for ball abuse and then two deliberate foot faults on match point.
Comeback artists: One of the most inspiring tennis stories of the last two years features Alisa Kleybanova and her attempt to revive her career. A victim of Hodgkin's lymphoma, Kleybanova aborted one comeback in 2012 and pursued a second more cautiously in 2013. Her first WTA match of the year at the Rogers Cup showed how much rust had clung to her game, but she found more promising form in Cincinnati. Kleybanova won an epic opening match and played Kerber close for a set before fading.
Encouraging news also came from the star-crossed Brian Baker, returning from his latest injury. This patient American cruised past Denis Istomin in the first round, a result especially impressive considering Istomin's strong run at the Rogers Cup. Less inspired was the performance of Mardy Fish, who has won just three matches this year as his health has betrayed him. Fish never looked confident or comfortable in a meek first-round loss.
Young Americans: While their actual victories were few, their moral victories were plenty. Second-ranked American woman Sloane Stephens scored victories in both categories, however, including her upset over world No. 3 Sharapova. Although her potential has a lower ceiling, Lauren Davis turned heads by winning a main-draw match and taking a set from defending champion Li.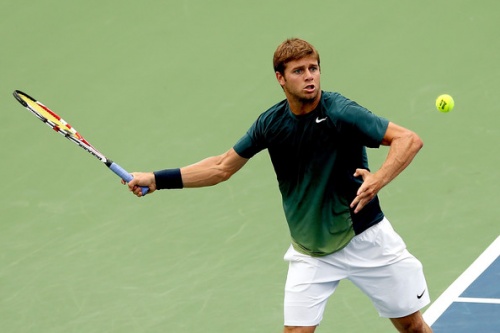 Two of their countrymen also won sets from top-10 opponents in Cincinnati before yielding. Ryan Harrison remains 0-19 in his career against the ATP top 10, yet his loss to Ferrer ranks among the best of those 19. Buoyed by his upward momentum this summer, Harrison did not lose belief after the Spaniard won a 77-minute first set. He stood his ground in the second and third sets, forcing Ferrer to find a level that he probably did not expect to need. The 20-year-old Jack Sock blazed through the first set against Raonic before tiring, an optimistic sign after his struggles this year.