Miami: Rublev Defeats Wolf To Reach Round-Of-32

On a warm and windy day at the Miami Open, sixth-seeded Andrey Rublev, serving brilliantly with 16 aces, takes out American J. J. Wolf 7-6(3), 6-4 to reach the Round of 32.
Rublev got off to a disappointing start, losing his serve in the opening game, though he quickly rebounded, holding at love. He stayed focus and aggressive from the baseline, hitting scintillating down-the-line backhand winners, and made a crucial break for 5-all.
In the tiebreaker, with all the momentum, Rublev dominated, hitting ferocious forehands and a timely ace down the T for 6-2. At 6-3, Wolf missed a backhand long.
Wolf, ranked world No. 50 and rising, is a dangerous opponent with a lot of power. He has a big serve with a loose arm that can move the ball off the court. He has a confident demeanor. He has a crushing forehand. At times, though, Wolf ran around his backhand so much that he became vulnerable, leaving open space for Rublev to hit into.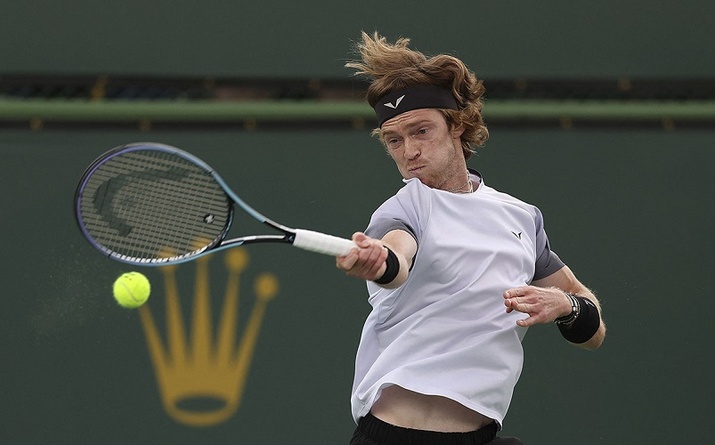 When asked about this after the match, Rublev said: "In the end, he was open a lot down the line, so as soon as I was having a chance, I was trying to go for it, because he was obviously too much on the backhand side. I mean you have to go there. Because then if you make it, it's almost the point."
Both players are aggressive baseliners, who rarely come to the net. In the first set, in his first venture forward, Wolf came in off a very good approach shot and netted the volley. In the match, Wolf won two of three points at the net, while Rublev won three of three points at the net.
Rublev, known for his fiery personality on court, stayed calm throughout the match.
Afterward, Rublev said: "He [Wolf] is dangerous. He played really well. He can play really, really aggressive. So, I didn't know what to expect, and as soon as we start to play I was losing, so it was not easy. But then I'm happy I was able to keep calm inside. I was just waiting for my moment. And as soon as I had the moment, I was able to make it, and then I start to play a bit better, and then I start to feel more confident."
Next up for Rublev, in the third round, is Miomir Kecmanovic. This is the third time that Rublev has reached this stage in Miami. In 2019, he lost to Shapovalov in the third round, and in 2021, he lost to Hurkacz, the eventual champion, in the semifinals.