Miami: Osaka Finds Smooth Sailing Against Kerber

Naomi Osaka is playing fantastic tennis.
At the Miami Open, Osaka dominated former world No. 1 Angelique Kerber of Germany 6-2, 6-3 in one hour and one minute to reach the third round.
With her overwhelming power and topspin, the Japanese superstar effortlessly hit through the wind.
She played an incredibly clean match, making only 13 unforced errors to 32 winners. She won 89% of her first serves, hitting six aces.
In her post-match press conference, Osaka said: "This whole year I have been trying to like do really well on service returns and also my own serves, so I think the last time I played her, I don't know if it was Wimbledon or Singapore, but I just remember not being too confident on the returns.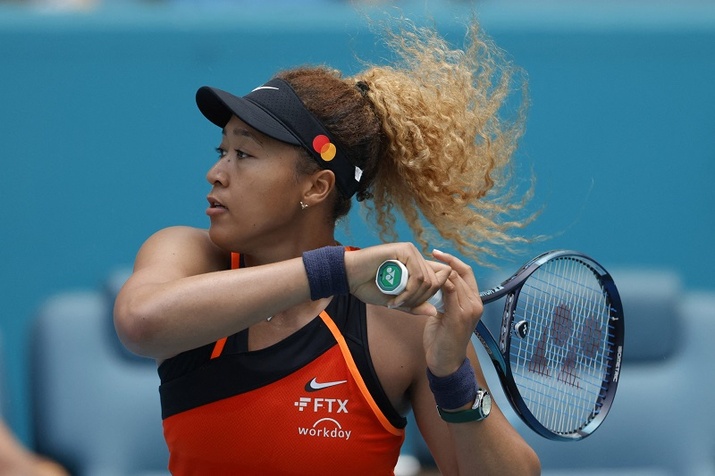 Reuters Photo
"So, this time I think I did pretty well. I was trying to attack her second serves and not hesitate that well, so maybe that was, I don't want to say the key, but really important."
Kerber, a three-time Grand Slam singles champion, had beaten Osaka, a four-time Grand Slam singles champion, the last four times they played.
Osaka said her win today was a confidence booster, but that she didn't go into the match confident. "For me, it kind of just shows all the hard work that I have been doing throughout the year. And for me, I was really glad I was able to come through in two sets. I know the scoreline might have looked like I was cruising, but I was really like focused every point.
"So, I'm really glad that I have come to this point in my career where I can say that, you know, I'm really like glad with how I played. I think mentally too, as well, just being able to stay like kind of neutral the entire match, it was really cool."
Osaka gained her first career Top 10 win over Kerber at the 2017 US Open. Osaka said of that match: "Yeah, honestly, I don't remember much. I just remember feeling like she might be a bit nervous and stressed out, and like now I can understand that feeling, but just remembering—I was still kind of new to the tour, so I was just thinking, like, I definitely have an opportunity, so if I have chances, I have to take them.
"It was my first time playing her, as well, so I was just thinking in my head the entire time, like, I have nothing to lose. I have played against players now that have that same mentality, so I know how dangerous it is."
Osaka spent her junior tennis years in Florida training on courts not far from Hard Rock Stadium. Her mother is from Japan. Her father is from Haiti.
Osaka seemed pleased with the wonderful crowd support. She was especially happy that her mother was in attendance.
"Yeah, for me it definitely means a lot. I think the crowd here is very warm, and I also see Haitian flags sometimes, so I'm really grateful on that.
"I don't know. For me, I have told a lot of people, like growing up, my mom wasn't really there because she always had to work, because tennis isn't a cheap sport, you know. So just to be able to get to this point in my career and for her to just kind of be watching over me, and I'm sure like to have a kid and to have this dream that your kid is going to be a Grand Slam winner is not a lot of parents can say that they have achieved that.
"So just to have her be there and just to be having fun, I'm sure she's having a lot of fun. Yeah, it means a lot to me."