Miami Open: Sakkari Rolls Past Osaka

On Wednesday in the quarterfinals at the Miami Open, world No. 25 Maria Sakkari of Greece snapped the 23-match winning streak of world No. 2 Naomi Osaka of Japan.
Sakkari defeated Osaka by a 6-0, 6-4 scoreline. The Greek hit 22 winners and made 69% of her first serves.
It was a windy day, and Osaka struggled with her toss, hitting four double faults and only making 41% of her first serves. In the first set, especially, Osaka struggled to get any rhythm.
Sakkari played near-flawless tennis in the first set, stepping in on the return and hitting punishing winners crosscourt and up the line.
Sakkari is an incredible mover—she's strong, fit, and fast. She stayed steady in the second set, hitting to the middle of the court, taking away the angles from Osaka.
At the end of the match, Sakkari let out a scream. She gave a tremendous performance, and the win clearly meant the world to her.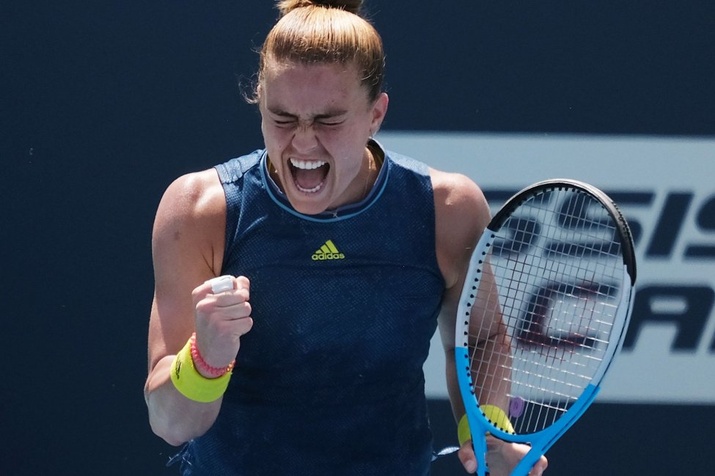 "I don't know how it works for other players, but it [winning] normally gives me a lot of confidence.
"Coming into that match I was feeling great with my tennis, and I think I just, you know, really enjoyed myself out there."
Sakkari said her victory over Osaka was one of her best matches. "I think also beating Serena was equally big," she added. "But, you know, beating her after 23 matches in a row without losing, it was a big thing, of course. Yeah, for sure it's [beating Osaka] was one of the biggest wins of my career."
Osaka said of her loss: "For me, I feel a bit similar to when I lost to Coco in Australia, but I think in this match it's different. Like I feel I played worse here possibly but I fought more.
"So I think I am improving in that way, because I feel like even if you're not playing great you should still find ways to win. I'm trying to find ways to do that.
Hopefully I don't lose like this a couple more times, but I think the more times that stuff like this happens, the more I'll learn from it."
Osaka said: "Yeah, I think for me, I don't know, I feel like everyone's either used to me winning a tournament or losing quite early. So getting to the quarterfinals, I'm not sure how many times I have done this result. But if I look at it in a whole, I'm happy with how I did.
"I feel like even though I wasn't feeling that comfortable on this surface, I managed to get quite far, even though I only played two matches. But, yeah, I think this is the furthest that I have ever gone in this tournament, so that's something that I can be happy with in the end."