Miami Open: Next Gen Takes Spotlight On Wednesday

At the Miami Open, on Tuesday night, during a rain delay where it absolutely poured, many of us who had been watching the fourth-round match between Frances Tiafoe and David Goffin made our way to the closest shelter, which was Kiki, a bar behind Grandstand. The bar is so close to the court that you wonder if the players can hear the Ibiza-meets-Little Haiti music blaring. But they don't seem to notice, perhaps because of its consistent beat. They notice more the inconsistent beats of a fan screaming during a serve or a cell phone dropping with a clang on a metal bleacher or a helicopter flying above.
When the rain delay was over, and the crowd returned to Grandstand, the atmosphere was raucous.
Tiafoe looks like an elite athlete who could play any sport. He plays tennis because his father was the maintenance man at an exclusive tennis club in Maryland that allowed him to train for free. Tiafoe, with his explosive, easy power, was able to hang on to his lead and beat the technique-perfect Goffin 7-5, 7-6 (6).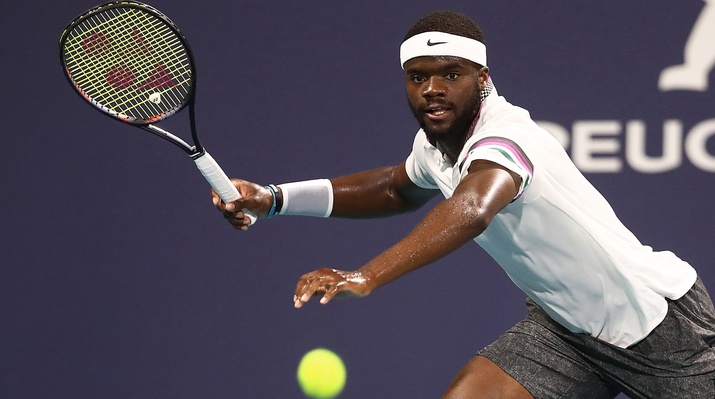 Next up were two rising stars, Stefanos Tsitsipas of Greece, who is world No. 10, and Denis Shapovalov of Canada, who is world No. 23. It had been a hot, humid day. It was now a cool night. The Grandstand was even more packed because Federer's match, which was to be played on Stadium, had been put off until the next day.
Shapovalov takes big cuts at the ball. His forehand, especially, has such a big wind-up that Tsitsipas was able to rush him and cause him to hit late and make mishits. At 3-all, the Greek hit a slice at the Canadian's feet (who was at the net and had to pop up the volley) and was able to pass him to get the first break of serve. Tsitsipas took the first set 6-4.
In the second set, Shapovalov was the more offensive player and got the first break to go up 2-love. There were many long, looping rallies where both guys were crushing their groundstrokes. After a nineteen-ball rally, the Canadian held serve to go up 3-love. Tsitsipas held the next game, but Shapovalov held again to make it 4-1, then let out a guttural scream. The Canadian was fired up. It was well after midnight. The fans were still there, and the atmosphere was still electric. Shapovalov took the second set 6-3.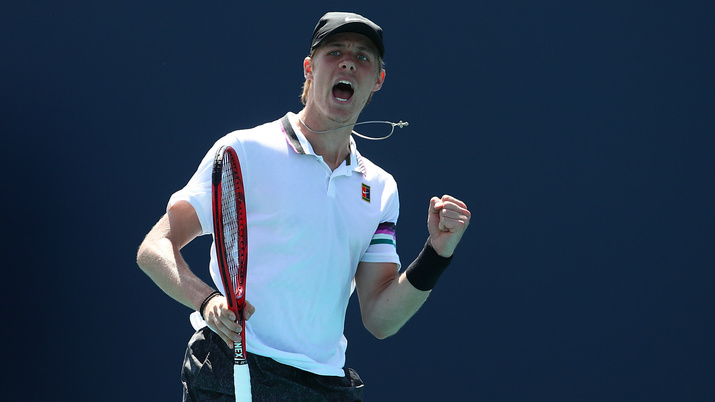 Tsitsipas held at love to start the third set. Then Shapovalov held at fifteen. Both players were serving extremely well and playing fearless tennis. There were no breaks of serve in the final set.
In the tiebreaker, Shapovalov got up 3-love. But Tsitsipas, after a beautiful backhand crosscourt winner and a gift of a double fault from Shapovalov, got it back to 3-all. Tsitsipas then sailed a ball long, and Shapovalov hit an amazing running-forehand-down-the-line pass.
The Canadian had three match points to close it out. He needed just one, hitting a big serve and a winner down the line.
In the end, Shapovalov's offense was a little better, but this is a matchup that we can all look forward to seeing for years to come.
Shapovalov will play Tiafoe later today for a spot in the semifinals.