Miami Open: Media Day

On Media Day, when asked how he felt about being at the 2021 Miami Open besides all its COVID-related challenges, 22-year-old Greek star Stefanos Tsitsipas said, breaking the ice, "I feel like a rock star. That's due to the Hard Rock Stadium."
The Miami Open, an ATP Masters 1000 and WTA 1000 event, features the top men's and women's tennis players in the world.
In 2019, the tournament moved from Crandon Park in Key Biscayne to the Hard Rock Stadium in Miami Gardens. Then, a stadium tennis court was built within the football stadium of the Miami Dolphins.
In 2020, because of the pandemic, the tournament was canceled.
This year, because of pandemic-related protocols, there is no stadium court within the football stadium. Though football is being played in that space.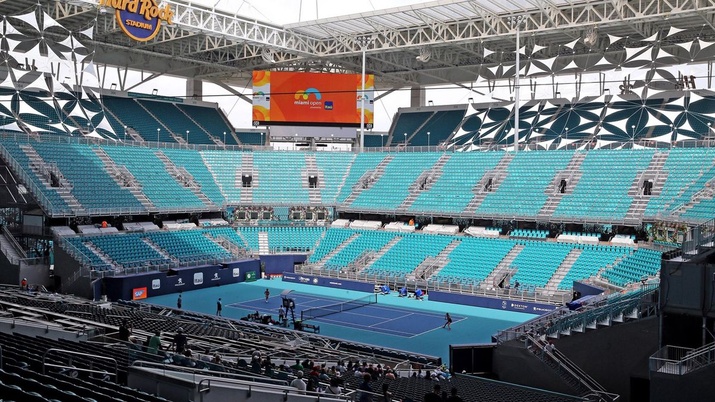 John Isner, the top American player, said with a smile: "The whole football field is ours, so it's pretty cool to go out there and throw the football around, run some routes, pretend like you're playing in the NFL."
Because of the challenging travel logistics, many prominent men's players are absent. No Big Three—Novak Djokovic, Rafael Nadal, Roger Federer. No Dominic Thiem.
Both Serena Williams and Andy Murray had to withdraw because of illness and injury, respectively.
With these absences, though, comes opportunity for younger players.
Twenty-five-year-old Russian Daniil Medvedev, world No. 2 and top seed, said: "To be honest, first of all, about people retiring, I think everybody would have different reasons. Somebody would love to prepare more on clay. It's true this year without Indian Wells, you just come to USA for one tournament. You need to come one week in advance for the jet lag and everything. It's not easy. I know hard court is my preference, it's a Masters 1000. I didn't have any doubt coming here."
Twenty-three-year-old Russian Andrey Rublev, world No. 8 and fourth seed, said: "Now here without top players, of course I have better chances to win maybe one extra match or, I don't know. Of course, I can still lose second round because everyone can play good."
In literature and in tennis, the Russians dominate. They are exceptional, exquisite, extraordinary.
Masterful Russian writer Leo Tolstoy said: "Everyone thinks of changing the world, but no one thinks of changing himself."
Back to American John Isner. He is hopeful. He thoughtfully said: "As the situation seems to be getting better around the world, there are some questions about can the bubble environment be lessened a little bit, can the players have a little bit more freedom. I would like to have the
responsibility, in my opinion, fall on the players to be careful and take care of themselves."
Photo: YES Market Media/Shutterstock.com