Miami Open: Alcaraz Rolls Past Tsitsipas

On Tuesday night, at the Miami Open, Grandstand, the second biggest show court, was at capacity, and the fans were raucous. They chanted "Stef-an-os" and "Vamos Carlitos" and stamped their feet on the metal bleachers.
Playing what seemed like the match of his life, 18-year-old Carlos Alcaraz of Spain, world No. 16, defeated 23-year-old Stefanos Tsitsipas of Greece, world No. 5, by a scoreline of 7-5, 6-3.
The Spaniard was down 5-2 and won seven consecutive games to take the first set 7-5 and lead 2-0. He broke the Greek at 15 to start the second set and then held at love.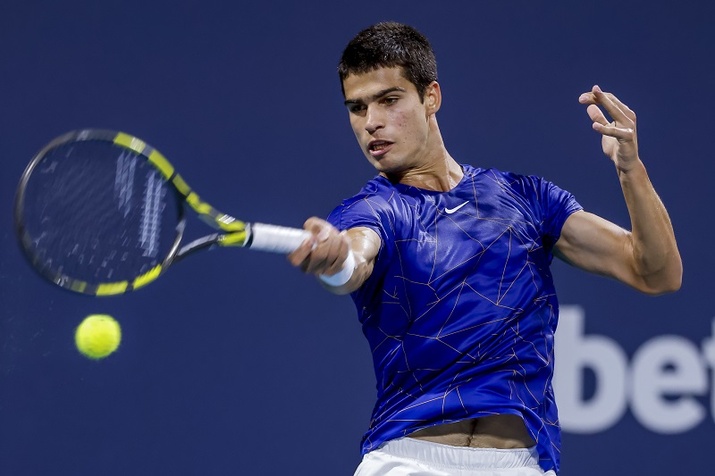 ERIK S. LESSER EFE
Both players are aggressive with their groundstrokes and hit heavy, but Alcaraz hits a bit heavier than Tsitsipas. A stat on The Tennis Channel showed the average topspin shot speeds (mph). The Greek hit 76 on his forehand and 72 on his backhand. The Spaniard hit 78 on his forehand and 76 on his backhand.
After his sensational victory, in an interview with Mike Cation of Tennis TV, Alcaraz shared his strategy: "I tried to hit two or three backhand crosscourt and then switch to down the line—it was the key, I think he lives in the backhand side all the time, looking for the forehand, it was really important, the backhand down the line."
Afterward, in press, Alcaraz said: "Well, it was tough, but yeah, fun playing in front of this crazy crowd. It was pretty amazing. Made a lot of energy to come back in the first set. To be able to beat Stefanos Tsitsipas was, as I said, in front of these fans was incredible, was fun."
Alcaraz also beat Tsitsipas last year at the US Open, though there they played on the main stadium. "Yeah, of course. It wasn't the center court, but it was big stadium, as well, but full crowd. I mean, was amazing playing in front of amazing crowd.
"Yeah, it was unbelievable."
Alcaraz said: "Well, it's tough to play against Stefanos. He push you to the limit. I mean, always trying to go to the baseline, trying to hit the big shots.
"It's really tough to play against him. You have to really play defense very well, trying to come back to point. Yeah, he serves really well, as well. I mean, it's tough to play against him."