Men's Quarterfinals Continue Friday in Indian Wells

How the Bottom Half of the Draw Shook Out
Hubert Hurkacz vs. Roger Federer [4]
After fighting his way through Donald Young and Lucas Pouille [28], Hubert Hurkacz took out sixth seed Kei Nishikori and 24th seed Denis Shapovalov en route to the quarterfinal. All but his first were three-set victories. An impressive run for the 22-year old from Poland who is currently ranked 67 in singles. He is confident and ready for the big stage, telling media: "I enjoy playing on big stadium. Was my dream since I was a child. That's the greatest thing that can happen to a tennis player, playing on the big stadiums, big events against big players." He has never played Federer competitively, but grew up admiring him and they got to practice together in Shanghai last year.
Roger Federer had a smoother ride to the quarterfinal. He beat Stan Wawrinka 6-3, 6-4 and knocked out 22nd seed Kyle Edmund 6-1, 6-4. Federer is looking forward to the challenge of meeting an opponent for the first time on court and better learning their game: "It's nice to see what they have in the matches, you know, and really get a sense how much more we will see of them. For me, at a top level, I like it that I'm not playing the same guys every single week."
Nishikori is the only top ten player Hurkacz has beaten, and he beat him twice. Friday's match against Federer will be a real challenge for the young player trying to make his mark and win his maiden title.
Karen Khachanov [12] vs. Rafael Nadal [2]
Karen Khachanov reached the quarterfinals of Indian Wells with a 6-4, 7-6(1) victory over John Isner [8], who had been the last remaining American man in the draw. Although he is 0-5 against Nadal, he has reason to be hopeful. Their last encounter was in the third round of the 2018 US Open. Although Nadal was victorious, the now 13th ranked 22-year-old Russian made him work hard for it, with a 5-7, 7-5, 7-6(7), 7-3(3) scoreline. Khachanov is excited for the challenge he faces Friday: "I think it was one of the best matches from last year and in general, in terms of fight, spirit, intensity, the rallies, the atmosphere. Everything was amazing. What to say? He's one of the best tennis players, great champion. And nothing to lose, let's say. I'm playing better. Feeling more confident. It will be a good challenge, good match for me. I'm really looking forward to have a good match against him."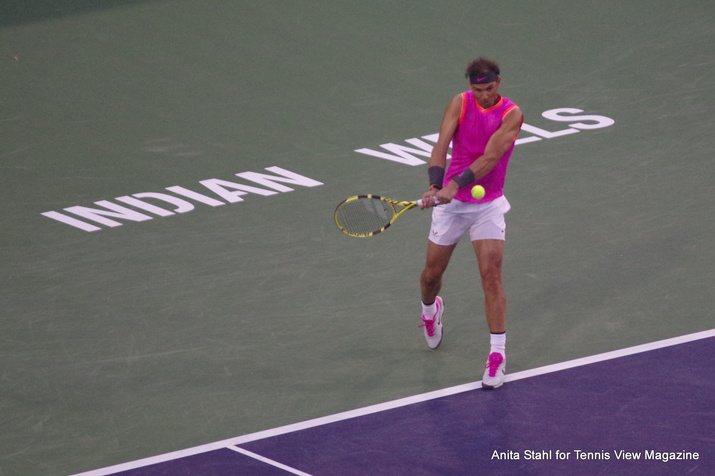 Nadal has managed to keep all his scorelines decisive moving into the quarterfinals. He beat Jared Donaldson 6-3, 6-1; Diego Schwartzman [25] 6-3, 6-1; and Filip Krajinovic 6-3, 6-4. Nadal is 10-3 this season and has a history of success in Indian Wells. He won the tournament in 2013, 2009, and 2007. He made the semifinal in 2016.