Medvedev Defeats Murray To Advance In Miami Open

In a highly anticipated match between two former world No. 1 players, top-seeded Daniil Medvedev defeated wildcard Andy Murray 6-4, 6-2 in the second round of the Miami Open.
The Scot started positively, serving well, hitting his forehand heavy and wide, and held for 1-love. The Russian, serving and returning well, broke for 2-1, and stayed steady for the rest of the set, giving nothing away.
In the second set, Medvedev took full control by breaking again to lead 3-2. In that return game, he moved inside the baseline as Murray was about to hit his second serve, catching Murray's eye and causing him to go for more and double fault. A smart tactic.
After the match, in his press conference, Medvedev said: "Yeah, I played quite good. Playing against Andy is never easy. Yes, maybe he's just a little less strong than when he was winning slams, of course, and when he was the No. 1 in the world, but yet in last few years we saw many tough matches, many good wins from him.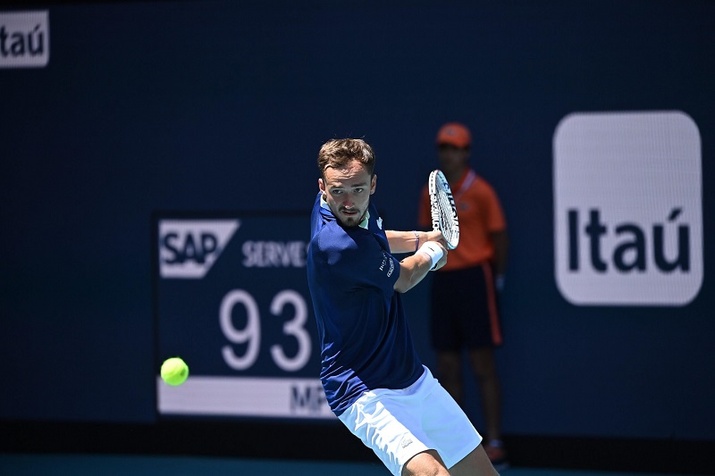 (@atptour - Twitter)
"I'm sure that, yeah, he's close to maybe getting like breaking this margin back. He was in the final this year, so I knew that I have to be at my best and I have to expect very good tennis from him.
"Managed to serve well, and I think that was one of the keys today. No break points for him. When it's tough for you to get a break point, it works on both sides, you get more pressure on your serve, so I think that's what kind of happened, because second set was going pretty tight in the beginning, but he just cracked just a little bit and I managed to take it. Yeah, that's what happened."
With the Big 3—Djokovic, Nadal, and Federer—not playing in the tournament, Medvedev was asked how it felt to be the guy everyone is looking at. He answered thoughtfully: "I think it always works both sides, because for sure guys going against you are gonna have this more motivation, you know, because for them it's going to be, for some young guys or maybe for somebody who is going to be maybe the biggest win in their season, career, to get this, so a lot of motivation for them.
"In the same time, many times we see people just like with a high ranking just straightaway bring the high intensity from the first point and can be tough for the other guys. Same for me, you know. I like to be in this position, because, well, it's obviously better to be top-2, top-10 player than to be lower in the rankings, because the higher in the rankings you are, the better.
"But the more pressure you have, because more people and you yourself expect from yourself, like in the beginning of my career I would be really happy when I was for the first time, I think it was probably Indian Wells when I was in the third round for the first time in Masters 1000, I was really happy to be there.
"Now, well, I want to achieve more. So, yeah, it's definitely more pressure but also more motivation to continue doing better."