Medvedev Battles Into Australian Open Final

World No. 2 Daniil Medvedev of Russia reaches the Australian Open final for the second year in a row, beating world No. 4 Stefanos Tsitsipas of Greece 7-6(5), 4-6, 6-4, 6-1.
Medvedev, the US Open champion, is trying to make tennis history by being the first man in the Open Era to win his second major immediately after his first.
In an exceptionally high-level match, Medvedev was just a level higher. He was steadier, relentless on his running. His backhand was punishing, especially his backhand passing shot.
Medvedev served spectacularly, not giving any rhythm on the return. His first serve percentage was 71 percent, and he hit 13 aces. He only faced four break points in the entire match, and he saved two of them.
Tsitsipas, though, had his chance. In the first set tiebreaker, he was dominating 4-1 and had the momentum, but he wasn't able to execute on the biggest points and couldn't close out the set.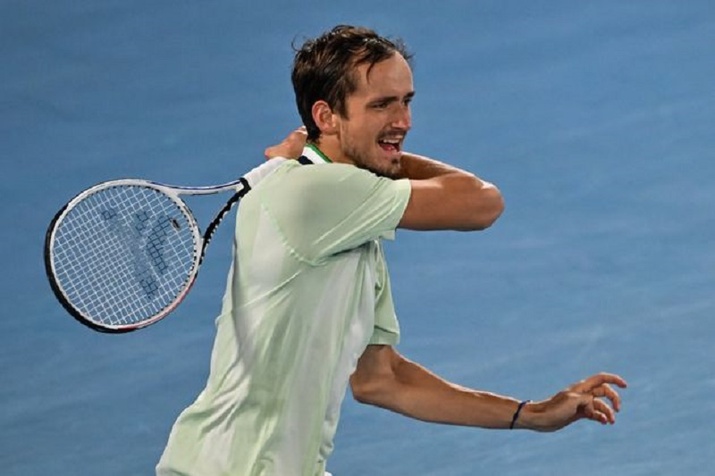 In the second set, Tsitsipas broke to lead two-love, but Medvedev broke back for 3-all.
Tsitsipas, who has a fantastic serve, especially in the deuce court out wide, a scintillating forehand, and excellent volley, came to the net whenever he could.
At 4-all, Medvedev lost his concentration, missing a forehand and hitting two double faults. Tsitsipas took this opportunity to level the match.
Then Medvedev got intensely angry at the umpire, calling him "a small cat" because he wanted him to issue a code violation for coaching for Tsitsipas's father. At the end of the match, Medvedev, to his credit, did say he was sorry to the umpire.
In the third set, Medvedev, now calm and composed, held at love for 5-4 and broke again.
He ran away with the fourth set, serving big and crushing backhands down the line for winners.
Afterward, Medvedev said: "Starting from 5-4 in the third I found some momentum, made a few very important passing shots, and his energy went down because of this and mine went up because of this."
In the final on Sunday, Medvedev will play Rafael Nadal.
"I'm going to play again against one of the greatest. What's funny that again I'm going to play someone going for the twenty-first slam. I guess last time Rafa was watching near the TV. I don't know who he was cheering for. I think Novak will be watching this one in two days also."
"I'm ready. I know that Rafa is a very strong player, and I will need to show my best to try to win this match."