Marion Bartoli's Legacy and Heartfelt Goodbye to Tennis

Marion Bartoli has always done things her way.
She was introduced to the game at the age of six by her father, Walter, and the rest was history. Marion and her father would practice late at night when she returned home from school, in icy conditions and on uneven courts. In more inclement weather, Bartoli and her father would hit balls on a volleyball court that had little space between it and the gymnasium wall. Dr. Bartoli, dubbed the scientist behind his daughter's tennis, devised original training methods for her: he improved her hand-eye coordination by using balls of different size and color, and taped tennis balls to the heels of her shoes to keep her on her toes.
From the outside looking in, few understood the French champion. Her quirks, her "genius" self-professed I. Q. of 175, and her unique playing style were intriguing for the casual fans to a point yet grew tiresome for some diehards. Even among her fellow peers, Bartoli was long considered an outcast for her unique methods. Even the French tennis federation distanced themselves from her and her father, unwilling to buy into what Walter was selling. It was them two against the world, but it worked. She was a solid top-10 player, with numerous quality wins and WTA titles to her name.
In 2013, however, that all changed. Bartoli decided to part ways with her father, looking for a new voice and fresh approach to the game at 28 years of age. She wanted more. New French Fed Cup captain Amelie Mauresmo helped Bartoli heal her rift with the federation, and Bartoli played her first Fed Cup tie in 10 years against Kazakhstan in April. She went 2-0 in singles, keeping France in the World Group II for 2014.
Aside from the reconciliation with the federation, Bartoli's on-court performance for the first half of 2013 was little more than mediocre. When she arrived at the All-England Club for Wimbledon this year, the site of her previous career-defining runner-up showing in 2007, no one could have guessed what was in store for her. As the women's draw was decimated by injuries and upsets, Bartoli rose to the occasion, not dropping a set en route to the championship. In her 47th major, a new record, Marion Bartoli became a Wimbledon champion.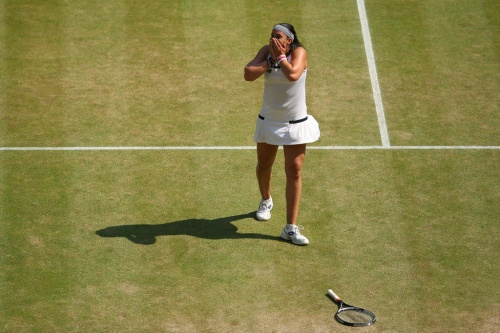 The realization of a dream takes time, effort and dedication. In professional sport, these things are magnified by intense physical and mental strain. Many players have struggled with the weight of expectations following their first grand slam title, while others revel in the moment. As we should expect, those things were too mainstream for Marion Bartoli.
At 10:30 PM on Wednesday in Cincinnati, OH following a second-round loss to Simona Halep, Marion Bartoli announced her retirement from tennis.
"It's time for me to retire and to call it a career. I feel it's time for me to walk away, actually," she stated between tears.
Uniqueness and rituals aside, Bartoli's most defining characteristic on court was her fight; in her own words, she used up the last ounces of it during the realization of her dream. "I made my dream a reality and it will stay with me forever," she said Wednesday night.
"My body just can't do it anymore," Bartoli continued. "I've been already through a lot of injuries since the beginning of the year. I've been on the tour for so long, and I really push through and leave it all during that Wimbledon."
"I'm this kind of person, when I'm doing something, I'm doing it 100%. If I have to be tomorrow on the practice court and prepare for the next tournament, I won't be at 100% because my mind is not there, my heart is not there, and I just can't lie like that."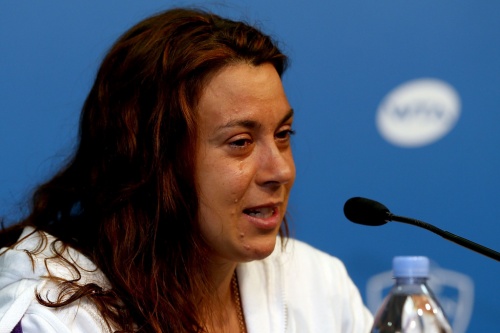 Eighteen months ago, Marion Bartoli was perhaps one of the most misunderstood players in tennis. A true hipster, she marched to her own drum but simultaneously flew under the radar. A Wimbledon championship launched her into the mainstream, and placed one of the most genuine and good-hearted people in the sport in the spotlight. Just when tennis was beginning to finally appreciate her as a hard worker and an endearing individual, Bartoli decided to walk away at her highest point. She has left her legacy on the court, as well as off it.
"I think if people ask, How is Marion Bartoli? They will always respond, She's a nice person. That's what I'm most proud of."
Bartoli's route to becoming a champion will live in tennis history forever. The greatest champions have served as idols to the next generation since the beginning of sport. Will Bartoli be imitated? Who knows. However, we do know one thing. She'll never be duplicated.