Mariana Duque-Marino Rises to the Occasion in Bogota

For players from the traditional tennis powerhouses of the four Grand Slam nations, playing at home is a noteworthy occurrence in name only. All eyes in tennis are on them for two weeks each year. While disappointing results in front of home fans on their biggest stage might sting for a moment, these players often have plenty of other events in which they can shine in front of the faithful.
Other players don't have that luxury, perhaps having just one tour-level tournament staged in their home nations per year, or even none at all. When they do get an opportunity to play events in their backyards, or in arenas like Davis Cup and Fed Cup, players often react in one of two ways. They either step up and embrace the privilege, or wilt under the pressure.
This week, Agnieszka Radwanska plays at home for the first time since 2007 and will hold court at the (newly paved) indoor hard courts in Katowice. Meanwhile, the WTA's red clay season gets its start this week in Bogota. With defending champion Jelena Jankovic and Sloane Stephens headlining an otherwise underwhelming field, opportunity abounded for any of the 30 other women in the main draw.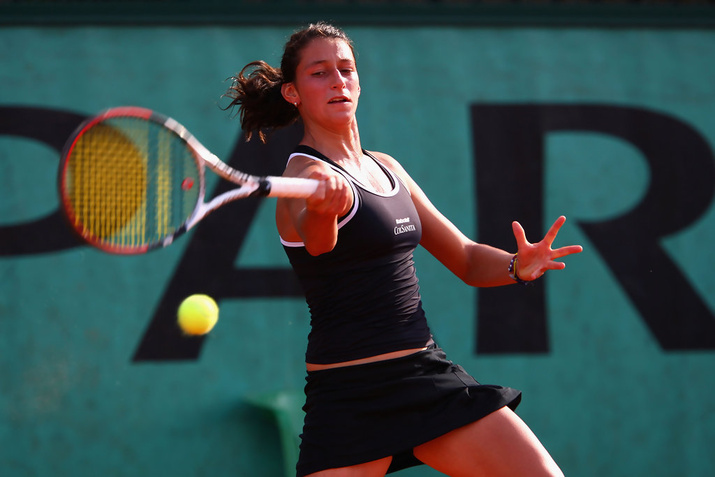 One of them still in with a chance is hometown favorite Mariana Duque-Marino.
While there are plenty of tournaments on her beloved red clay across the world, Bogota is the only WTA-level tournament where Duque-Marino, who has only been ranked as high as No. 90, can show off her stuff to her home fans. Often unseeded in her own backyard, the crafty Colombian has played every edition of the event since she turned professional in 2005.
As the last direct acceptance into the main draw at No. 192, Duque-Marino sliced her way through both the thin air and the field at the 2010 edition of the Copa Sony Ericsson Colsanitas. After dropping the first set she played in that year's event against Greta Arn, she didn't lose another set for the remainder of the tournament. Duque-Marino claimed her maiden career title by upsetting Klara Koukalova (then Zakopalova), Arantxa Parra Santonja and Angelique Kerber in the final three rounds. She became only the second Colombian to lift the trophy after Fabiola Zuluaga won Bogota four times, including three straight from 2002-04.
Since her Cinderella run in front of her home crowd, Duque-Marino's results in Bogota have been decidedly mixed. Returning in 2011 to defend her title, she was defeated in the opening round by little-known Xinyun Han of China. She returned to the quarterfinals in 2012 before falling in the second round to Jankovic last year. When she saw her name drawn against the second seed this year, one wouldn't fault Duque-Marino for expecting another campaign in Bogota come to an early end.
That second seed was the beleaguered Stephens, who had just come off another early-round loss in Charleston at the hands of Elina Svitolina. When the two players took to the court, there was little to suggest that Stephens came into the match ranked 111 spots higher than her Colombian opponent. Buoyed by a passionate Colombian crowd and familiarity with the conditions, Duque-Marino ripped off a string of seven consecutive games from 3-3 in the first set to take a 6-3, 4-0 lead. Stephens looked out of sorts from the start, able to create only one break point against an opponent who was landing just 40% of her first serves until the penultimate game. Despite faltering when she served for the match at 5-2, Duque-Marino broke Stephens at love in the final game to seal the 6-3, 6-3 win.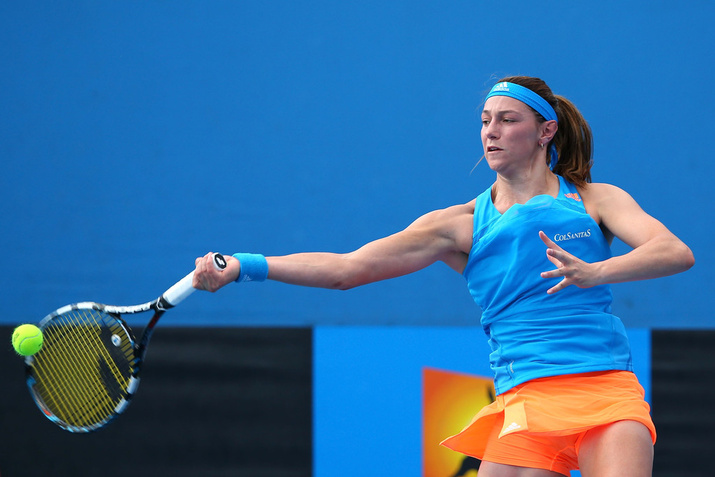 It's a monumental win on paper for Duque-Marino, whose previous career-best win was against No. 26 Anna Chakvetadze at Roland Garros in 2009. However, mere days after fellow youngsters Jana Cepelova and Jovana Jaksic made shocking runs to the finals in Charleston and Monterrey, it's another disappointment for Stephens. She continues to search for her maiden WTA final.
With the win, Duque-Marino improved to 12-6 in her career in the main draw in Bogota.
Her record in WTA main draws everywhere else? 9-35.
Up next for Duque-Marino is a lucky loser in the form of Irina Khromacheva, in a bottom half where the highest-ranked player is now No. 71 Caroline Garcia. In what's shaping up to be another wide-open tournament in Bogota, Mariana Duque-Marino has already proven that she knows just what it takes to win in her own backyard.