Making the Grade (Or Not): The US Open Women's Tournament in Review

The champion and the runner-up were familiar, but others who seized the headlines were not. Relive the women's tournament at the US Open.
Serena Williams: Now even with Roger Federer at 17 major titles, the world No. 1 stands just one behind Chris Evert and Martina Navratilova for second place among women in the Open era. That conclusion looked foregone for most of the fortnight as Serena dropped just two service games through the first six rounds and never even reached 5-5 in a set. Those overmatched opponents gave way to the one persistent thorn in her side this year, Victoria Azarenka, in a rematch of last year's final. The swirling wind contributed to Serena's edginess against a woman who won their last two meetings on hard courts. Still, she looked likely to escape with a relatively straightforward win leading by a set and a double break.
But then Serena failed to serve out the match once, failed to serve out the match twice, and lost a tiebreak to Azarenka for the third time this year. One set would decide whether her 2013 season at majors would end in triumph or disappointment. Serena answered the bell in the manner of a true champion, reining in her frustrations and her wayward groundstrokes with discipline that must have pleased coach Patrick Mouratoglou. She lost only one game in a dominant final set, affirming her status as the player of the year in 2013 and recapturing the momentum in the WTA's central rivalry. A+
Victoria Azarenka: She may have ended the tournament in the same way that she did last year, one set short of the US Open title, but Azarenka should look back on her performance with pride once she dries her post-final tears. Despite rarely finding her best tennis in New York, the world No. 2 battled through those passages of frailty and gave Serena much to ponder once again. Few women would have found the mental toughness to erase a double-break deficit in the second set of a major final against this opponent, or to twice break her when she served for the title. If the third showed why Serena ranks above her rivals, the second set showed why Azarenka ranks foremost among those rivals. Having reached four straight finals at hard-court majors, the world No. 2 would become even more lethal if she sharpens an erratic serve. A
Italian women: When she arrived at Wimbledon, the aging and ailing Flavia Pennetta ranked No. 166. Nobody could have seen what lay ahead for the Italian veteran, who catapulted from her second-week appearance at the third major of the season to a semifinal at the fourth. Never having reached that stage at a major before, Pennetta scored that breakthrough without losing a set. She did it the hard way, too, cannibalizing higher-ranked compatriots Sara Errani and Roberta Vinci. Pennetta's ranking should soar to a level more commensurate with her talent after she breathed new life into her career.
While Errani voiced some concerning competitive fatigue, Vinci deserved credit for reaching a second straight US Open quarterfinal. So did Karin Knapp for building on her Wimbledon breakthrough with a third-round run. But this section filled with Italians produced its most startling headline from feisty qualifier Camila Giorgi, who won six matches in New York. Not intimidated by the experience of playing an Arthur Ashe Stadium night session, Giorgi pounded nearly 50 winners past former No. 1 Caroline Wozniacki. A most un-Italian display and a fine illustration of her nation's depth. A
Li Na: Many an exciting and exemplary headline has Li created throughout her late-blooming career. The latest of those came in New York, where she became the first Chinese player to reach a US Open semifinal. The bad news was that she faced Serena in that semifinal, but the good outweighed the bad for Li. She swept her first nine sets of the tournament with form much more impressive than she had shown since reaching the Australian Open final, and her consistency at majors continues to improve. Coach Carlos Rodriguez has stabilized Li's emotions since joining her team last year, helping her to peak at the right time. Outside the clay season, she has reached at least the quarterfinals at every significant event that she has played in 2013. A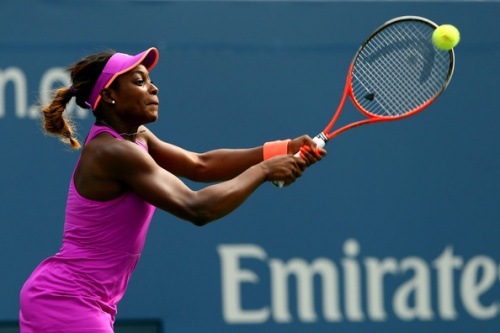 Young American women: Leading the charge was Sloane Stephens, who become one of only three women (and the only woman outside the top four) to reach the second week at every major this year. While Stephens could not repeat her Australian upset of Serena, she recorded her best performance to date at her home major. And Stephens was far from the only young American to shine in New York. The greatest upset of the first week came from Haitian-American Victoria Duval, who has learned how to master the grand stage with time. Duval stunned former champion Samantha Stosur in a tortuous three-setter that would have unglued many a youngster's resilience. Rebuilding her career in the wake of mononucleosis, Christina McHale gave local fans plenty to cheer as the New Jersey native marched to the brink of the second week. And Alison Riske, an unfamiliar name for most, ousted two seeds before falling a set short of the quarterfinals. Expectations for those latter three women were not just exceeded but shattered. A-
WTA young guns: Fans from other nations that host majors must have left the tournament encouraged as well. France's Caroline Garcia battled Great Britain's Laura Robson through two tight sets in a preview of a rivalry to come, while Australia's Ashleigh Barty notched a main-draw victory. Eastern Europe continues to churn out women's tennis talent as vigorously as ever, which fans attending Elina Svitolina's upset of Dominika Cibulkova must have realized. Croatian teenager Donna Vekic joined Svitolina in the second round, while Canadian phenom Eugenie Bouchard took a set from Angelique Kerber. Judging by the evidence in New York, the WTA can look forward to a bright, diverse, and compelling future when its current generation of stars fades. B+
Russian women: In the absence of Maria Sharapova, this tennis superpower rested its hopes on a talented but mentally fallible group of women. Former champion Svetlana Kuznetsova and the highest-seeded Russian woman, Maria Kirilenko, suffered embarrassing defeats in the first week as their summer swoons persisted. But Ekaterina Makarova saved Russia's tournament—at least in part—by reaching her third quarterfinal at the last three hard-court majors. She defeated two higher-ranked opponents to get there, including world No. 4 Radwanska. Makarova must have felt grateful to see someone other than Sharapova at that stage, severely testing Li Na for three sets despite the gulf between them in achievements. B+
Carla Suarez Navarro: Her US Open campaign may have ended painfully with a double bagel at the hands of the world No. 1, but Suarez Navarro still had more to celebrate this fortnight than her 25th birthday. Despite her diminutive size, she reached her first US Open quarterfinal by upsetting top-eight seed Angelique Kerber in one of the more dramatic women's matches. Her success shows that size and a huge serve are not prerequisites to solid results on hard courts. Undefeated in matches that reach 6-6 in the final set, Suarez Navarro has a large heart in her small body. B+
Slovakian women: While Dominika Cibulkova won Stanford and reached the Rogers Cup quarterfinals, Daniela Hantuchova had not won a match at a major this year as her ranking skidded to the edge of the top 50. So who fell in the first round, and who fought her way into the final eight? In an bizarre plot twist, Cibulkova did the former and Hantuchova the latter. The draw smoothened her path, granted, with upsets around her of Samantha Stosur and Nadia Petrova. But Hantuchova still deserves credit for the resilience that she showed in weathering consecutive three-setters to produce her best US Open performance in over a decade. B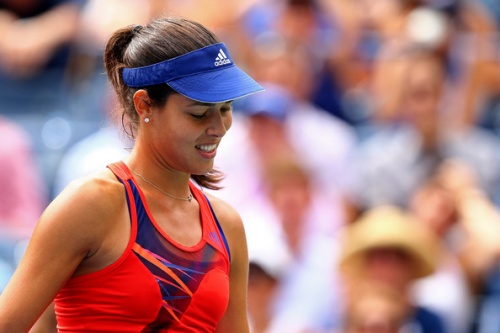 Serbian women: For the first time since 2007, both Jelena Jankovic and Ana Ivanovic reached the second week of the US Open. Jankovic's performance continued an encouraging resurgence on the hard courts this year, although she cannot hold her serve often enough to compete with elite opponents. One might say the same of Ivanovic, who battled Azarenka deep into the third set of a 16-break encounter. The elder Serb knocks on the door of the top 10, while the younger Serb looks the closer of the two to challenging contenders. B
Romanian women: Only two women have masted Simona Halep with any consistency since the clay tournaments of May: Serena Williams and Flavia Pennetta. Four titles in the last three months gave Halep the confidence to crack the second week of a major for the first time. On the other hand, Rogers Cup finalist Sorana Cirstea labored even to survive the first round and slumped out of New York soon afterward. Perhaps Cirstea would have benefited from on-court meetings with Darren Cahill, permissible only at non-majors. B-
German women: About two years ago, an entire generation of them looked ready to burst onto the WTA scene. It has not happened for reasons of varying clarity. Recurrent injuries have prevented Andrea Petkovic from recovering the form that brought her to two major quarterfinals in 2011. Also gone in the first round this year, however, was the talented and injury-free Julia Goerges. The heavy serve of Mona Barthel remains a work in progress, while Angelique Kerber has lost her competitive edge in tight matches. The good news is that all of these women have plenty of time to regroup and reinvigorate their careers. We cannot discount any of them yet. C+
Agnieszka Radwanska: A hangover from the golden opportunity wasted at Wimbledon should not have come as a surprise, nor should a muted performance in the wake of her grandfather's death. Radwanska also has found the US Open her least successful major, never advancing past the final 16. That trend continued this year when she allowed a large lead to escape her against Makarova. At her last three majors, Radwanska has lost to very beatable opponents in Errani, Lisicki, and this Russian lefty. She appeared to take a slight step back in 2013 after a breakthrough campaign in 2012. C+
Caroline Wozniacki: The former No. 1 seems to constantly take one step forward and one step back in 2013. After Wozniacki reached the Indian Wells final, she languished through a disastrous European season. After she produced impressive form at the Premier Five event in Cincinnati, she faltered in the third round of the US Open (historically her best major) against a qualifier. Full credit to Giorgi for mastering the moment in multiple ways, but Wozniacki never would have let this match slip away once she had pocketed the first set two years ago. C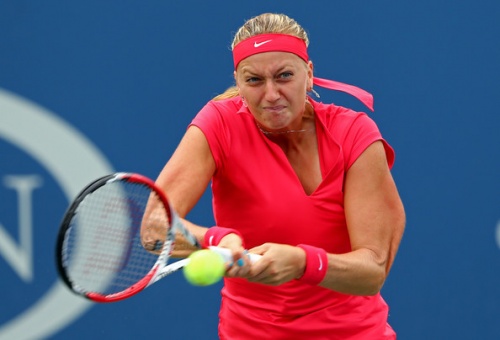 Petra Kvitova: She fell ill with a fever shortly ahead of her match against Alison Riske, from which she extracted just three games. While one cannot expect much from any competitor facing that situation, Kvitova needs to find a way to stay healthier on Tour. Physical issues have undermined her constantly over the last two years as the memory of the player that she was in 2011 fades. Someone with so much talent should not go twelve months without a semifinal at a major, Premier Mandatory, or Premier Five event. C
Wimbledon surprise stories: Most of the snakes in the grass slithered quietly out of the US Open in the first week. Wimbledon runner-up Sabine Lisicki remained a one-surface, one-dimensional threat despite courts that favor her massive serve. An unseeded quarterfinalist at the All England Club, Kaia Kanepi fell prey to the same woman whom she upset there. While Kerber earned her revenge by annihilating Kanepi, Venus Williams demolished Wimbledon semifinalist Kirsten Flipkens in the first round. That match avenged the Belgian's victory against Venus earlier in the US Open Series. C-
Samantha Stosur: Victoria Duval's upset was a heartwarming story, one of the most memorable women's headlines of the first week, a breath of fresh air for American tennis, and something that never should have happened. 2011 champion Stosur led the heavy underdog by a set and 4-2 before a cascade of errors undid her. Perhaps she needs time to adjust to life after long-standing coach David Taylor, whom she dismissed just before the tournament. F
Martina Hingis: A series of frustratingly brutal draws have prevented her doubles comeback from leaving the ground so far. Hingis and her partner, Hantuchova, drew top seeds Sara Errani and Roberta Vinci in the very first round at the US Open. The result was predictable, adding fuel to the flames of those who believe that the Swiss Miss should choose a new partner. She took that advice, but not in the way that it was meant. Appearing in Tommy Robredo's box more than once, Hingis may have inspired him to his stirring upset over Roger Federer. Incomplete
Venus Williams: For the second straight year, she gave us one of the tournament's more memorable early matches in a second-round loss. Having dispatched Flipkens in efficient fashion, Venus could not quite escape the terrier-like grasp of Zheng Jie, many inches shorter but not an ounce less gritty. Beautiful their match was not, but compelling it was across its three-hour sprawl. Venus gained solace in doubles with her sister, an area where we might glimpse her skills deep into the twilight of her career. Honor roll