Lisicki Halts Pennetta Title Defense at Indian Wells

Defending a title is never easy, especially at a large tournament. But it has been next to impossible for the women's champions at the BNP Paribas Open. Not since Martina Navratilova in 1990-91, the second and third editions of the event, has a WTA player won consecutive crowns at Indian Wells. A surprise champion when she claimed her biggest title here last year, Flavia Pennetta did not seem likely to halt that trend when the tournament began. She had lost her first or second match at six of seven single-elimination tournaments since the US Open.
Pennetta had one foot on the threshold of the exit door against Maria Sharapova in the fourth round, trailing by a set and facing triple break point in the second set. At that crossroads, however, the Italian curbed her nerves and mounted an improbable comeback that ended with a finish as dominant as the beginning was disheveled. That notable victory over the world No. 2 gave Pennetta a plausible chance to at least return to the final with less decorated foes Sabine Lisicki and Jelena Jankovic ahead.
Like Pennetta, Lisicki had arrived in the desert searching for form after a dismal start to her 2015 campaign. Since winning a small title in Hong Kong last fall, the former Wimbledon finalist had posted a 5-11 record. Lisicki has always been a streaky competitor, her fortunes fluctuating with the ups and downs of her serve. That shot is the sword by which she lives and dies, yet she had reeled off three wins at Indian Wells on a surface hostile to her brand of first-strike tennis.
Pennetta was the third Italian to face Lisicki at the BNP Paribas Open after the German had dispatched countrywomen Roberta Vinci and Sara Errani. Pennetta is a different type of player from those clay-loving doubles partners, having scored some of her most notable victories on hard courts. A strong record against Sharapova and Venus Williams underscores her ability to turn the pace of more powerful opponents against them. A better mover and more consistent shot-maker than Lisicki, she would try to weather the German's mercurial flashes of brilliance in their first meeting.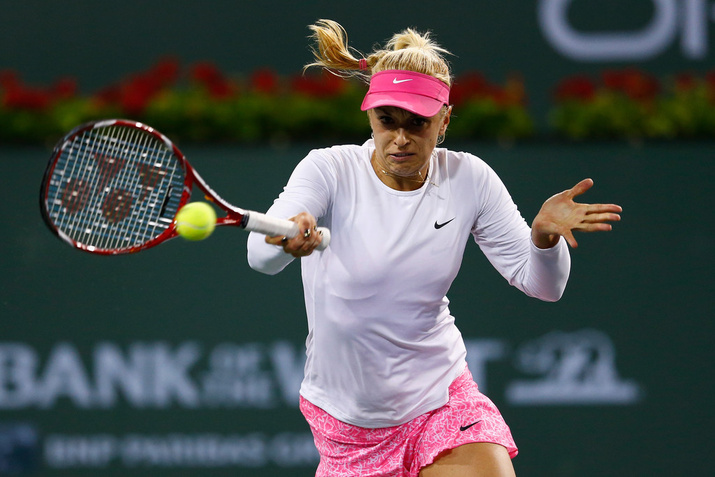 The most powerful shot on either side of the net was the German's first serve, and she fired a 124-mph ace to close her first service game with a signal of intent. Neither player could sniff a break point through the first seven games, perhaps a result of feeling out an unfamiliar foe. Most of the points ended quickly and were played on Lisicki's terms without the rhythm that Pennetta prefers. In the eighth game, a foot fault on second serve appeared to rattle the defending champion. She saved the ensuing break point but lost serve soon afterward.
This would be just the first in a sequence of four straight breaks. Double-faulting and netting routine groundstrokes when she served for the set, Lisicki did not respond well to the chance to take command. However, Pennetta continued to struggle to place first serves, locating barely 40 percent in the first set. With the German swinging fearlessly on second-serve returns and shortening points by moving into the forecourt, she rushed the Italian out of her comfort zone. Under pressure, Pennetta double-faulted twice in the tenth game en route to yielding the set.
She had found herself in this position just two days ago against Sharapova, though, and the defending champion was not going to go quietly. She mustered an early break in the second set and began to extend the rallies while putting more returns into play. For her part, Lisicki stuck to her aggressive game plan and continue to unleash bold strikes toward lines and corners. As the set's chaotic climax approached, she thrust Pennetta's back to the wall at 4-5. The Italian found herself down match point, her title defense hanging by a thread. After a medium-length rally, she found the courage to sting a clean inside-out forehand winner. To the delight of the crowd, Pennetta fought through that game with the assistance of dubious shot selection from Lisicki. She missed a chance to break soon afterward, but the aggressive approach that she took on that point boded well for the tiebreak.
Both women had struggled in tiebreaks over the last 12 months, but it was the veteran who played the more poised, tactically sound tennis with the set at stake. Claiming the tiebreak comfortably, Pennetta may have expected to ride that tide of momentum through a commanding third set. If so, she was disappointed. Lisicki collected herself despite the missed chance to close out the match in straight sets and stood toe to toe with the Italian throughout the final set.
Neither woman faced a break point through the first nine games, a rarity in women's tennis. The tension built slowly with each service hold that marched past. As a tiebreak loomed, Pennetta threatened to deliver a terminal blow with Lisicki serving at 4-5. She earned double match point, only to see an unreturnable serve and a forehand winner thunder through the court. A third match point vanished in similar fashion with another service winner, and Lisicki escaped defeat as bravely as had Pennetta in the second set.
A pair of uneventful service games carried the match to its fitting conclusion in a tiebreak. In contrast to the previous tiebreak, this sequence was dictated by Lisicki's forehand and serve. The women twice exchanged minibreaks in its early stages before a Pennetta miscue at 3-4 put the match on Lisicki's racket. She did not hesitate to go on the attack, drawing a forced error on the first point and punctuating the match with an ace. She crumpled to the court in elation after a 6-4 6-7(3) 7-6(4) victory that lasted two hours and 40 minutes.
This tournament has marked the best hard-court result of Lisicki's career, and she will have the chance to carry her success even further on Friday night against Jelena Jankovic. While the Serb has won all three of their meetings on hard courts, all have reached a final set. After the German's dramatic comeback against the defending champion, she should feel confident in her ability to turn that tide.