Lehecka Pulls Upset In Rotterdam

At Ahoy Arena in Rotterdam, before the start of the match, the stadium goes dark, long thin aqua lights hang from the rafters, pop music blares, pale green dots of light waver through the audience. Then the court turns bright. The show is beginning.
We expected the star of the show to be creative lefty 22-year-old Denis Shapovalov.
The young Canadian looked the part: dressed in all-white, signature backwards ballcap, athletic, upbeat, fast-paced, that beautiful free flowing one-handed backhand.
But 20-year-old qualifier Jiri Lehecka stunned us with his calm and intense demeanor, his incredible two-handed backhand. The young Czech rising star upset world No. 12 Shapovalov 6-4, 6-4 in one hour and 31 minutes.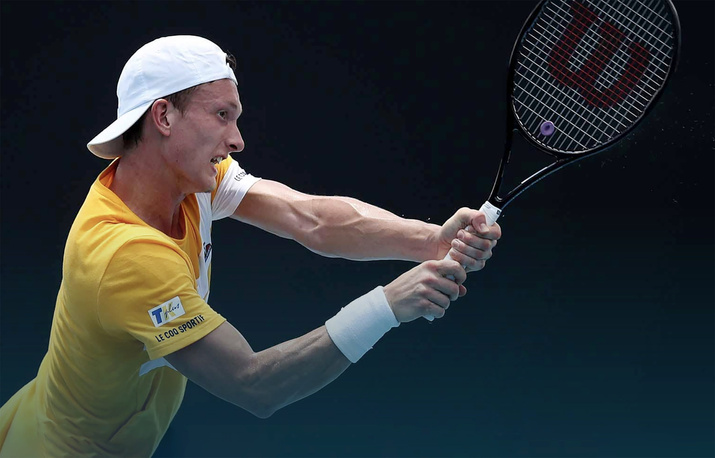 In his on-court interview, Lehecka was asked if he was surprised about his victory: "I mean, I wanted to win, so…" Lehecka grinned. "Obviously, I'm not as surprised. Denis is an incredibly good player. I knew that before the match. I knew that it would be a very tough match. Wasn't like I expected. So, I'm happy. I'm really happy."
Things went wrong for Shapovalov in the third game of the first set. He missed a couple of forehands, which cost him a break. Lehecka then held for a 3-1 lead, aggressively playing close to the baseline, taking the ball on the rise. Shapovalov tried his best to catch up. In the sixth game, he had four break points, but lost them all.
In the second set, Lehecka broke early again, this time in the first game. Shapovalov did his best to stay positive, hopping around, saying "Come on!" and when he broke in the next game, he yelled out a guttural roar.
At 2-all, though, Shapovalov was broken. He just made too many errors. He did annihilate an inside-out forehand down the line for a winner, but he also double faulted, missed a backhand wide, and missed a forehand long.
Shapovalov had five break points in the sixth game, but wasn't able to convert. Lehecka stayed steady, and at 5-4, he served for the match, winning at love.
In his press conference afterward, Shapovalov said: "He played really well today. I wasn't able to find my form.
"Tough conditions over here with me. I haven't had too much success on these courts. Little bit difficult. I was mistiming quite a lot on my shots."
When asked about playing a new guy to the tour, Shapovalov replied: "It's always difficult to play up-and-coming guys. They're playing loosely, obviously. For them, they have everything to gain.
"I think he's going to be a great player. He showed today how much potential he has."
Shapovalov said: "I've struggled here the last times I've played. Not sure this is a great surface for me. I didn't feel comfortable, felt like I was kind of guessing every shot.
"Sometimes you can feel good on a surface. Sometimes you can struggle a little bit more. It's just one of those weeks for me."