Learn to Compete

By: Adam Naylor, EdD, CC-AASP and Matt Cuccaro, MEd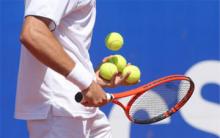 Your volleys are crisp on the lesson court but are limp come match time. You manage to learn how to come over your one-handed backhand and really crack it except when the club championship rolls around. After hitting basket upon basket of second serves you find great rhythm but only to push, chop and double fault on game day.
According to Adam Naylor, EdD, CC-AASP and Matt Cuccaro, Med, Ivan Lendl International Junior Tennis Academy, lessons and clinics are valuable to the development and enjoyment of one's tennis game. They provide safe venues where new techniques can take root and confidence can begin to grow. Nonetheless, they say, it is not unusual for newly learned skills to hide when it's time to play "for real." This reality can prove to be both a challenge in confidence and patience. Follow these five steps to learn to compete with great success.
1. Take lessons with a learning mindset
When learning, it is not so much about where the ball lands as it is about how it was struck. For at least the first half of lessons and drills, commit to caring about technique and ball flight. At the end, worry about where they land. Too often we get "confined by the lines," judging goodness of an effort by the "in" or "out" call.
2. Practice, practice, practice
Get out and do some quality repetitions on your own to reinforce the lessons learned in clinics or with teaching pros. When wise cues are being shouted at you from across the court new strokes look pretty good, how do they work out when the cues must come from within?
3. Re-evaluate your self-evaluations
As you move from the lesson court to the competitive arena, notice how you are evaluating your performances. Is it the scoreboard or your strokes and effort that define your success? Create a game plan for the day with a few simple "keys to success" from your learning in lessons. Allowing the process of playing to guide you will lessen some stress and lead to quality play.
4. Play with perspective
Learning anything new and worthwhile in life requires some discomfort and a fair test of time. Remember, one point doesn't lose a tennis match. Abandoning new techniques after a few lost points or games is walking out on your potential.
5. Trust…get into "play mode"
"Thinking" is terrific when trying to learn and make sense of new strokes and strategies. When it is time to compete, the stress of play can short-circuit our deep thoughts. Making technical changes mid-match and assessing if you are playing well or poorly is not time well spent. Choose to play with trust, reacting to shots and filling your head with targets. Save the analysis for later in the clubhouse.
Let these five steps be the path from the lesson court to competitive play. You may find yourself stepping back now and again, but committing to each will allow learning to stick, potential to be realized and true enjoyment to take place on the journey.
This article is from the Jan/Feb 2013 issue

SOLD OUT

Subscribe now and you'll never miss an issue!