Laver Cup: Team World Battles Back Keeping Victory In Reach

On Saturday, the excitement continued to build. The stakes were higher as each match win was now worth 2-points and intensity was in the air. Team World brought forth their Ace Men and delivered a team total of 39 aces. Team Europe struck back with 24 aces and remained strong refusing to let go of their grip on the lead. After 9-hours of energizing tennis, Team Europe leads 7-5 and Team World is still very much in striking distance of the Laver Cup.
Saturday - Team World Remains a Contender
Match 1 - Alexander "Sascha" Zverev [E] d. John Isner [W] 3-6 7-6 10-7
Big John Isner stepped on court with huge team and crowd support. He wasted no time immediately breaking Zverev. At 7 minutes into the match, John held a 2-0 lead. He kept the pressure on Zverev winning 89% of his 1st serve points to take the first set. John's teammates worked the crowd demanding and being rewarded by an enthusiastic, boisterous support. In particular, the crowd dance-off to "Life is Dynamite" was memorable.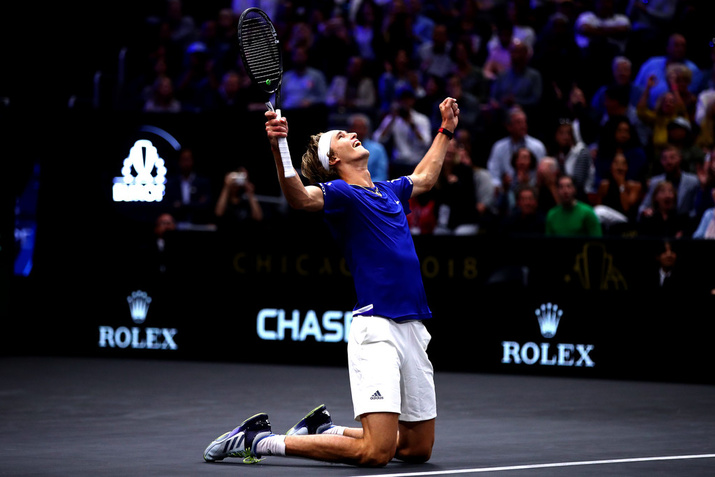 Zverev showed minor hints of frustration but mainly composure. His sideline teammates seemed to hold that same intention for him and it worked. He fought through a difficult second set turning the tables and winning 95% of his first serves. As no break points were played in the second set, Zverev captured the breaker.
They marched on to play a super breaker and, in the end, only 3-points gave the win to Team Europe. Two points added to an already 3-1 lead. Now 5-1, Match 2 began.
Match 2 - Roger Federer [E] d. Nick Kyrgios [W] 6-3 6-2
The match began and ended with class. The coin toss was hosted by Chicago native and former WTA No. 1 Ana Ivanovic. Roger started strong and never let up. He executed a pristine backhand winner to break going up 3-1 and then held to 4-1. While Nick worked his game to find a solution, he came up short. He held to 5-3 but that just left Roger to serve out the set. That story played out in the usual fashion, 6-3 to Federer and Team Europe. Federer's intensity was audible, "Come On!"
The second set was more of the same and at 38-minutes, Roger was up a set and a break. As the scoreline indicates, Roger kept up his level giving Nick no opportunities to get back into the match. Overall, Federer won 86% of 1st serve points and thirteen net points. A perhaps surprising stat is that Nick won eleven points at net as he was getting creative and mixing it up. Team Europe earned two additional points and led 7-1.
Match 3 - Kevin Anderson [W] d. Novak Djokovic [E] 7-6 5-7 10-6
Novak and Kevin took center stage opening the night session. This match was pure quality. The serving, returns, rallies, sliding, drop shots, slices, you name it. Each player let no stone unturned while defending their team's honor.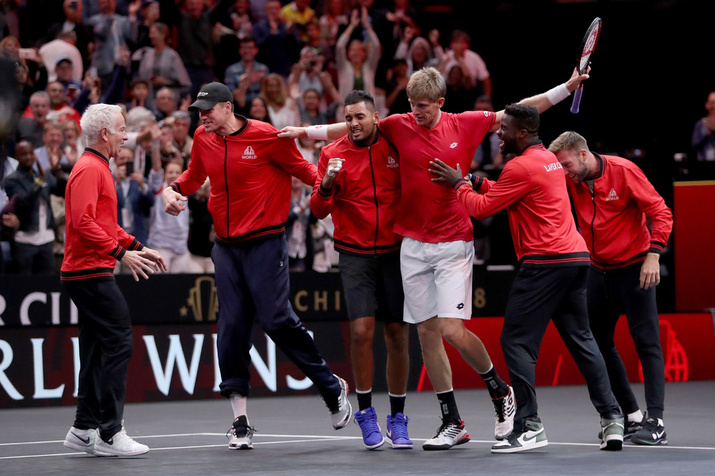 Set 1 – Hold, rinse, repeat, neck and neck tiebreak ending with an unfortunate double-fault by Novak.
Set 2 - The holds continued to 5-5 and the drama built until Novak captured the first break of serve at 1-hour and 49 minutes to 6-5. On serve, he only had to do what he's done so many times before - hold under pressure. He pushed hard to Kevin's backhand side and found success, 7-5 setting up the third set super-breaker.
As the breaker began, both benches were highly involved. Team Europe showed spirited contemplation and Team World bounding off the walls. Each point played should have shown a team sideline replay. In a word - priceless. Kevin struck first to go up 1-0 but Novak stayed toe-to-toe pushing the score to 4-4. Anderson fired an ace to 5-4 and held the lead from that point on. Novak pressed to 9-6 but Kevin was back on serve. A final forehand error meant another win for Team World. This one had to sting as Novak won a total of 82 points while Kevin won 77 points. That sting brought the score to, 7-3.
Match 4 - Jack Sock and Nick Kyrgios [W] d. David Goffin and Grigor Dimitrov [E] 6-3 6-4
This foursome completed their final match at 10:58 PM. On paper, Jack and Nick were the favorites. Add in the Chicago fan support for mid-western Sock, and a perfect storm was brewing. But, Grigor and David both have solid all-court games and significant finesse. This match was closer than the score indicated. There were awe-inspiring rallies that had fans on their feet. The match stats were similar. Both teams produced three aces, Goffin-Dimitrov had no double-faults and a high first serve percentage, 69% versus 66%. The power of Kyrgios and Sock broke down the pair a few too many times and their points won on first serve was significantly higher at 82% for Sock-Kyrgios versus 68% for Goffin-Dimitrov.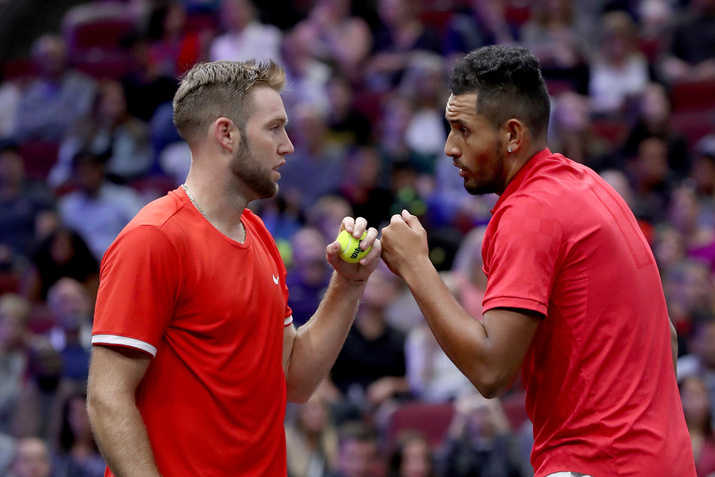 An interesting stat: neither team won any net points. By 11PM, Team World made up significant ground putting themselves in an excellent position for the third round matches on Sunday. Per the Laver Cup format, each win on final Sunday is now worth 3 points.
Once again, there are four matches in the order of play. Team Europe will need to win two matches to retain their title while Team World can pull off a victory by winning three.
There is no time or points to be wasted by either team. Whether you are attending the event live or watching on television, arrive on time for a Noon start as you won't want to miss the crescendo finale that is too close to call.
Laver Cup Final - Sunday Order of Play - 3 Team points will be awarded for each win:
Match 9: Roger Federer & Alexander Zverev [E] vs. John Isner & Jack Sock [W]
Match 10: Roger Federer [E] vs. John Isner [W]
Match 11: Alexander Zverev [E] vs. Kevin Anderson [W]
Match 12: Novak Djokovic [E] vs. Nick Kyrgios [W]
(Photo Source: Source: Matthew Stockman,Clive Brunskill /Getty Images North America)