Laver Cup Preview

With the final slam of 2019 on record, it's time to look towards ATP team tennis, specifically Laver Cup.
Since inception, the event has showcased the best of the tour in a Team World vs. Team Europe format. As of May 2019, the ATP Tour officially recognized the event. Quoting Bjorn Borg, "The Laver Cup is my favorite week of the year."
Geneva, Switzerland hosts the 3rd edition, September 20-22nd at the Palexpo. The following events lead up to the start of play:
Today - Geneva City Welcome.
Fan Zone-Beginning September 19th, Laver Cup Fan Zone will provide exciting interactive exhibits and activities including a unique Tennis Hall of Fame experience.
September 19th-Team Practice Sessions-Team World and Team Europe practice sessions will be open to the public for a nominal fee. Here fans who were not able to secure event tickets can still watch their favorites.
Fans can also watch live matches here on the Giant Fan Zone LED. Note: Event ticket holders have open access to Laver Cup activities during match days only.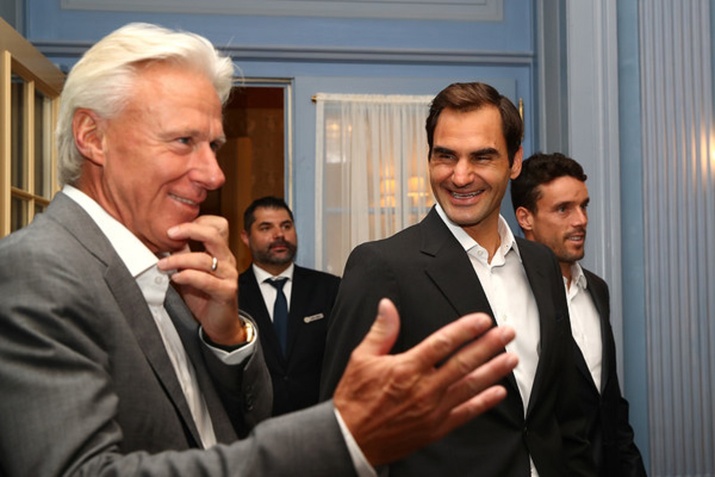 Replay 2018 to 2019
Team Europe lead by Captain Borg is seeking to defend their title. In 2018, they captured a Day 1 lead, 3-1. Team World anchored by Kevin Anderson fought back to 7-5 by the close of day 2. The progressive scoring of 3 points per match on day 3, kept the cup in reach for both teams. (Scoring: Day-1-1pt awarded per match, Day-2- 2pt, Day 3- 3pt.)
On day 3, a final charge by Sascha Zverev sealed the win for Europe. The German was "crushed" as teammates Federer, Dimitrov, Djokovic, Goffin, Edmund and Chardy piled on him in celebration.
The overwhelming jewel of this event is camaraderie. Competitors transform into teammates lending support to their usual foes. It is clear that these traditionally individual athletes revel in the rare team tennis atmosphere.
In Chicago, fans captured moments that will never be seen during regular season play. A favorite photo of mine is Novak Djokovic and Roger Federer cheering in unison for teammate Grigor Dimitrov during his opening match against Team World's Frances Tiafoe.
Team Europe 2017 & 2018 Champions
This year Nadal returns to Team Europe which begs the question, will we see Fedal Doubles? In Prague, Roger stated no after a near collision with the Spaniard. Perhaps time will ease his worried mind? Joining Roger and Rafa are Dominic Thiem, Sascha Zverev, Stefanos Tsitsipas and Fabio Fognini.
Team World-Seeking 1st Title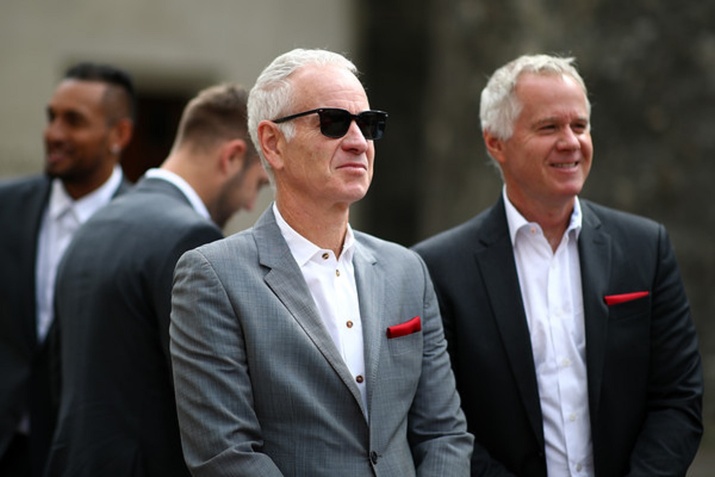 Team World is led by Captain John McEnroe. A recent update, 2018 standout Kevin Anderson has withdrawn with a knee injury.
Returning teammates John Isner, Jack Sock, Nick Kyrgios welcome new recruit American, Taylor Fritz
along with Canadians Milos Raonic and Denis Shapovalov. A passionate Denis delivered a strong battle against Gael Monfils in New York.
While there is no doubt that Team Europe will strive to maintain a pristine record, the experience of returning Team World players and doubles expertise matters.
In 2018, Jack Sock contributed massively to Team World. He scored three doubles wins with teammates Kevin, Nick and John.
John McEnroe praised the return of the Grand Slam doubles champion. A well-rounded Team World will challenge Roger's "home court" advantage. Laver Cup is all about team achievement.
Can't make it to Geneva? The competition will be televised. So, tune in to experience a unique weekend of competitive tennis. And find out which city will be home to Laver Cup 2020. Perhaps a city near you.
Ready, play.
For all the details please visit: https://lavercup.com/