Laver Cup: Day One As It Happened

The United Center was packed to the gills for the start of Match 1. Crowd intensity built with each successive match as Team Europe struck hard building a commanding 3-1 lead. In the nightcap doubles match, Kevin Anderson and Jack Sock battled past the healthy half of the Big-4 to put Team World on the board.
Match 1-Grigor Dimitrov [E] d. Frances Tiafoe [W] 6-1 6-4
Grigor started this match strong with a love hold serving at 130 MPH. Despite some competitive long rallies, Dimitrov's game was too much for the young American. He struck first blood for Team Europe winning the 1st set at 6-1.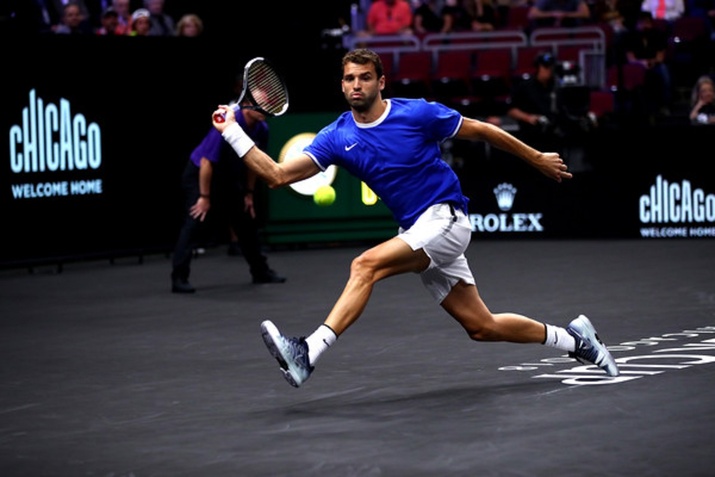 Frances kept his smile and composure in the 2nd and made adjustments, mounting a challenge. The two players traded holds to 3-3 and then traded breaks to 4-4. The crowd and the literal armchair coach Jack Sock and Nick Kyrgios were shouting "get it Foe!" The set remained intense but Grigor stayed on course and broke Tiafoe to 5-4. With the confidence of an "on" service day, Grigor went for it holding serve to win 6-4. He delivered back-to-back aces, at 129 and 125 miles per hour. In press, Grigor was asked if that was his best match of the year? His knowing reply, "What do you think?" His mission accomplished Score: Team Europe 1-Team World 0.
Match 2-Kyle Edmund [E] d. Jack Sock [W] 6-4 5-7 10-6
Team Europe put their faith in 23-year old Kyle Edmund and he rose to the occasion. Sock and Edmund were well matched bringing fans to their feet. The Chicago crowd was clearly behind the midwestern Sock. That support could not lift Jack to the winners' circle. Despite his best efforts, the US Open Doubles Champion came up short in the 10-point deciding breaker. The momentum seemed to be going Jack 's way as he captured a close second set. But Kyle capitalized on early errors in the breaker and never looked back. The Blue Team (Europe) were on their feet alongside Team World as Kyle approached the finish line up 9-4. A tough loss for Team World but Jack Sock had no time to linger in the loss. He would take the court in the night session to demonstrate why he owns two Grand Slam Doubles Titles (Wimbledon and the US Open).
Match 3-David Goffin [E] d. Diego Schwartzman [W] 6-4 4-6 11-9
The evening session revealed a very involved pro-Schwartzman crowd. However, being an underdog is nothing new for David Goffin. Now, I'm not saying he was the underdog in skill, just crowd support. These two were so evenly matched in effort and ability yet vastly different in-game style.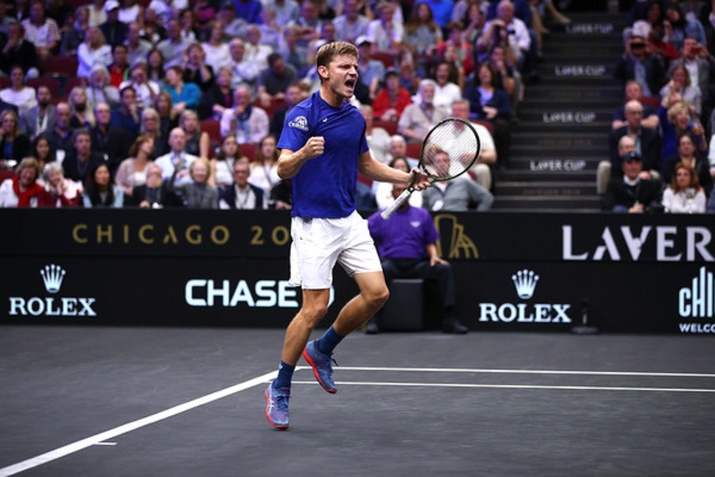 Schwartzman rips bullet-like forehands with lightning speed. Goffin generates his own magic packing a punch, owner of gracefully quick feet and an unshakeable composure.
Schwartzman was playing powerful tennis and captured the first break to go up 2-1. The two traded blows and energy zapping rallies with Goffin breaking back to 4-4 and he followed with a hold to put pressure back on Diego. At 5-4 he successfully held for the set. It was clear, Diego wasn't going away.
He blasted his way to lead in the second set taking the first break and kept his foot on the gas to a 5-3 lead. Steady Goffin gave Diego nothing and held to 5-4. Diego raced across the finish line and into a breaker. The breaker was in a word - thrilling. Watching the benches of Team World and Team Europe was equally thrilling. "Adjunct Coach" Kyrgios was described as "crazy" by Diego in his post-match presser where he was in good spirits knowing he fought hard but lost by a slim margin.
Match 4-Jack Sock & Kevin Anderson [W] d. Novak Djokovic & Roger Federer [E] 6-7 6-3 10-6
There are so many things that can be said about this match. None would be surprising. Kevin served bombs, Jack was unyielding at the net, Roger rushed the net with an unstoppable hunger and Novak brought all of his skills to bear. The crowd was in awe of both teams and the intensity on display. Where Team World had two players schooled in doubles, Team Europe paired two greats of the singles world with success but perhaps not the "right" experience as a team. Whereas Jack and Kevin appeared to be partners in leadership, Roger was clearly the captain for Team Europe. This is as it should be.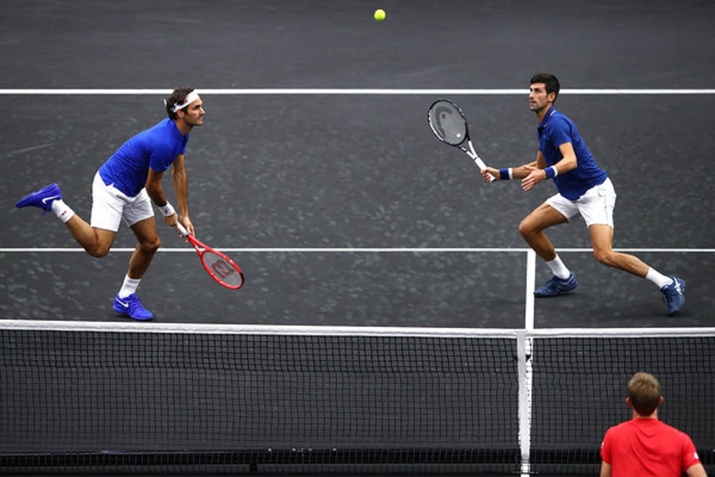 On Friday, as odd as this sounds, Novak lacked the experience to excel at doubles. As I watched them on court, Roger was big brother "watching out" for Novak and in press the same impression was there. Like the player's words for each other, there is no disrespect here, just the reality that experience matters, Roger has that when it comes to the doubles format.
Kevin and Jack played like a team that had been together for a year, yet it was their first time as an on-court duo. An interesting fact is that Jack Sock seems to have success pairing up in doubles with just about any partner. He referred multiple times to being able to be casual and relaxed in doubles. And it is easy to relax when you have a partner capable of ringing up free points and taking balls early to rush opponents.
It all makes for a great doubles team and they were the team with more experience and balance. The huge win put Team World on the board and brought some redemption for Jack. However, the sting of his singles loss had not fully faded despite the presence of team mascot Lady Kady, Kevin's adorable rescue dog who is a fixture on the tour these days.
Will Saturday be a Day of Revenge?
Saturday, the excitement continues as Team World brings forth their "Ace Men" to Battle Team Europe. Surely, they intend to right the ship in their favor. This day could play out in so many ways.
Order of Play:
Match 1-John Isner [W] v. Alexander Zverev [E]
Match 2-Nick Kyrgios [W] v. Roger Federer [E]
Match 3-Kevin Anderson [W] v. Novak Djokovic [E]
Match 4-Jack Sock and Nick Kyrgios [W] v. David Goffin and Grigor Dimitrov [E]
(Photo Source: Clive Brunskill/Getty Images North America)​