Laver Cup 2019 Kicks Off

On Wednesday Geneva fans welcomed teams World & Europe, their captains, the Cup, and the legendary Mr. Rod Laver. Once again, the event is drawing an international crowd. Among European "locals" I met several Canadians and Americans.
One overwhelmingly common question during the Palais Eynard press conferences was, is Laver Cup a competition or an exhibition?
After covering Laver Cup 2018 Chicago, I have no doubts. BUT, the best response I heard came from Team World's John Isner. First, the American believes that questions is, disrespectful… He acknowledged that yes it is true players are not competing for individual ranking points. The battle is about more. We fight for GLORY.
Team World: Isner, Kyrgios, Sock, Raonic, Shapovalov, Fritz, McEnroe/McEnroe
On Thursday Team World opened their campaign with Canadian Denis Shapovalov. Denis shared his candid viewpoint on the competition stating, "they've [Team Europe] got a super strong team. It's definitely going to be a tough challenge for us, but I really think if we all work together, if we all get to play our best tennis, we have a chance to win."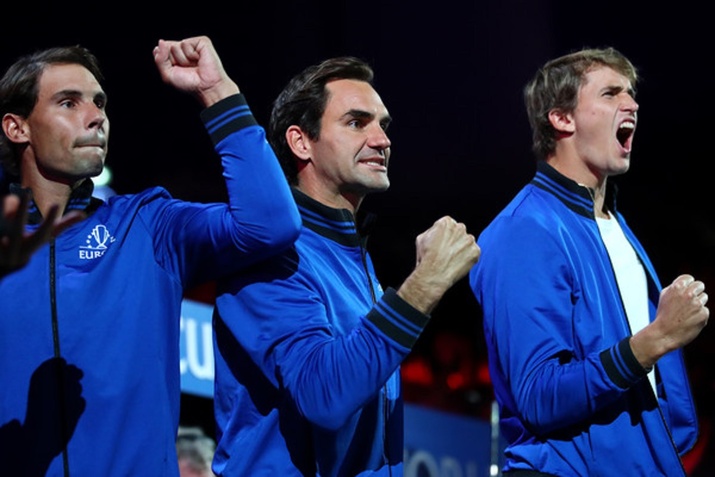 Laver Cup veteran Nick Kyrgios reiterated that the Team World bench is tight, they have tremendous fun and he believes their relationships are closer than Team Europe. John Isner stressed they will step on court with confidence. Both John and Nick reflected on missed match points from prior years that would have placed the trophy in their hands. A relaxed Jack Sock joked about a Laver singles win…There is no question Team World is hungry and believe a first Laver Cup victory is on their racquets. Why would any athlete step on court otherwise? Without belief, you have already lost.
A humorous Shapovalov joked about staying away from Nick as a strategy. He reiterated how great the team support is although advice among players is rarely given. Isner shared that order of play decisions are a team collaboration. And in his humble opinion, "I am not the smartest person on Team World." I wonder who is?
Team Captain John McEnroe spoke about his role stating, "when you get to a certain age, you want to give back. He hopes that he is helping the new generation in some way." He does feel "I'm on the hot seat," (for a first win)…So definitely feel some pressure, but it's good pressure."
Team Europe: Federer, Nadal, Thiem, Zverev, Fognini, Bautista-Agut, Borg/Enqvist
A very proud Captain Borg also stressed how close the members of Team Europe are and that the selection process begins early. He stated that although he does not show it," …deep inside, of course I'm nervous. It's normal. But I don't show it. But I'm very nervous, because I care a lot and I want to win. I want the players to win. I want the team to win.." He sees 3rd edition Laver Cup evolving in a positive way and it continues to be his favorite week of tennis.
Team Europe has chosen Austria's Dominic Thiem to fight for first blood. They will close Day 1 with Roger anchoring doubles with Alexander Zverev. Roger does not think the full impact of Laver Cup at home has quite sunk in. An uncharacteristic Roger was not quite sure which day it was at the Welcome ceremony post presser, Wednesday right? He asked. During the Thursday Open Practice, Roger took the opportunity with teammates Stefanos Tsitsipas & Roberto Bautista-Agut to warm up the crowd support for Team Europe. The noise was deafening…
Roger summed up his opponents stating this, "The problem is we are indoors, best of three, super- tiebreaker in the third, and we are playing against big servers who like the indoors and all have a big forehand. So as much as we are the favorites, I do think it's going to be extremely tight." Federer specifically acknowledged Team World's Jack Sock stating, "I think is one of the world's best doubles players if not the absolute best right now. The two teams have finally clashed and seen each other. We are all ready to go."
Geneva is fairly high altitude which could favor big-serving Team World. When asked about court conditions, Isner stated with a telling smile, the balls a flying high even indoors. Milos stressed that going big is always a strategy.
The cards are now on the table. Day 1-Order of Play (All match wins are worth 1-point) If you are attending the event arrive early to explore the vast Laver Cup Fan Zone.